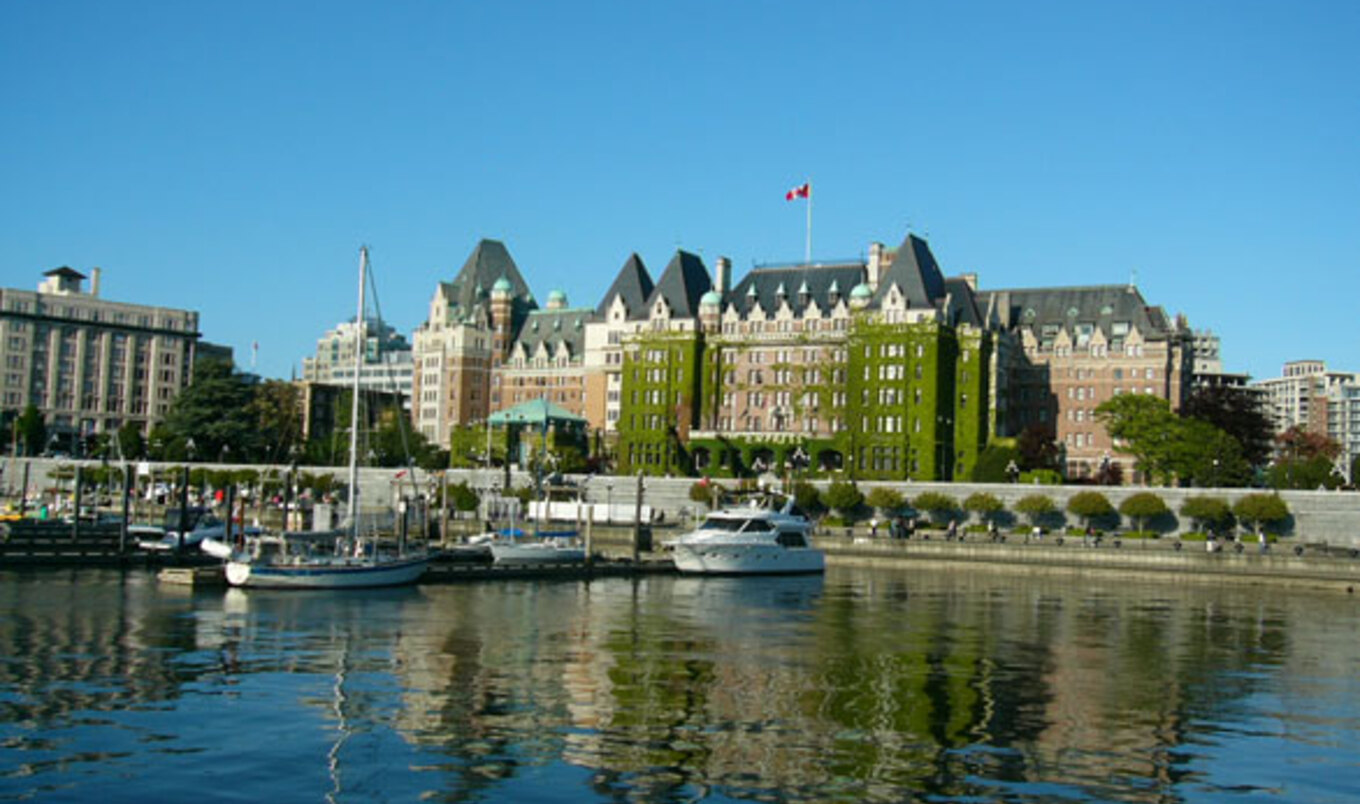 Cool coffee shops, vegan cheese galore, and more await you in Victoria, British Columbia.
September 12, 2010
---
Beautiful Vancouver Island is home to British Columbia's unique capital city of Victoria, which is quick becoming a veritable vegan hotspot. The city's small downtown core and accessibility by boat and plane from nearby cities Vancouver and Seattle make it a nearly effortless place to visit, and the climate makes scooting around town on a rented bicycle a breeze.

First up, check out Victoria's charming Old Chinatown featuring original architecture, Asian tea and herbal body spa Silk Road, cute coffee shops such as Bean Around the World, and Asian markets where you can stock up on inexpensive ceramic kitchenware and unique produce. Then head through Victoria's narrow Fan Tan Alley, surprisingly rife with businesses including clothing stores, indie art galleries, and Nezza Naturals, an organic bath and body store.
Stepping out of the alley on Pandora Avenue, turn left for a twofer of fine establishments offering scrumptious vegan edibles. Mo:Le is not a veg restaurant, but their raw vegan Caesar Salad, tofu scrambles with pesto hash browns, and housemade hot sauce will have you going back for seconds. Next door is the 100-percent vegan Café Bliss, which specializes in all things raw and organic. Across the street, Mayan Hot Chocolate made with melted semi-sweet Denman Island vegan chocolate and almond milk is on the menu for dessert at Solstice Café, a warm space with great rotating art, live acoustic shows, and a focus on local and sustainable ingredients in their veg-friendly food offerings (may we suggest the vegan carrot cake?).
Skip through Market Square over to Johnson Street where stores like Lululemon, Baggins Shoes (specializing in Converse Chuck Taylor All Stars), and popular local clothing designer Smoking Lily share real estate with the all-vegan Chinese buffet Lotus Pond and the Ashtanga Yoga Shala. You're now approaching cookbook author Sarah Kramer's territory, so stop into her workplace, Tattoo Zoo, to say hi, and maybe arrange a vegan-ink tattoo appointment. Then head out for vegan pizza and calzones complete with house-made vegan pesto, Yves Veggie Cuisine fake meats, and Daiya cheese, next door at The Joint—that is, if Kramer hasn't already sent you on a burrito quest up to the gourmet cocina Hernande'z!
Great evening dining spots include Futaba Japanese Restaurant, which features vegan brown rice sushi among other veganized dinner options; Café Ceylon, a hidden gem focused on Ayurvedic foods with a very talented, and vegan-accommodating kitchen; Le Petit Saigon, Vietnamese with extensive veg options; or, for a taste of the delights found in the famous Rebar Modern Food Cookbook, check out Rebar's healthy and vibrant offerings in the picturesque Bastion Square.
Leave plenty of time for an appreciation of Victoria's bookstores, including the scads of used offerings at Russell Books, the eclectic and quaint Dark Horse Bookshop, or the historic Munro's Books.
Must-See Spots
Cookbook author and Victoria resident Sarah Kramer shares her favorite local haunts with VegNews.
VegNews: What is your must-have restaurant dish?
Sarah Kramer: We have a bunch of vegan and vegan-friendly restaurants in town, but I especially love the Burrito Clasico at Hernande'z. It's not a vegan restaurant but the owners Tamara and Jerson Hernande'z are very considerate to their vegan clients, and most importantly the food there is phenomenal. It's like eating a meal straight out of Momma's kitchen.
VN: What's your favorite thing about living in Victoria?
SK: The isolation. While it can be a bit of a pain to get on and off the island (you have to take a ferry or plane to get here) there is something magical about Victoria. Plus the people here are very locally minded and we support our own.
VN: What's your favorite downtime activity?
SK: Victoria is a walking/biking city and on our days off my husband and I love to ride bikes on The Galloping Goose Trail. The trail was built on the abandoned train tracks that snake through the city and you find yourself traveling through urban, rural, and wilderness settings, and can ride from one end of the city to the other without seeing any cars. You can actually ride all the way from Sidney (where the ferry terminal is) right into downtown Victoria, but we haven't been brave enough to tackle that yet.