Food + Recipes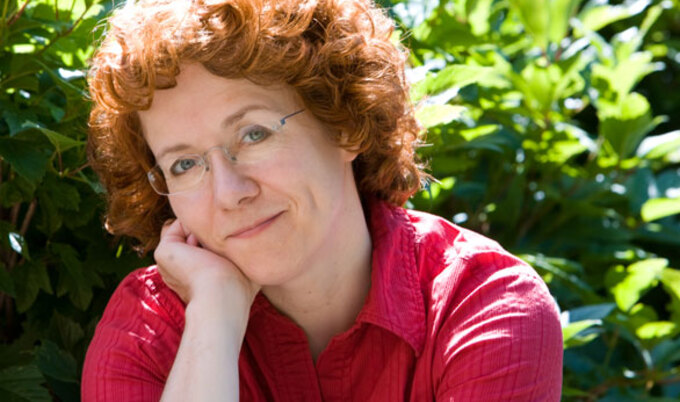 10 Questions with Big Vegan's Robin Asbell
Cookbook author, food writer, and culinary instructor Robin Asbell gives us the inside scoop on her new cookbook, Big Vegan.
---
Robin Asbell is a bit of a Renaissance woman. When she's not teaching veg cooking classes, speaking at meetings and conferences about whole-foods nutrition, or whipping up gorgeous family meals as a personal chef, she manages to write and compile hundreds of mouthwatering recipes for her cookbooks, the newest of which is Big Vegan, out this month from Chronicle Books. We caught up with this multitalented maestro, who shared insight on her dish-inventing process, her vegan inspirations, and her favorite recipes from her new book.
VegNews: Congratulations on the release of Big Vegan! How was the process of writing it compared to your previous books, The New Vegetarian and The New Whole Grains Cookbook?
Robin Asbell: Well, it was much more intense, in that I had about the same amount of time to do almost 400 recipes as I had to do 75 in the other two books. It was a joy to be working with great ingredients and I got lots of encouragement from my tasters. I sent a lot of the food to work with my husband, and the non-vegan carpenter guys really enjoyed it. That made me feel better about working seven days a week.
VN: How did you pick the title Big Vegan?
RA: My publisher, Chronicle Books, came up with the title; it's kind of a series they do. I spent some time mulling it over and decided that it meant big flavor, and that [veganism] was going to keep getting bigger.
VN: The book contains more than 350 recipes. What's your process for coming up with new dishes?
RA: I am so immersed in cooking and creating recipes—it's really a lifestyle. I make menus for clients, for magazine articles, for classes, and build things in that mode, then creating the thing itself. I also try to give myself the occasional break and just cook with what's in season at the farmers' market and see what happens. When I put together the recipes for the book, it was a list-making exercise, combining dishes I had made before and loved, and then filling the in-between with things I thought would balance it all out.
VN: You've written articles about raw and gluten-free foods. Can we expect these types of recipes in Big Vegan as well?
RA: A few, but not really. I was going for [just] vegan dishes that I thought beginning or temporary vegans could relate to. I want to seduce the skeptics into eating and believing.
VN: How did you learn how to cook and develop your own recipes?
RA: I actually have a degree in art, and was halfway to a master's when I decided that I could have an impact by cooking. I worked in a number of kitchens where I was able to be creative, and I was creative at home. It was just something I did. I had to teach myself to be disciplined, and measure, and all that. I think when you go veg in a small town where nobody else is doing it, you just have to do a lot of reading and exploring. I just turned my academic and arts skills toward the study of food.
VN: What were the primary motivators behind your dedication to veganism?
RA: I was very moved by John Robbins' book, Diet for a New America. When it came out in the mid-80s, I was working at a whole-foods bakery/deli, and there was a committed vegan there who recommended the book. It put all the pieces together for me. I knew the plate was powerful, but he laid it out all in one place.
VN: As a culinary instructor, have you seen an increased demand for vegan cooking classes over the past few years or a more mainstream audience become interested in plant-based foods?
RA: Here in Minneapolis, it's sometimes hard to get the classes on the schedule and filled. This is dairy country. Cooking schools have been facing their own struggles, and when they can put a steak class in the book and fill it to capacity every time, they have a financial impetus to do so. That said, I do see growth, and when I teach the classes, I meet the nicest people. Vegans are so happy to finally get a class designed for them; it's kind of a party/support group. And often, when I ask who in the class is vegan or vegetarian, it's only one or two [students]. People are coming around to it gradually, so I try to be welcoming and non-judgmental. They can inch in, as long as they move in the right direction.
VN: What are your favorite vegan products for super quick and easy meals at home?
RA: Call me old school, but I like cans of mock duck. I keep lots of [non-dairy] milks and coconut milk on hand, as well as stocks and stuff. I have a couple of Indian products, foil packs or cans of chole or curried lentils, that I like to throw in a pan and add veggies, tofu, or whatever to. I'm a big condiment user—I keep stuff like tapenade, Sriracha, miso, gomasio, and dijon handy for making simple things better.
VN: How does it feel to be part of the vegan cookbook author community?
RA: It's wonderful. This business is nothing like you think it would be, once you get into it. All my author friends are amazingly supportive and we can relate. It's all so new when you start out, and you feel so alone there at the computer. The vegan authors I know are just as kind, beautiful, and generous as you think they are when you read their books.
VN: Is there any one recipe in Big Vegan that you would designate as "must-try?" A personal favorite or a can't-miss slam dunk?
RA: That question is always a Sophie's Choice; They are all my babies. Of late, I am in love with the Almond-Cashew Chevre; I think that it satisfies that cheese urge that is so pervasive. I have been keeping a jar of it in the fridge and slathering it on bagels, bruschetta, pizza, you name it. I picked the Creamy Triple Mushroom Fettuccine with Walnuts recipe for my book trailer because I think it illustrates how I build flavor and umami with certain ingredients—and it's super tasty. I [also] have a huge thing for the Double Chocolate-Chip Cookies and Peanut-Butter Ice Cream.
Photo courtesy of Jennie Sewell
Want more of today's best plant-based news, recipes, and lifestyle?
Get our award-winning magazine!
Subscribe