Travel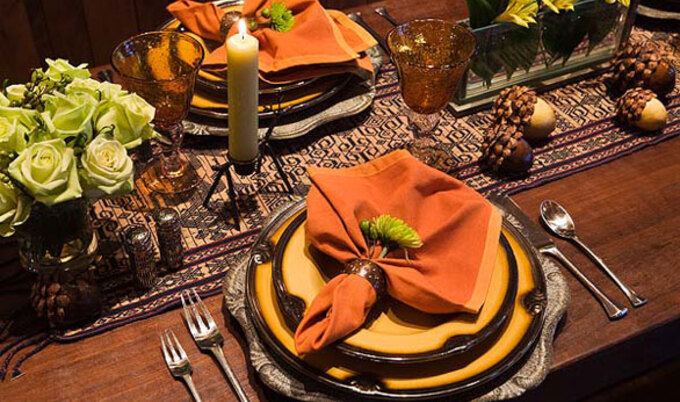 15 Veg Thanksgiving Events
From potluck dinners to feasting with rescued turkeys, these holiday events will fill your belly (and heart!) with thanks.
---
As people recognize the widespread cruelty that turkeys face at Thanksgiving time, many have chosen to adopt more compassionate traditions, and events across the country are welcoming guests to celebrate sans cruelty. Whether you veganize Grandma's famous stuffing recipe for a potluck or head to your local animal sanctuary to feed rescued turkeys, Thanksgiving is the perfect time for people and turkeys alike to enjoy feasts with friends and family. Fill both your belly and heart with gratitude by heading to one of these incredible Thanksgiving events this month.
Happy Trails Compassionate Thanksgiving
November 5
Stow, OH
With a menu created by Chef Scot Jones of Ellen Degeneres' upcoming vegan restaurant, this cruelty-free dinner will surely be amazing.
Meatless Holidays
November 6
Fairfax Station, VA
Buttercup-squash bisque, pecan-whipped yams with Sweet & Sara marshmallows, green bean casserole, and dairy-free pumpkin cheesecake? Sounds like a perfect Thanksgiving pre-party, hosted by cooking teacher Mimi Clark!
Ching Farm Rescue & Sanctuary's Vegan Thanksgiving Dinner
November 12
Riverton, UT
Ching hosts its 13th annual vegan feast, complete with a silent auction and a talk from Karen Davis of United Poultry Concern.
A Very Vegan Thanksgiving
November 18
Brooklyn, NY
Chef Tessa Liebman demonstrates how to create the perfect vegan Thanksgiving spread with dishes like garlicky herbed mashed potatoes and chocolate-pumpkin bread pudding.
Farm Sanctuary's Celebration For The Turkeys
November 19
Orland, CA
November 20
Acton, CA
November 20
Watkins Glen, NY
Pay tribute to Thanksgiving's guests of honor by feeding rescued turkeys at Farm Sanctuary.
Thanksgiving Potluck
November 19
Minneapolis, MN
Head to Matthews Park Recreation Center for an afternoon of cruelty-free feasting with Compassionate Action for Animals.
Thanksgiving With The Turkeys
November 19
Poolesville, MD
Join rescued turkeys and their animal friends at Poplar Spring Animal Sanctuary for a vegan Thanksgiving potluck.
Compassionate Thanksgiving Vegan Potluck
November 20
Portland, OR
Northwest Veg Organization invites vegans and non-vegans alike to participate in its 8th-annual potluck at Benson High School.
LA's Thanksgiving Day Potluck Picnic
November 24
Los Angeles, CA
Since 1941, LA's longest running vegan tradition takes place at Rancho Park, complete with a free vegan feast, music, and games.
Life-Affirming Thanksgiving
November 24
Bethesda, MD
The Vegetarian Society of DC welcomes hundreds to a vegan thanksgiving feast. Vegan pumpkin pie? Count us in!
Northern Vegans Thanksgiving Day Potluck
November 24
Negaunee, MI
Join the Northern Vegans group for a Thanksgiving potluck spread. As a green initiative, the group requests that guests bring their own silverware and plate.
SF Vegan Thanksgiving Food Party
November 24
San Francisco, CA
Bring your favorite Thanksgiving dish (and your appetite) to the Bay Area Vegetarians' celebration.
The Chicago Diner's 29th Vegan Thanksgiving
November 24
Chicago, IL
Meat-free since 1983, the Chicago Diner's Thanksgiving feast includes veggie turkey, faux beef Wellington, and pumpkin ravioli.
TVS Thanksgiving
November 24
Durham, NC
The Triangle Vegetarian Society has partnered with Café Parizäde to provide a gourmet, Mediterranean-inspired meal for those looking for a twist on the annual Thanksgiving feast.
Vegetarian Thanksgiving Retreat
November 24 to 27
Cazadero, CA
Celebrate Thanksgiving with Tibetan yoga classes, hiking, and a stay in the deluxe cottages at the Ratna Living Retreat Center.
Want more of today's best plant-based news, recipes, and lifestyle?
Get our award-winning magazine!
Subscribe