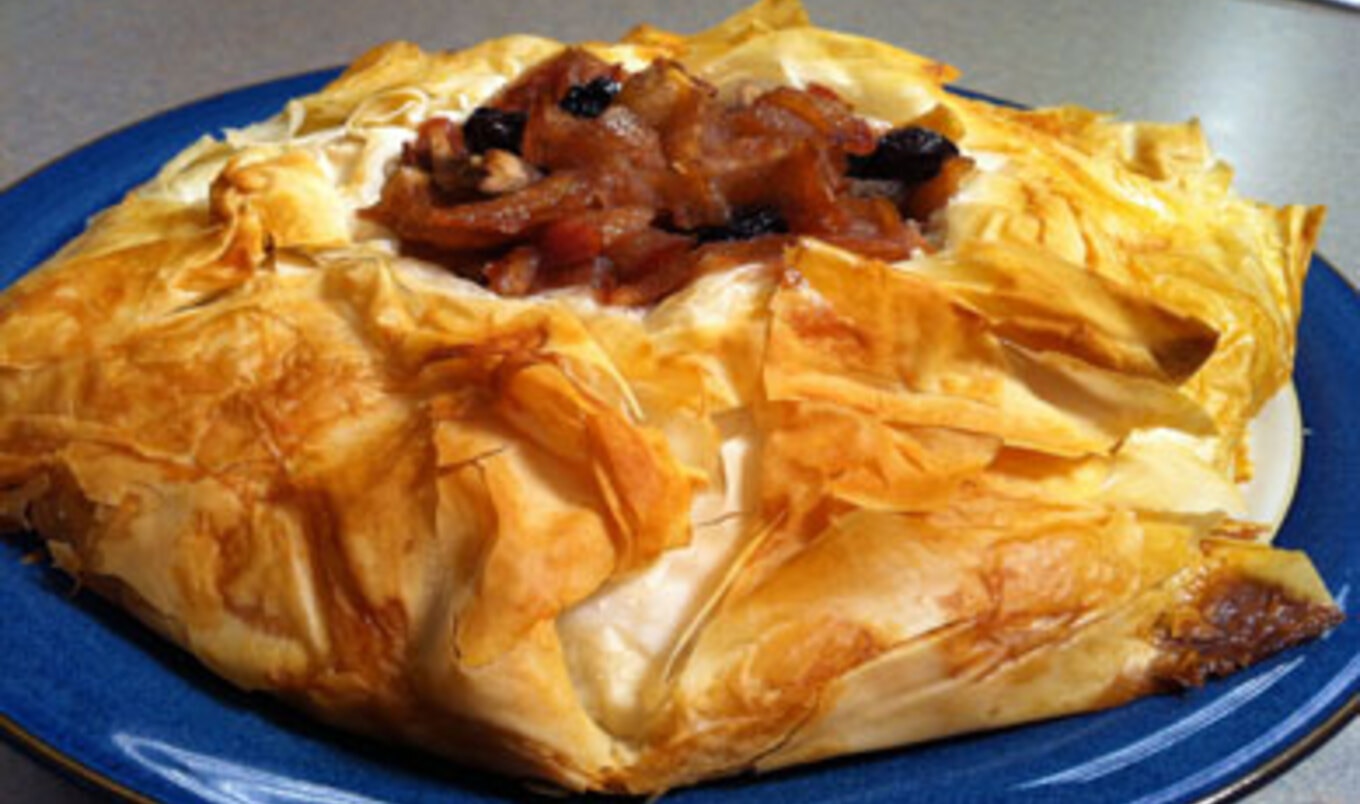 Crisp apples and phyllo dough combine to make a healthy, delicious dessert.
October 13, 2011
The wonderful flavors of fall—crisp red apples, pecans, and raisins—combine in a flaky phyllo dough pastry for an easy sweet treat from VN contributor Katherine Lawrence.
Serves 4
What you need:
For the filling:
4 apples, diced
1⁄2 cup raisins
1⁄2 cup chopped pecans
1 tablespoon fresh lemon juice
1/3 cup agave nectar
1/3 cup maple syrup
1⁄4 cup water
1 teaspoon vanilla
1 teaspoon cinnamon
1/8 teaspoon nutmeg
2 tablespoons flour, dissolved in 3 tablespoons water
For the dough:
1 tablespoon water
3 tablespoons agave nectar
1 tablespoon vegan margarine, melted (optional) 
Non-stick cooking spray
1 package phyllo dough, defrosted   
What you do:
1. Preheat oven to 350 degrees. In a medium saucepan over medium heat, cook apples, raisins, pecans, lemon juice, agave nectar, maple syrup, water, vanilla, cinnamon, and nutmeg. Cover and cook for 10 to 12 minutes, until apples are tender. Remove cover and add dissolved flour. Stir continuously until mixture thickens.
2. In a small bowl, combine water, agave nectar, and margarine, and set aside. Lightly spray 9-inch pie pan with non-stick cooking spray. On a work surface, place a large piece of plastic wrap, then gently unroll phyllo dough and place on plastic wrap. Top dough with another piece of plastic wrap. Place a damp paper towel on top of plastic wrap.
3. On a cutting board, place 2 sheets of dough and lightly brush with agave mixture. Place brushed dough across pie pan, pushing pastry into pan. Repeat three times more, using 2 sheets of phyllo at a time, place new sheets at an angle. Spoon apple filling into middle of pie pan. Gather overhanging phyllo dough edges towards middle of pan, leaving space to see apples. Bake 20 to 25 minutes until layers are light brown and flaky.
Click here to watch Katherine Lawrence make this pastry on VegNews TV.