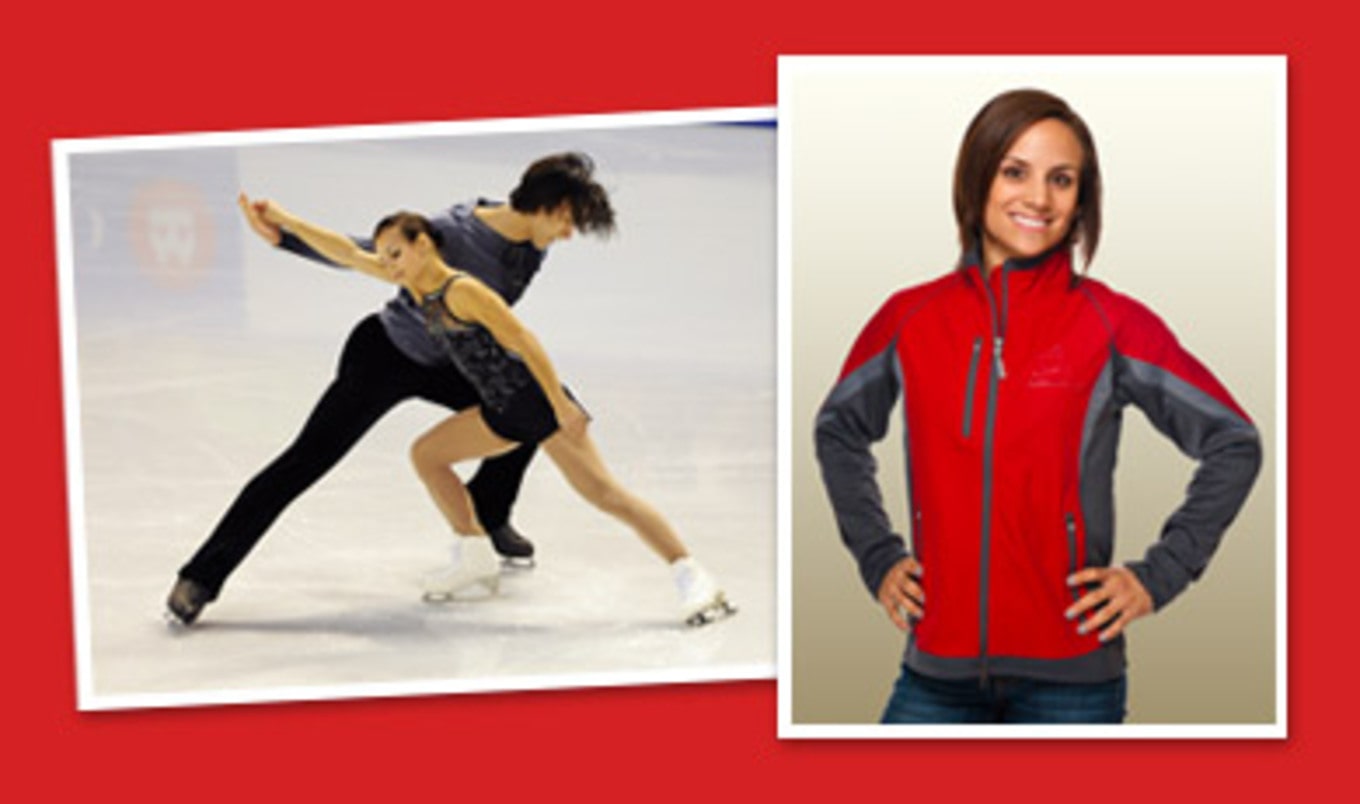 Canadian figure skater Meagan Duhamel opens up to VegNews about how a vegan lifestyle helps her pursue gold.
October 18, 2011
---
Meagan Duhamel seems to do it all—she studies holistic health, cooks and bakes much of her own food, and spends more than 25 hours per week getting her body in top shape to compete with Canada's national figure skating team. But having achieved two silver medals in 2011 alone—one at the Canadian Figure Skating Championships and the other at Four Continents Championships—is not enough for this ambitious athlete: She and her partner Eric Radford have already started training for the 2014 Olympics. This skating superstar told us all about her ice escapades and how a vegan lifestyle empowers her to go for the gold.
VegNews: What made you decide to go vegan?
Meagan Duhamel: I was reading the book Skinny Bitch one night before bed and thought, "I think I'm going to try this." All the research I had done said to slowly wean into it, but everything I do is all or nothing. I woke up the next morning and I cleaned out my entire fridge. At the beginning, it was a little test and now it's been almost three years. The more people told me that it was crazy and that I couldn't be a vegan and an athlete, the more invested I became in the lifestyle.
VN: Is it hard to maintain a vegan lifestyle while competing in countries across the world?
MD: When I first decided to be vegan, we had our national championships in January and I thought I'd find a grocery store when I got there. We had to go practice as soon as we got off the airplane and the only things I could find to eat were five bananas. Since that point, I've really had to become organized. I usually make [and bring] homemade bread, pumpkin-apple butter, granola, cookies, trail mixes, and snacks like that.
VN: You're so busy! How do you find time to do everything?
MD: We skate every morning, and in the afternoon I'll get in an hour or two of studying before I have to go to the gym. I'm actually also studying holistic health at the Canadian School of Natural Nutrition [in hopes of opening a wellness center]. In the evening, I'll have dinner and study a bit more. Every day is different, but the only consistency is that we skate until noon every single weekday. I'll prepare food for the week on Sundays because we don't have training on the weekends.
VN: How has a vegan diet fit into your ice skating career?
MD: Between 2008 and 2010, I had a serious back injury. I ended up with nerve damage in my right leg. This was when I started taking B12. B12 really supplements your nerves and having this nerve injury caused me to do a lot of research on home remedies. Since I became a vegan, I'm rarely sick anymore—my body is in top shape and my skin is better. I have a lot more energy at the rink in the morning. I feel refreshed. My weight is very easy to maintain now without much effort. Especially because figure skating is a performance sport, there's definitely an aesthetic aspect about it. You have to be small to do what I do, so you see a lot of anorexia and bulimia in figure skating, and I think that this was just a way that I could eat healthy but maintain an ideal competitive weight easily. I don't have to count calories or weigh my food like some other skaters do. I can just eat what I feel is right.
VN: What would you say to athletes who are considering a vegan lifestyle?
MD: So many people tell me they could never be vegan. I just wish people would understand and realize that it's really not that difficult, and it's a choice that we make—I think that it is in everybody's grasp to be able to make a decision like switching to a vegan lifestyle. One of my proudest accomplishments has been going vegan.
Photos courtesy of Skate Canada/Scott Grant & Stephan Potopnyk