Food + Recipes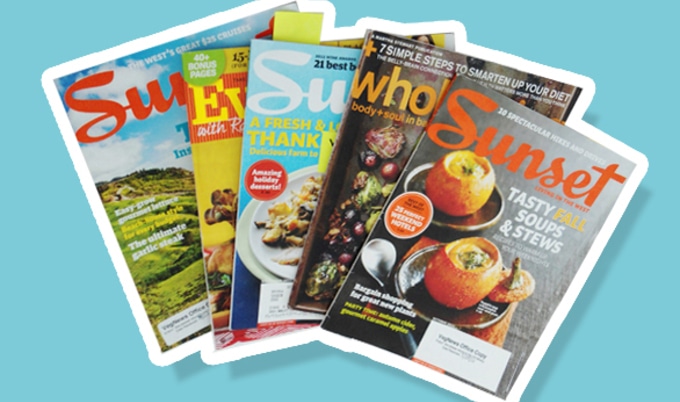 Mainstream Mags Go Veg for the Holidays
Vegan and vegetarian recipes are flooding the newsstands this holiday season in new and surprising places.
---
Popular food and lifestyle magazines and news outlets are catching on to vegan dining in a major way this fall. From raw cuisine to veg Thanksgiving dishes, meat-free eating is getting major exposure in outlets that reach millions across the country. Here are a few of this season's articles and recipes that caught our eye for their compassionate qualities.
A Sign of the (NY) Times
With more than 30 million unique visitors each month, The New York Times website spreads the word in a major way. That's why we were so excited to see it ask readers to share their favorite veg dish for entertaining, as well as provide a full vegetarian menu from columnist Melissa Clark. Nearly every single dish is entirely vegan, save for a touch of easily subbed-out butter. Farro and Fresh Tomato Soup with Basil? A Harvest Tart with Pumpkin, Roasted Red Peppers, and Olives? Hummus with Crisp Maitake Mushrooms? Yes, yes, and yes. This meatless menu is surely going in our personal recipe binders. The Times also offers a slideshow with 29 recipes and tantalizing photos of veg appetizers, entrées, and side dishes, including veg sushi, Raw Butternut Squash Salad with Raisins and Ginger, and Carrot and Tahini soup with Pita Crisps, all cruelty-free.
Savvy Sunset
We're charmed by Sunset's recent and thorough foray into vegan cuisine. Offering plant-based recipes in its past three consecutive print issues, this lifestyle mag is bringing smiles to our faces and rumbles to our bellies. In its September issue, we spotted vegan recipes for Black Pepper Tofu and Green Beans, Indian Spice-Stuffed Okra, and "Broccamole" (Yes, guacamole made with broccoli. We are totally on board). In October, we lusted for Cashew, Coconut, and Pumpkin Curry (and they even used the word "vegan"!) and Fall Green Salad with Apples, Nuts, and Pain d'Epice Dressing. And November's edition brings ravenous readers a full spread of mouthwatering vegan side dishes, like Mashed Potatoes and Parsnips with Crisp Root Vegetable Strips and Brussels Sprouts-Wheatberry Slaw with Smoked Paprika Dressing. And don't miss the Vegan Chocolate Strawberry Shortcake Cupcakes on their recipes website, courtesy of VN contributor and chef extraordinaire Chloe Coscarelli. Subscription renewed.
Ship Shape
Fitness and health magazine Shape is on the pulse of plant-based eating. Between nominating two vegan blogs (FatFree Vegan Kitchen and Diet, Dessert, and Dogs) for its 2011 Best Blogger Awards and posting a feature on Six Easy Raw Food Recipes to Try (including a delectable raw brownie), Shape is in touch with the many benefits of feasting on fresh fruits, vegetables, and whole foods. They've also featured vegan blogger Jessica Olson's tips on quick and easy meals, as well as a feature on vegan celebrities.
The Veg Edge
Vegan-related content has sprouted in a host of other mainstream publications above and beyond the aforementioned. The Wall Street Journal published an article in October about vegan bakeries and restaurants that win approval from customers without using the "v" word, demonstrating that meat- and dairy-free food is just as tasty and satisfying as its animal product-laden counterparts. In September, Women's Health got down with Meatless Monday in an "Easy Vegan" feature with Apple Pancakes, California Veggie Burgers, and Garbanzo Quinoa Salad, among other tasty-sounding dishes. Whole Living's vegan recipe photo gallery had us at "Banana, Coconut, and Cashew-Cream Tart," (and hello to you!) but every dish in the gallery looks amazing. Sweet Potato Hummus? Sign us up.
Key Issues
Whole Living's cruelty-free foods slideshow blew our minds and tickled our tastebuds, and check out their November print issue for stunning images of vegan foods that you can tape on your wall like teen heartthrobs. A gorgeous spread of Creamy White Bean and Vegetable Mash, Green Bean and Shallot Ravioli Salad, and Stuffed Acorn Squash with Quinoa and Pistachios (among other dishes) makes us want to feast on sides, sides, and only sides. These plant-based remixes using traditional Thanksgiving vegetables and seasonings would make worthy additions to any holiday table, and the piece is worth a peek for the photographs alone, which are beautifully detailed, visceral, and enchanting. This month's issue of Every Day with Rachael Ray also summons veg readers with the almighty kale, named November's "seasonal superfood." We're dying to try the mag's Lemon-Pepper Kale Chips, and it even offers an easy recipe for green juice, made from fresh kale, apple, celery, lemon, and parsley.
This holiday season, veganism is making waves in major media. Log on or pick up one of these popular publications for innovative recipes, insightful commentary, and photos worth feasting on—and don't forget to write a letter to the editor letting them know how much you appreciate increased coverage of veganism!
Please support independent vegan media and get the very best in news, recipes, travel, beauty, products, and more.
Subscribe now to the world's #1 plant-based magazine!
Subscribe