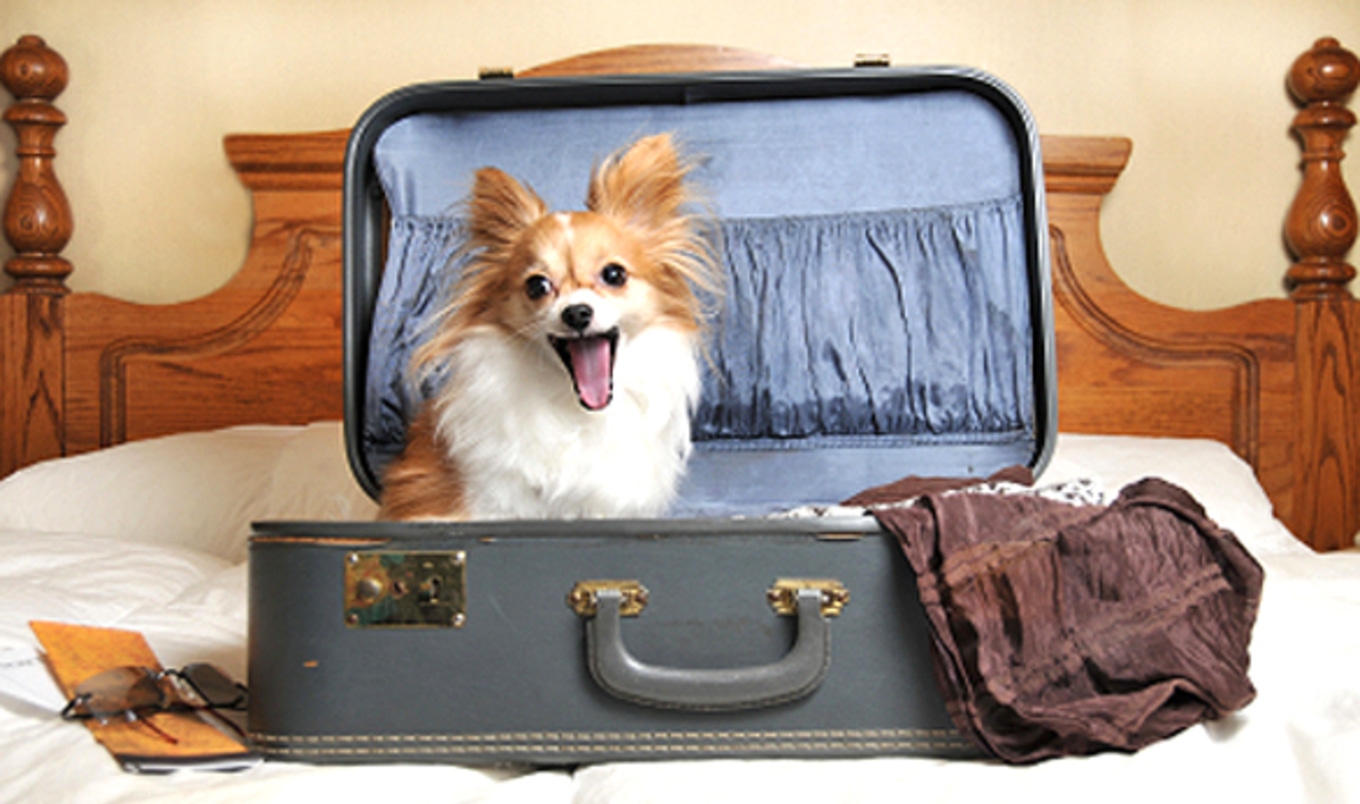 Heading out of town doesn't have to mean dropping Fido at the kennel; a stay in one of these hotels is guaranteed to keep your pup pampered, comfortable, and happy.
October 3, 2011
---
How can any vacation be a true family getaway without bringing along our furry friends? After all, they accompany us on walks, invite us to romp with them at the dog park, and even let us choose the radio station on road trips. Fortunately, hotels across the US feature dog-friendly accommodations, making our animal companions feel the same level of comfort as we have come to expect from class-act hotels on our get-out-of-town adventures.
Check-In
The first step in a successful vacation is a welcoming check-in from friendly staff and a clean, comfortable room chockfull of amenities that make us, and our animal companions, feel right at home. In San Francisco's Fairmont hotel, your pooch can settle in to the room by finding his or her own Fairmont doggy bowl and bed, and that's just the beginning—the rooms also have canine mini-bars with cable car-decorated cookies, organic peanut brittle, and rope toys, as well as a lemongrass-peppermint-clove spritzer to help dogs sleep comfortably in their own beds. While many hotels have snuggly robes waiting for their guests, dogs at The Fairmont can look forward to a stylish new silver dog tag, which will make them the envy of all their pooch pals back at home.
Satiating the Insatiable
After such a long trip (or short trip, or no trip at all), Fido is probably starving, per usual. Fortunately, hotel restaurants have even started catering room service to canine guests and their insatiable appetites. If vacation brings you to the Windy City, dogs can feast as stylishly as Donald himself at the Trump International Hotel & Tower, with chef-prepared hot meals of your four-legged jet-setter's favorite veggies—just call the room service staff to discuss dinner plans. If your heart is set on the Big Apple, consider a stay at Loews Regency Hotel, as its pet menu includes a "Wag Your Tail Delight" meal. Your pooch will love the Great Vegetable Feast, which features mixed veggies over rice. Room service staff insists that even humans can nosh on that meal, so try not to drool!
Beyond the Dog Park
In Scottsdale, the W Hotel will help Fido get his Zen on with doggy yoga classes. Just remember to bring your own mat to experience an entirely new meaning of downward-facing dog! And surfs up at Loews Coronado Bay Resort's annual Surf Dog Competition. Winners are awarded a getaway at the resort, so encourage Fido to hang 20 with dog surfing classes, which can be arranged at the Coronado Surfing Academy via the resort's concierge. In Colorado, Doggie Daybreak and Twilight Hikes offered at the Ritz-Carlton will have your pooch breathing in the fresh air of Beaver Creek Mountain twice daily. If that's not enough, most dog-friendly hotels provide guests with area handbooks, featuring the scoop on the local events that may be of interest to your pooch.
Pampered Pooch
After months of chasing squirrels and fetching sticks, even your dog is due for a little rest and relaxation. Doggy divas can opt for a Rover Reiki Massage at the Topnotch Resort and Spa in Stowe, VT. If Santa Fe awaits you, consider a stay at Ten Thousand Waves, where your pooch can indulge alongside you in the Japanese-style private hot baths. While dogs are not allowed in the communal baths, your pup will love plunging into the waterfall-style outdoor private bath. Or, if you're craving a city-style getaway, a stay at Kimpton Muse Hotel in New York will get your pup's nails looking top notch with its doggy mani-pedi option.
Meet and Greet
Sometimes, the most outstanding memories from vacations are of the friends you make along the way. Hotel Monaco in Alexandria, VA, hosts a twice-weekly doggie happy hour from April through October with complementary treats and fresh water. The concierge of the hotel can also organize tickets for Potomac River Boat Company's Canine Cruise, further giving Fido opportunities to socialize. If it's your dog's special day, many locations of the worldwide chain of Starwood Hotels can arrange for a special veg birthday cake, so invite all the new friends along to celebrate!