Food + Recipes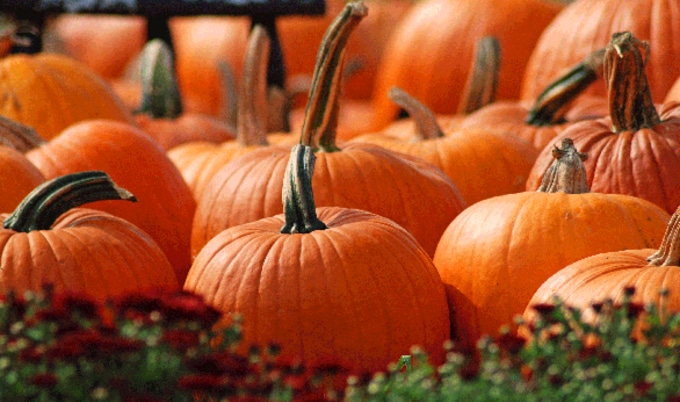 Pumpkin Five Ways
The sweet, bright flesh of pumpkin is beyond versatile, and its warm, comforting flavor adds a seasonal touch to any meal.
---
'Tis the season! No, not that season; it's the time of year for everyone's favorite big, orange, round, ridiculously versatile fruit. That's right—pumpkin season. No autumn plate is complete without a generous helping of pie, stew, bread, or casserole made with this perennial tastebud-pleaser. Oscillating between sweet and savory with ease, this vine-grown delicacy can be prepared endless ways. Here are five popular techniques, and recipes for the mouthwatering dishes that they can produce.
The Perfect Purée
Puréeing pumpkin is a great way to bring out its rich consistency and warm flavor, allowing it to be incorporated into any recipe with a single stir. Although fresh pumpkin is vibrant and delicious, many dishes are perfect vehicles for the canned version, which is also guaranteed to be velvety smooth and the free of strings, clumps, and seeds that can cause snags in the cooking process. Simple Pantry Pumpkin Bean Soup elevates canned pumpkin by blending it with rich coconut milk and sage for a quick cold-weather dinner. If tin turns you off, sharpen your knives and make Pumpkin Pasta Sauce from the real deal, along with some mushrooms and a kick of garlic. For a cooler treat, sip on a Petite Pumpkin Smoothie for a post-morning workout pick-me-up, or freeze up some Tofu Pumpkin-Pie Ice Cream for a killer milkshake that goes above and beyond.
Stunning Stew
Do you smell that irresistible aroma? It's the scent of your kitchen in the near future as you cook pumpkin to falling-apart perfection in soups and stews on your stovetop. Boiling and stewing pumpkin is a breeze, and softens the fruit's flesh, making it easy to integrate into a variety of dishes. Revamp a traditional fruit-spice combination in Pumpkin-Ginger Soup, hearty with noodles, carrots, peppers, and, of course, fresh chunks of pumpkin. Corn, Bean, and Pumpkin Stew makes the perfect Thanksgiving dish, paying a flavorful, satisfying homage to some of the staple crops of Native Americans. Or, create an elegant dinner-party centerpiece in the form of a Stuffed Pumpkin, which overflows with an opulent mixture of couscous, mushrooms, carrots, apples, and tempeh.
Savvy Sautée
Sautéing isn't just for onions and spinach; sizzling pumpkin is alive with flavor, and makes a nourishing addition to a variety of dishes. Delightfully earthy Pumpkin and Mushroom Risotto adds a splash of color to any autumn plate. Pumpkin is also beautifully complimented by curry spices; [Green] Bean and Pumpkin Curry offers a Thai take featuring sweet basil, peanut butter, and bamboo shoots, or let the flavors of India waft through your kitchen with Pumpkin, Chickpea, and Spinach Curry. Customize the levels of cumin, chili powder, coriander, and turmeric to achieve the perfect level of heat for your tastes.
Brilliantly Baked
Pumpkin adds a special seasonal touch to baked goods without overpowering traditional flavors, and classic recipes, from cookies to muffins to biscuits, can be revolutionized for October with the addition of this unique fruit. We've all had pumpkin pie—if not, get thee to a bakery, stat—but how about vegan Pumpkin Cheesecake? The tang of non-dairy cream cheese perfectly complements the subtle sweetness of the pumpkin, and ginger and cinnamon make this dessert reminiscent of the aforementioned holiday favorite. Not so keen on sugar? Give Pumpkin Cornbread a whirl—this Southern-inspired delight works with dinner or dessert, and has only a swirl of agave nectar. For an even more unique take on getting baked with pumpkin, try Sourdough Pumpkin Quick Bread, which could easily replace banana bread as your go-to, fresh-from-the-oven breakfast or afternoon tea accompaniment.
Peppy Pepitas
Next time you're carving a jack-o-lantern, make sure not to toss the seeds, also known as pepitas. These crunchy nibbles are perfect snacks roasted on their own, or when incorporated into trail mix, granola, or a salad. To roast, simply rinse the seeds, spread them onto an oiled baking sheet, sprinkle with sea salt, and bake at 325 degrees for about 25 minutes, giving the tray a shake about halfway through. They also make great additions to sauces and spreads; try spicy Roasted-Garlic Pumpkin-Seed Pesto on sandwiches, pasta, or crackers, or whip up Indian Lentil-Pumpkin Seed Hummus for an exciting, exotic version of a vegan favorite.
While these five methods can be used to make an endless array of pumpkin meals, they are still only the tip of the iceberg. Pick up one of these multitalented fruits at the farmers' market or grocery store, and let your imagination run wild.
Please support independent vegan media and get the very best in news, recipes, travel, beauty, products, and more.
Subscribe now to the world's #1 plant-based magazine!
Subscribe