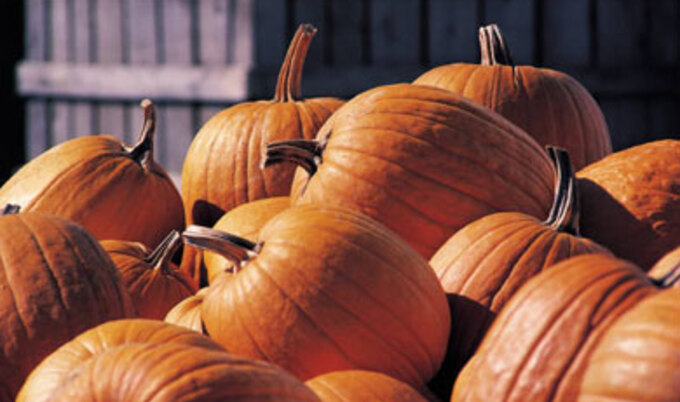 Pumpkin Spice Cookies
Just in time for Halloween, these showcase the enticing flavor and golden color of pumpkin.
As Halloween rolls around, these grown-up delights will serve as a gourmet change from the ubiquitous candy.
Makes 3 dozen
What you need:
2 cups whole wheat pastry flour
1 teaspoon baking soda
1-1/2 teaspoon cinnamon
1 teaspoon ground ginger
1/2 teaspoon salt
1/4 teaspoon ground nutmeg
1 cup vegan margarine
1 cup turbinado sugar 
1 cup pumpkin purée

1-1/2 teaspoon vanilla
1/2 teaspoon almond extract
1/2 cup carob-covered raisins or plain raisins
1/2 cup vegan chocolate chips or carob chips
1/3 cup toasted coconut
1/3 cup walnuts, finely chopped
What you do:
Line two cookie sheets with parchment paper and set aside. In a medium bowl, stir together whole wheat pastry flour, baking soda, cinnamon, ginger, salt, and nutmeg, and set aside. In a large bowl, stir together margarine and sugar, vigorously until light and creamy. Add pumpkin purée, vanilla, and almond extract, and stir well to combine. Add dry ingredients to wet ingredients and combine thoroughly. Fold in remaining ingredients.
Working in batches, drop cookie dough by tablespoonfuls onto prepared cookie sheets, spacing them 3 inches apart. Using the back of a spoon, flatten each tablespoonful to form a 2-inch circle. Bake the cookies at 350 degrees for 8 minutes, rotate, and bake an additional 7 to 8 minutes or until lightly browned around the edges.
Remove from oven and allow to cool on the cookie sheet for 2 minutes before transferring to a rack to cool completely. Repeat for remaining cookie dough. Store cooled cookies in an air-tight container. They also freeze well for later use.
Click here for more delicious recipes:
Pumpkin Spice Frozen Yogurt
Pumpkin Cake
Pumpkin Praline Cheesecake
Want more of today's best plant-based news, recipes, and lifestyle?
Get our award-winning magazine!
Subscribe