News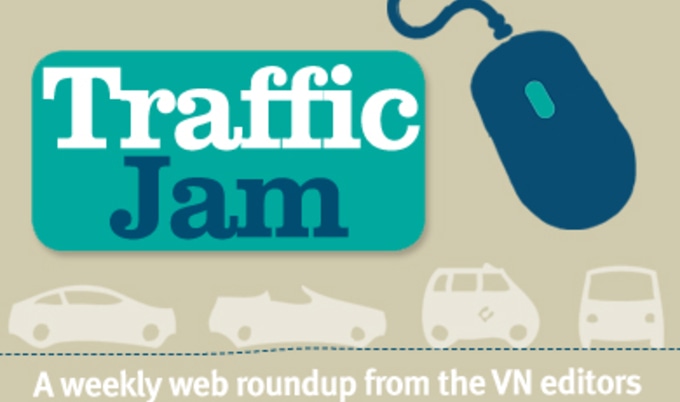 Traffic Jam: The Week Ending October 21
This week, the VN editors give you the best of the internet—five links (and one tweet!) at a time.
October 20, 2011
---
1. This week's must-read: "Those passionate about speaking up for the underdog—even if the underdog constitutes 99 percent of the population—are the perfect audience for the message, 'you are what you eat.' In other words, as we stand against injustice, as we embrace the notion of breaking down the walls that marginalize and subjugate many of us, let's not forget the non-human victims of oppression."—Mariann Sullivan and Jasmin Singer's eloquent essay discussing veganism and the Occupy movement.
2. Globetrotting, notoriously gruff chef Anthony Bourdain told Playboy that vegan diets are "completely self-indulgent" and "a first-world phenomenon." Over on Vegansaurus, VN Editor-at-Large Laura Hooper Beck gives Bourdain a proper smack down.
3. Oh, we see you, vegan bacon chocolate bar.
4. This otter might love leaves more than we love looking at adorable pictures of otters playing with leaves. Emphasis on the word "might."
5. And for our Tweet of the Week, actress Susie Castillo loves and loses: "I'm in love with 'Siri' on the new iPhone. I asked her if she loved me and she said 'I'm not capable of love.' LOL!"—@Susie_Castillo
Please support independent vegan media and get the very best in news, recipes, travel, beauty, products, and more.
Subscribe now to the world's #1 plant-based magazine!
Subscribe