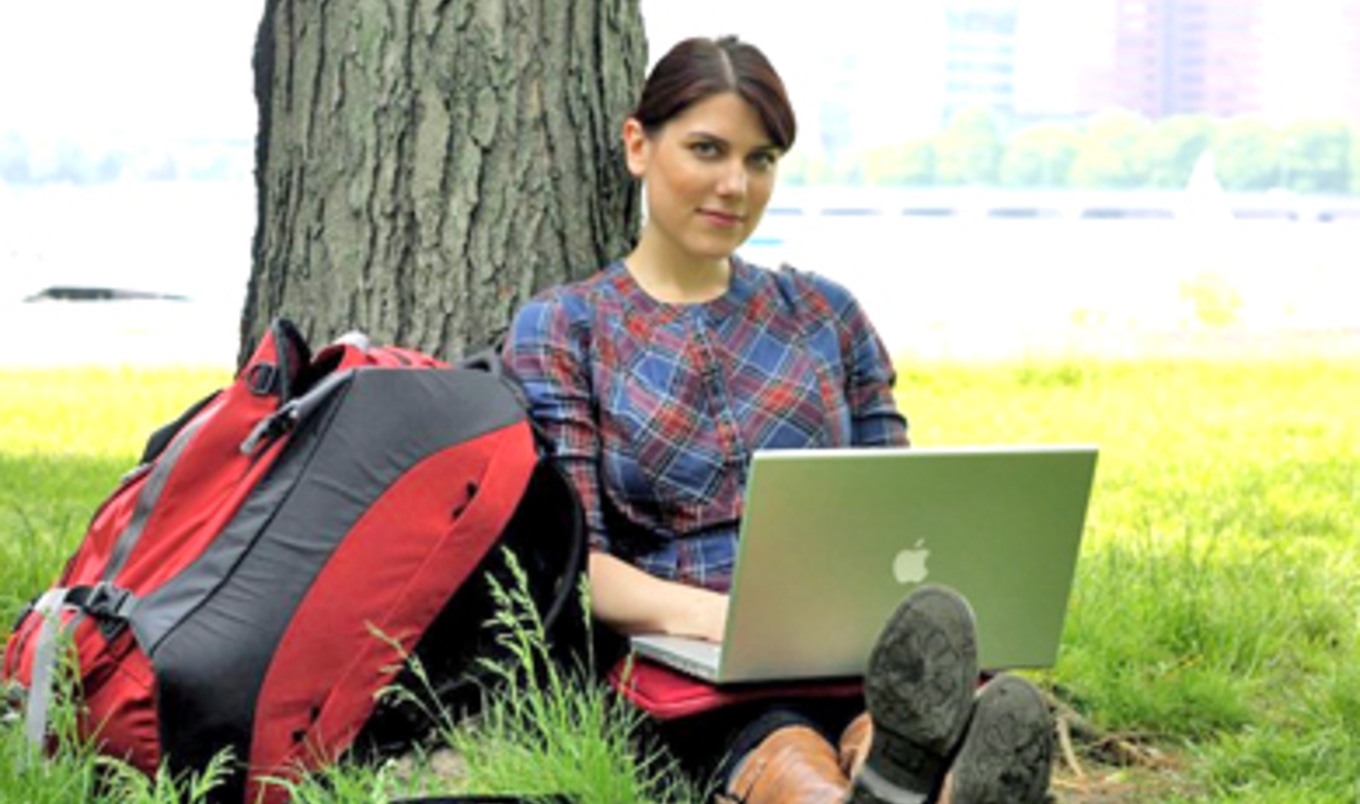 Blogger Kristin Lajeunesse fills us in on her year-long trip to eat at every vegan restaurant in the country.
October 9, 2011
---
Blogger Kristin Lajeunesse is embarking on a journey most only dream of—she's visiting nearly 500 all-vegan restaurants across the US in search of the best veg food in the country. She conceptualized the project last year, exceeded her $10,000-goal on Kickstarter, outfitted her van into an on-the-road office and sleep-space, and after a few bumps along the way, headed to New York City. Last week, she filled us in on the behind-the-scenes details about her bucket list, her new traveling partner, and her favorite restaurant in Maine.
VegNews: How has the start of your journey been?
Kristin Lajeunesse: It's been a little rough in terms of getting the vehicle sorted out because I had gotten it all tuned up, and then last week, I took it to Boston to pick up my travel partner Ethan. On my way, someone pulled out in front of me and I got into an accident. It was my first accident ever, and the first time I had brought the van out since getting it tuned up after purchasing it. Thankfully it was a 30-mile-per-hour speed zone. Our front ends hit and the initial damage on the van was a popped tire. Unfortunately, the other person's car was totaled, but everyone was OK so it worked out fine.
VN: How did you decide to get a partner instead of embarking alone, as you initially intended?
KL: Ethan and I had connected through the vegan community on Facebook and then we just stayed in touch. Usually what happens when people learn about my trip, they usually say something like, "I wish I could go." I always say, yes, definitely come with me, but Ethan was the first person to say OK, I'll go with you. We became really good friends and started planning out the trip and seeing if it would make sense to go together. Everything just kind of came together, it seemed to work out perfectly for him to work on the road like I'm going to. It was a last-minute [change that] turned out to be great, because knowing now all the stuff that I didn't really think I'd need to be doing in terms of getting the van fixed up, it's great to have someone else to toss ideas around with.
VN: Have you planned out your full itinerary?
KL: The thought of planning the entire year in one sitting is a little overwhelming, and there are new restaurants popping up all the time, so we want to make sure that we're getting everything sorted out as we need to. Not only will we be eating at the restaurants, but we'll also be working on the road, so we want to make sure we have time to get all of that done as well. It's a whole life experience. We really want to make it clear that this is really not us going on vacation and having a leisurely trip across the country. It's more about activism and spreading the word about veganism, and also connecting with other people, featuring other vegan businesses. We're taking this on because we're so passionate about it and we can't not do it. It's in us, we have to, and I can't imagine not doing it at this point.

VN: How many restaurants do you plan to go to?
KL: My friend from happycow.net sent me a spreadsheet of all of the 100-percent vegan restaurants in the country. It looks like there's less than 500, but depending on the states that we're in, we're willing to stop at some vegetarian places that have decent vegan options. Ethan has also started a section on the blog called Leftovers, where we'll talk about restaurants that maybe don't seem veggie-friendly or are mostly vegetarian and have just a couple of vegan options. We'll be doing a wrap-up of places like that because we want to make sure that we give credit where it's due. We plan to hit every single state in the country, including Alaska and Hawaii.
VN: Have you had a chance to start visiting restaurants yet?
KL: We did officially cross Maine off the list. Back in August, we went out there for a weekend—there are four vegan restaurants. While we've been getting everything sorted out, I've been going back and forth from my parents' house in upstate New York to Boston, and Ethan was living out there at the time, so we started eating and reviewing some of the restaurants. We'll be doing Boston and New York City for the remainder of October.

VN: What's the best place you've been so far?
KL: So far, I haven't really been to a place I've been disappointed with. One of the places that left one of the best impressions on me so far was this restaurant in Bar Harbor, Maine, called Eden Vegetarian. It was a gorgeous town on the water, the experience in the restaurant was great, the server was amazing, and the food that we had was outstanding. We were fortunate enough to be offered a chef's tasting menu so we had a lot of different things. We had an opportunity to chat with the owners of the restaurant, a vegan couple. I can't wait to go back to that place someday.
VN: How do you feel about the recent success of your Kickstarter campaign? Were you expecting that?
KL: Initially, I was talking to some friends about the costs related to the trip and I said [that] even though I'm going to be working on the road, I just don't know if it's something people would want to support. A lot of people said what I'm doing is going to help the movement and it's really about advocacy. I decided to give it a shot and came up with an estimated cost of $10,000 for gas and food for the year. Kickstarter allowed me to meet a lot of new people. I think we have more than 95 backers now, and I've made some new friends just from that experience who I now plan to meet during the trip. Everyone who has supported has been invaluable to the project and getting us beyond the goal. It's the power of networking and social media that blows my mind. I made friends with people and I'm almost getting emotional thinking about it. I would say to anyone that's thinking about starting a Kickstarter project to talk about it with their friends, see if it makes sense for what they're working on, and then definitely give it a try.
VN: I see that you've been writing about bucket lists on your blog. Do you have any firm goals for this trip in particular?
KL: The first two things on my bucket list are to visit every state in the country and to also eat at every vegan restaurant in the country, so I think I'll be able to check those off in the next year. Otherwise, I also added the 99 vegan things to do from VegNews, so I'm hoping to do that simultaneously. I really want to commit to making the most of the time that I have here.
Photo courtesy of Jennifer Simmons

JUST LAUNCHED! Get our 10 Easy Vegan Summer Meals recipe book as a FREE instant download.
JUST LAUNCHED! Get our 10 Easy Vegan Summer Meals recipe book as a FREE instant download.