Food + Recipes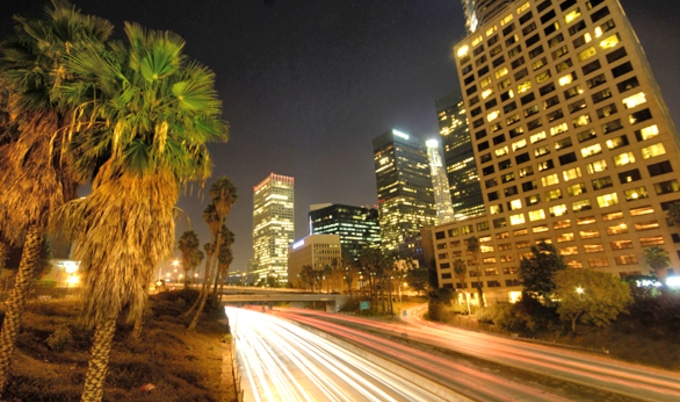 Vegan Food Crawl
The Urban Food Crawl provides participants with a taste of the best vegan food in a three-mile, four-hour, six-restaurant tour of Downtown Los Angeles.
---
Heading to a city known for being a vegan hotspot can be completely overwhelming. You've read about the incredible restaurants and you've diligently taken notes on your friends' favorite vegan gems, but where do you go first, and how do you structure your limited time and budget to maximize the amount of amazing food there is to taste? Solving this conundrum just got a whole lot easier, at least in downtown Los Angeles. Started in August by Jen Bardekoff and Sheri Wheeler, the Urban Food Crawl takes participants to six restaurants with great vegan dishes in a four-hour event every Saturday. The women say they started the tour because they wanted to add a vegan affair to the abundance of food events in Los Angeles. With Sheri and Jen as the guides, participants walk approximately three miles in total, while hearing interesting historical tidbits about Los Angeles and fun facts about each stop. The intimate nature of the tour—roughly 10 guests per event—allows for one-on-one discussion with the expert guides and facilitates friendships among participants. Most importantly, the tour features creative and delicious food, with restaurants hand-picked by Jen and Sheri themselves, and an Urban Food Crawl bag to stuff any leftovers participants are sure to acquire.
Sandwich Starter
After a brief introduction, we left Pershing Square, bags and menus in hand. First stop: Two Bits Market, a small corner store and deli which specializes in stocking locally sourced, organic produce. Chockfull of wine, raw chocolate, artisanal snacks, and more, everyone on the tour was more than excited to start noshing on the Rupee sandwich, featuring bean purée with artichokes, black olives, squash, and arugula on a crusty baguette. The flavors complemented each other perfectly and the smooth and crunchy textures made the sandwich a delight to eat. Bardekoff says that the owner of Two Bits Market cares so much about using quality ingredients that he tried literally dozens of baguettes before settling on the perfect one.
Diner Delight
Next up, Nickel Diner, a classic-style diner that has been featured on The Food Network's Diners, Drive-Ins, and Dives. The surprisingly veg-friendly joint served us fresh avocado stuffed with beans, red peppers, squash, corn, onion, cilantro, and quinoa salad. Wrapped in a crisp leaf of red cabbage, the avocado was presented like a precious pearl. The colorful fillings were sprinkled on the avocado like confetti, a party on a plate. The flavors were accentuated by a light lemon vinaigrette, and the addictive texture made every bite interesting. It was one of the most refreshing meals of the tour, a perfect escape from the hot sun.
Mmm… Menudo
We eventually headed to Bardekoff's favorite stop—Màs Malo, a tequila bar and gourmet Mexican joint. Located in a former 1920s jewelry store, Màs Malo's high ceilings, long tables, and grand décor make the place feel like a royal castle. We were served a hefty bowl of vegan menudo—a traditional Mexican tomato soup, rarely available without animal products—and a crunchy deep-fried taco stuffed with veg ground beef. The tomato soup zinged with a three-chili-pepper base and the tofu, tempeh, and hominy dumplings perfectly absorbed the tangy tomato broth. The already delicious taco was elevated by the addition of fresh lime, avocado, and radish. After slurping down the Piñata Smash, a spicy yet refreshing concoction of tequila, Serrano chiles, cilantro, pineapple, lime juice, and agave nectar—it was time to move forward.
Pumpkin Pizza
No Saturday night would be complete without pizza, and after a brief stop at two historic sites—Angels Flight Railway and the Bradbury Building—we were ready for a slice of heaven. Behold, Pitfire Pizza—a New York-style pizza shop specializing in wood-fired pies. The talented chefs presented us with two selections: a mushroom pizza and an autumn seasonal pie. The fire-singed field mushrooms pizza was loaded with crimini, oyster, and roasted shitakes, bringing an earthy flavor to the traditional favorite. The seasonal pie, a pumpkin pizza, was veganized just for the Urban Food Crawl, and biting into the crackly crust, fresh, salty pumpkin, braised chard, and smooth Daiya cheese combined the perfect fall flavors into one amazing slice. The toasted pepitas provided the perfect crunch atop it all.

Don't Forget Dessert!
For the final two stops, dessert was the word on the tip of everybody's tongue. Syrup Desserts mixed up their take on the Boston Iced Tea, made with tangy cranberry juice, fresh fruit, and Earl Grey tea. The opposing flavors surprisingly blended together into a unique and refreshing drink, paring well with the Champagne-pear sorbet, a smooth and fruit, not-too-sweet treat. By the time we reached Babycakes, the final stop, I had reached capacity, and they must have known it—the frozen blondie sandwich, made of two chocolate chip blondies and vanilla frosting, came pre-wrapped, and it was great to eat it later as I thought about all of the wonderful food on this tour.
Six restaurants, four hours, and an unthinkable number of calories later, I bid my tour-mates adieu, delightfully stuffed. To Wheeler and Bardekoff, this was just another Saturday, but to us participants, this was a feast to be remembered. The Urban Food Crawl provides a great introduction to the fabulous vegan food available in one of the largest cities in the US, and is surely a perfect way to start exploring the city's gastronomic wonders.
Tour Tips From an Insider
1. Come hungry!
2. Wear comfortable shoes.
3. Ask questions—Sheri and Jen are expert guides with a wealth of knowledge.
4. Prepare for both hot and cold weather by dressing in comfortable layers.
5. Befriend others on the crawl—not only is it a great way to experience Los Angeles, but you're sure to meet interesting people.
For a complete look at the Urban Food Crawl, check out the Facebook album!

Want more of today's best plant-based news, recipes, and lifestyle?
Get our award-winning magazine!
Subscribe