Food + Recipes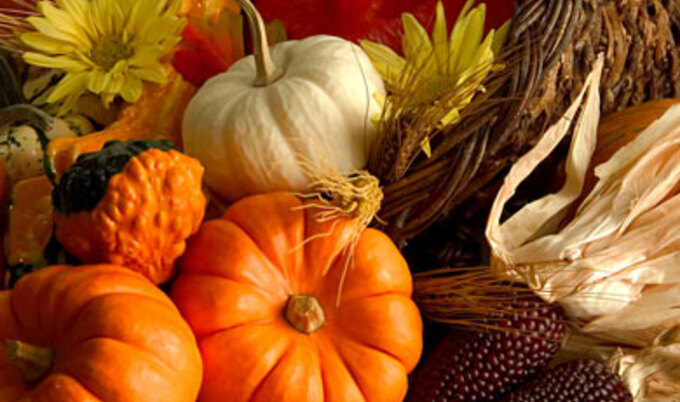 Failproof Thanksgiving Tips From the VN Editors
The VegNews editors share their top tips for skipping the stress and letting your holiday spirit shine.
---
Between family drama, culinary chaos, and the party frenzy, the holidays can be about as relaxing as a root canal. The VegNews editorial team is here to help! We've seen and heard it all, and are here with our wisdom and witticisms that we hope will keep you thankful, rather than resentful, that the holiday season is here. Stay cozy and don't miss another wink of sleep over entertaining woes, social discomforts, or merry meal-planning.
Associate Publisher Colleen Holland
When hosting a Thanksgiving dinner, I like to keep the meal simple, balanced, and manageable. There's no rule book that says you have to prepare 20 dishes in order to appease your guests. Pull together a menu with six outstanding dishes—my favorites are a caramelized pecan salad, pumpkin soup, roasted potatoes, homemade stuffing, a stunning centerpiece, and a chocolate dessert. Create an inviting and warm atmosphere, and enjoy the day.
Managing Editor Elizabeth Castoria
My trick for managing stress during the holidays is the same as it is throughout the rest of the year: Be grateful. This works especially well for Thanksgiving, given the theme, but really applies any time. When things go wrong during the holidays, it's usually along the lines of someone accidentally let the dogs into the yard, an ingredient for a dish went missing, or Aunt Tina enjoyed a tad too much "holiday cheer" and started making inappropriate toasts. On a scale from "zero" to "actual problem," these kinds of issues barely flick the needle. Being grateful for quality time with our loved ones, being able to share a meal together, and for the homes in which we celebrate the holidays makes Thanksgiving-related trifles trivial.
Associate Editor Jennifer Chen
A week before Thanksgiving, plan out exactly what recipes you'll be making, write up a grocery list, and shop ahead of time to avoid the inevitably empty shelves the week of Thanksgiving. I once had to drive around to several grocery stores looking for canned pumpkin because it was gone. This is what happens when you don't plan ahead! Most of my friends and family aren't vegetarian or vegan, so I whip up my best recipes. Vegan garlicky sour cream mashed potatoes, a juicy Tofurky, and cranberry bars are my go-to dishes to serve. No one misses the meat or dairy because they are too busy stuffing their faces!
Online Editor Anna Peraino
Plan ahead. I mean menu-planning, reading recipes days before the big event, and organizing how the day will go. Serving roasted veggies? Cut up your veggies the day before. Making pie? Roll out that crust before Thanksgiving Day. And you can always make your sauces early. The more you plan, the more time you have to spend with loved ones. Oh, and did I mention you'll be less stressed? Because that's always a major win. On another note: skeptical relatives? Yeah, most of us have those (unless you're one of those people who comes from a vegan family, in which case, stop bragging!). Instead of apologizing for your veganism or being sheepish about your dairy-free pumpkin pie, talk that Seitan Wellington up (oh, and invite me over)! Studies show that if you're positive, people around you are more likely react positively. Actually, I don't know if that's true, but you believed me, right? Confidence!
Editorial Assistant Joni Sweet
With all of the craziness that comes with being around the entire family and going home for the holidays, things tend to get stressful, despite the joyous occasion. My tip is to be sure to savor each and every bite of this once-a-year feast. Remember how infrequently we are able to get together with our loved ones to savor a home-cooked meal and work to change this. Think of Thanksgiving as a starting point to kick off a new year of gratitude and enjoyment. No matter how much your family may drive you crazy, they're likely the people you'll always be able to turn to for a home-cooked meal and a needed hug.
Editorial Assistant Hilary Pollack
If your family's even half as crazy as mine (doubtful, but possible), you may feel like you're getting gray hairs by the minute when everyone gathers and mutiny immediately erupts. In order to regain perspective and enjoy myself while remaining a brunette, I try to think of our Thanksgiving feast as a zany sitcom where every person contributes his or her unique character to the social mix. Mishaps and misunderstandings are just another element of the fun, and always make the best stories in retrospect. In terms of food, I abide by three little words: keep it simple. A hearty entrée (always a Tofurky roast, in my case), a side or two (mashed potatoes are a must) and a pumpkincentric dessert are all you really need for belly-patting satisfaction. While the rest of my family is omnivorous, I find that cooking vegan dishes and presenting them alongside everything else with a smile always results in curious—and satisfied—takers. My final tip: a generously poured glass of Champagne can assuage most worries.
Please support independent vegan media and get the very best in news, recipes, travel, beauty, products, and more.
Subscribe now to the world's #1 plant-based magazine!
Subscribe