Food + Recipes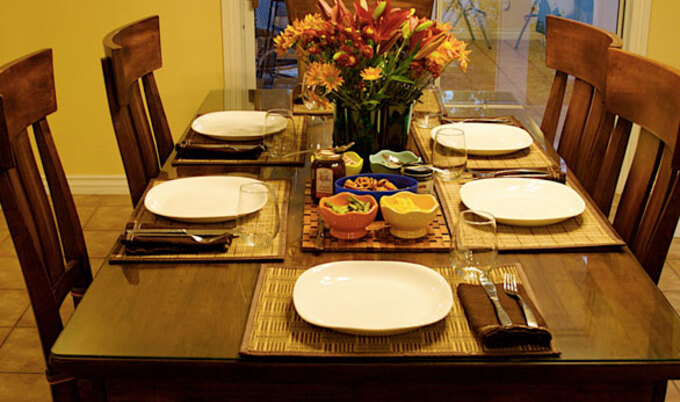 Happy Holidays With Our Favorite Vegan Health Experts
How does a vegan health professional celebrate Thanksgiving? Read on for the scoop on their cruelty-free feasts and surprising traditions.
---
Our doctors help us understand our bodies and maximize our health, but they also know how to make the most out of the holidays. We asked some of our favorite docs to share their plans for this Thanksgiving, and the recipes that keep them smiling and satisfied throughout the season. Don't worry—there's cake involved.
Neal Barnard, MD, is a clinical researcher and author, as well as the founder and president of the Physicians Committee for Responsible Medicine.
"A few years ago, I learned about the Native American tradition called the "Three Sisters," in which corn, beans, and squash are grown on the same ground. It's very simple: A few seeds of corn are placed in the ground. Around them, a few bean seeds are planted in a loosely circular way. Some squash seeds are placed nearby. This pattern is then repeated all down the garden. Each corn stalk provides a trellis for the beans. In turn, beans pull nitrogen from the air and fix it in the soil to fertilize the corn. Squash plants spread broad leaves across the ground, blocking out sunlight that would allow competitors to grow, so weeding is not necessary. Squash vines also have prickly thorns, protecting the plants from nocturnal nibblers. This simple method requires no fertilizer and pesticides, and almost no weeding. And, of course, these foods are wonderfully healthy—loaded with protein, but no cholesterol or animal fat.
Most of all, I like the symbolism—three disparate species getting along and supporting each other. So every Thanksgiving, I make a Three Sisters dinner, with butternut squash soup, a Three Sisters casserole, pumpkin pie, and lots of other goodies. My hope is to observe the day by reaffirming the value of living in harmony."
Michael Greger, MD, is the director of Public Health and Animal Agriculture at the Humane Society of the United States.
"I have Thanksgiving WITH the turkeys every year! Poplar Spring Animal Sanctuary holds an annual potluck where we feed the turkeys, stuff ourselves, and then—the best part—feed pumpkins to the pigs (they go crazy!). Its one of the highlights of the year for many DC-area animal-friendly folks. At home, it's pumpkin-smoothie time: take half a small seeded pumpkin, place cut-side down in a plate of water, microwave until soft, cool down, and blend with a cup of unsweetened plant-based milk, half a cup of frozen cranberries, 2 tablespoons of erythritol, and a teaspoon of pumpkin pie spice. Slackers can use canned pumpkin instead, but then you don't get to roast the seeds for a post-smoothie snack!"
Julieanna Heaver is a plant-based registered dietitian and American Council on Exercise-certified personal trainer who has worked in health and nutrition for 12 years.
"I love celebrating Thanksgiving with an emphasis on gratitude for the health and life for my family, friends, and animals. Thus, I enjoy creating gorgeous, colorful, whole plant dishes honoring these factors and representing all of fall's bounties. Typically, my dishes include deep orange pumpkin and sweet potatoes, yellow and bright orange squash, hearty whole grains like wild rice and quinoa, and brown, nutrient- and flavor-dense legumes like lentils and beans. I always include lovely leafy greens in just about everything, including kale salads, and added to stews and soups, for added color, flavor, and nutritional punch. There is something magical about inspiring others to realize they don't have to forego flavor and indulgence by leaving out the animal products."
Matthew Lederman, MD, and his wife Alona Pulde, MD, are the authors of Keep It Simple, Keep It Whole: Your Guide to Optimum Health, and the founders of Exsalus Health and Wellness Center.
"What would Thanksgiving be without a little ruckus, a buffet of food, and a lot of family? Nothing that we would recognize, and this year will be no exception. Starting the day early, we gather together and begin by sharing travel stories, which lead into jokes and the most embarrassing family memories. Then, to build an appetite for what will be a very generous meal, we go for a nice long walk. Exhausting ourselves into a famished state, we gather in line for an amazing assortment of delicious foods from yams, cranberries, stuffing, and mashed potatoes to less traditional foods like vegetable soup, Israeli salad, hummus, eggplant, and pasta. We spend an exorbitant amount of time around the table, less to talk and more to stuff, but what else can you do in the face of so many delicious options? Dinner is followed by dessert, which consists of cocoa truffles, almond pound cake, and carrot cake, and the evening generally culminates in casino night as we gamble away the family fortune."

Joel Fuhrman, MD, is the author of the New York Times best-selling Eat To Live and the just-released Super Immunity, and a board-certified family physician and nutritional researcher.
"I like that holidays like Thanksgiving force me to hang out with relatives and stop working for an evening once in a while. Workaholics like me need a little family time once in a while too, especially so my wife does not kill me. Eating a little too much inevitably happens, but I usually work out in the gym for a few hours on those days to hollow out my legs a little before I go. So my plan for this year is to get some new jokes ready for the meet-up; avoid the campylobacter, antibiotics, and hormones in a dead bird; and get to eat some of my favorite recipes in larger amounts."
Dr. Furhman's Favorite Holiday Recipes
Winter Breakfast Soup
Mashed Cauliflower and Spinach with Mushroom Onion Topping
Butternut Squash Salad with Toasted Pumpkin Seeds
Healthy Chocolate Cake
Want more of today's best plant-based news, recipes, and lifestyle?
Get our award-winning magazine!
Subscribe