Food + Recipes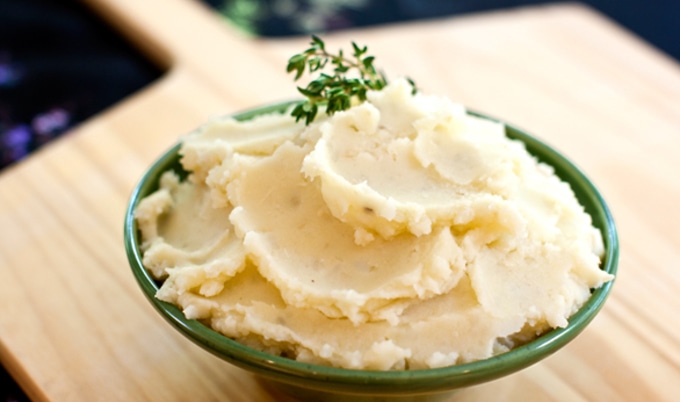 Mashed Potato Remix
This holiday season, try one of these vivacious variations on the perennially preferred taterrific side dish.
---
While some people aren't raging for dinner rolls, tantalized by Tofurky, or cuckoo for cranberry sauce, it's hard to find a Thanksgiving plate without a generous mound of mashed potatoes. Traditionally loaded with cream and butter, cruelty-free versions of this popular dish skip the dairy and amp up the creativity, healthfulness, and flavor, with delicious results. While the classic incarnation of mashed potatoes is a fluffy, white heap of starchy goodness, remixes abound in a variety of shades, tastes, and forms.
Stress-Free Sides
Part of the appeal of mashed potatoes is the simple, no-fuss preparation. All you'll need is a pile of taters (Yukon Gold, Russet, and purple potatoes are just a few of our faves), salt, and a non-dairy agent for making your mash rich and smooth. Creamy Quick Mashed Potatoes require only a few ingredients—potatoes, cashews, salt, and spices—and only a few cooking steps from start to finish. Not big on nuts? Try food.com's Creamy Vegan Mashed Potatoes, which achieve velvety perfection with the addition of vegan mayo and soymilk. Ga-ga for garlic? Serious Eats is here to help with Lani's Vegan Roasted Garlic Mashed Potatoes—just don't forget to chew some parsley afterwards. Or, conjure the fragrant essence of rosemary in Garlic Rosemary Mashed Potatoes—just like grandma used to make, but minus the butter and heavy cream.
Flavorful Fluff
It's time to amp your mashed potato mojo by experimenting with less-expected editions. Think of potatoes as the blank canvas for your own work of art, with herbs, spices, and veggies serving as your palette. Try out different proportions of flavor to seek as subtle or as stratospheric a level of flavor as you desire. For example, a little dill goes a long way, but Simple Garlic and Dill Mashed Potatoes partners it with aromatic garlic for a savory symphony. Looking to bring international flair to all-American fare? Southeast Asian-Flavored Spicy Mashed Potatoes lead hot peppers, ginger, and cilantro to your holiday table in the vehicle of the favorite side. Or, go Southwestern with Cheesy Chipotle Potatoes, like your favorite chips—but mashed! Our leafy friend kale even makes a worthy addendum—eat more (mashed potatoes with) kale. Smash or purée your potatoes with your favorite greens or fresh herbs for an extra boost of tang, color, and texture.
Beyond the Skin
Mashed potatoes are a great stand-alone dish, but they also make a worthy filling and topping for a medley of other recipes. For example, Onion Soup Gratinéed with Cream-Truffle Mashed Potatoes offers the best of both worlds—the flavorful classic, French Onion Soup, with decadent, truffle-laced mashed potatoes. Missing shepherd's pie, the traditional meat-and dairy-heavy dish, after going veg? Vegan Spicy Shepherd's Pie revamps it for the perfect family dinner, loaded with carrots, peas, and corn and topped with a lush layer of taters. FatFree Vegan Kitchen's Portabellas Stuffed with Pesto Mashed Potatoes are a satisfying way of melding mushroom magic with punchy pesto. How about dumplings that burst with buttery goodness? Homemade Potato, Onion, and Cheeze Pierogi are a cruelty-free interpretation of the Polish treats.
Craving Gravy
There's one not-yet-mentioned but totally essential component of the ultimate mashed potatoes—gravy! Mashed potatoes and gravy are BFFs of the Thanksgiving side-dish world, complementing each other's textures and flavors to a T. For a simple, traditional recipe, try I Can't Believe It's Vegan Gravy, which looks and tastes just like the classic. For a faux-meat fix, try Easy Vegan Sausage Gravy or Vegetarian Chicken Gravy, both of which could easily top biscuits or roasts as easily as mashes and savory pies. Vying for veggies? Lentil Gravy or Awesome Mushroom Gravy are hearty and enriching, or Split Pea Gravy is a unique but tasty take. For a hint of Japanese cuisine, Shiitake Mushroom and Miso Gravy has oodles of umami and can be used anywhere you need a ladle of love.
Much more than just fluff, mashed potatoes merge with an endless array of flavors to supercede their side status. This Thanksgiving, transform your taters and be ready to take seconds … and thirds … and fourths (it's the holidays!). For more ideas for your show-stopping feast, check out the VegNews Holiday eCookbook.
Please support independent vegan media and get the very best in news, recipes, travel, beauty, products, and more.
Subscribe now to the world's #1 plant-based magazine!
Subscribe