Travel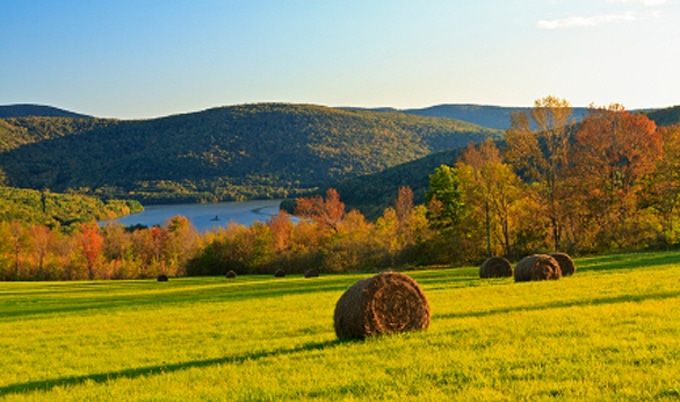 Vegan in Upstate NY
With sanctuaries and vegan food in abundance, there's no better time to head to upstate New York for magnificent mountain views and thriving cultural communities.
---
Not many people get to experience the splendor of the majestic Catskill Mountains, the beauty of the winding Hudson River, and the quaint, small-town friendliness that comes with living in the Hudson Valley region of upstate New York, but the residents of the historic towns of Saugerties and Woodstock have that fortune. In addition to the breathtaking scenery, the area is also home to tasty vegan food, heartwarming rescued animals, and a renowned art scene. Venture to this unique area for a weekend retreat—at just over 100 miles away from New York City, it's easily accessible and you'll be charmed by the welcoming communities of Saugerties and Woodstock.
Hospitality to All
With two farm animal sanctuaries within 20 miles, could a weekend retreat in the peaceful Catskill Mountains get any better? First stop—Catskill Animal Sanctuary in Saugerties, where visitors can meet more than 200 rescued farm animals. Venture on a heartwarming tour to be inspired by the relationships between the free-range animals, volunteers, and sanctuary staff, while learning about the cruel practices of big agribusiness and the importance of compassionate rescue organizations like CAS. This intimate sanctuary also offers specialty tours with Kathy Stevens, the knowledgeable director and founder of the organization.

Next up, head to Willow, NY, just outside of Woodstock, to meet and greet rescued chickens, cows, ducks, goats, and sheep who call Woodstock Farm Animal Sanctuary home. Be sure to say hi to Stanley the pig, who bounds towards any human for a belly rub or a treat. Tours run from April 1 to October 31, so if you're visiting during the off-season, schedule a few hours to volunteer instead. With more than 200 rescued animals roaming the sanctuary grounds, there's plenty to do, and the organization thrives on support from compassionate volunteers.
Have Your Fill
You cannot visit Ulster County without checking out the Garden Café—the area's only all-vegan restaurant. Frequented by author Kris Carr (who lives in the area) and other celebrities, Garden Café is located in central Woodstock and serves enticing dishes like Pan-Seared Tofu with Pistachio Gravy over Butternut Squash Mash, Baked Seitan with Red Wine Fig Sauce, Grilled Curry Tofu Mango Sandwiches, and make-your-own macrobiotic bowls. For a happy ending, indulge in the Carrot Apricot Cake with Cream Cheese Frosting—you'll never feel the same way about dessert.
For internationally inspired cuisine, make a reservation at the groovy New World Home Cooking Co., nestled between Saugerties and Woodstock. Chef Ric Orlando, a member of Slow Food USA, uses local ingredients to maximize flavor and seasonality on his ever-changing menus. The vegan Pan-Blackened String Beans, a permanent menu fixture, are famous among locals for their crispy edges and fiery Creole spices. The menu is not 100-percent vegan, but Orlando dedicates an entire section on the summer menu exclusively to vegan dinners and provides ample options during the other seasons, with options like Blue Corn-Crusted Seitan Medallions served with smooth tomatillo salsa, Beans and Rice Utility Dinner with every vegetable in the kitchen and an optional chimichurri-tofu add-on, and Nyon Olive-Crusted Tofu Steaks with olive oil mashers, braised greens, and Muhammara sauce. The vegan options are sweet through the end, with selections like Chocolate Coconut "Access" Cupcakes, fresh fruit crisps, and homemade sorbets.
Other foodie highlights in the area include Oriole 9's savory tofu hash brunch, the Hudson Valley Dessert Company's highly sought-after cranberry-walnut granola (a great road trip snack!), and tasty bar munchies like Coconut Tofu to accompany cocktails at The Pig Bar and Grill. Keep an eye on the menu at the newly opened Healthy Gourmet To-Go storefront; owner Roni Shapiro has plans to open the gourmet vegan food-delivery headquarters to the public for in-house dining in the near future. For more amazing food, ask local shopkeepers—they are the most knowledgeable people in the area regarding new businesses and eateries.
Get Tucked In
For an authentic Hudson Valley experience with a compassionate edge, a stay at the Guesthouse at Woodstock Farm Animal Sanctuary is essential. Get cozy in the pre-Civil War era farmhouse-turned-bed-and-breakfast, where a live rooster will serve as your alarm clock, the vegan continental breakfast is both bottomless and hearty, and the stunning mountain views will render you blissful. Located right on the sanctuary premises, you'll be charmed by neighboring animal friends greeting you each morning. As if you needed another reason to stay there, the sanctuary uses all profits to support its ongoing rescue efforts.
If kitschy is what you look for in a hotel, nowhere is better suited than Kate's Lazy Meadow Motel in nearby Mt. Tremper. With your choice of an Airstream trailer, cabin, lodge, or shack as accommodations, you'll feel right at home at this retro-themed motel, co-owned by the B-52's singer Kate Pierson. Keeping clean is a treat to boot: the complimentary international toiletries are right from Pierson's collections from her worldwide tours.
If you're willing to drive about 40 minutes from the area, the Hungry Ghost Guest House in New Paltz serves all-vegan breakfasts at its comfortable "active retreat" facility. Options abound, so check the site to determine which type of living quarters will best suit your needs and desires.
The Complete Package
The elegance and serenity of the Catskill Mountains and the surrounding flora have drawn people to the area for centuries. While much of this tourism associated with the famous Jewish resorts of the first half of the 20th century faded after the 1960s and left many hotel signs permanently on "vacancy," Saugerties and Woodstock have continued to thrive as cultural hotspots throughout the past two decades. Take a short hike to the famous Saugerties Lighthouse and gaze at the Hudson River, and bring a picnic lunch to make a day of it. For a longer trek, Overlook Mountain has great trails suitable for nearly any skill level, and offers outstanding views of the lush Hudson Valley. Near the top, you can also explore the concrete remains of a burnt down hotel that was built more than 100 years ago.
The area has also always had a flourishing music scene. Saugerties hosted the rock festival Woodstock '94, and musicians like David Bowie, Bob Dylan, and Van Morrison have all lived in Woodstock at some point. Locals love rocking out at the Bearsville Theater, which has featured performances by Dark Star Orchestra, Cowboy Junkies, and Pitchfork Militia. Or get in touch with your inner flower child by bringing a guitar (or pretty much any instrument) to jam with local hippies on street corners.
For local art, head to one of the dozens of galleries in both Saugerties and Woodstock. The renowned Woodstock Byrdcliffe Guild displays multimedia galleries of unforgettable artwork, and hosts regular musical performances. Check out the map compiled by the annual Saugerties Artists Studio Tour to find the exact media you're interested in. The town is home to dozens of talented artists in photography, sculpture, painting, and more.
Between the delicious cruelty-free food, adorable rescued animals, vibrant cultural communities, and enchanting natural settings, it's hard to find enough time to do everything the towns of Saugerties and Woodstock offer to tourists and locals alike. Come back annually for new surprises in this burgeoning area of New York.
Want more of today's best plant-based news, recipes, and lifestyle?
Get our award-winning magazine!
Subscribe