News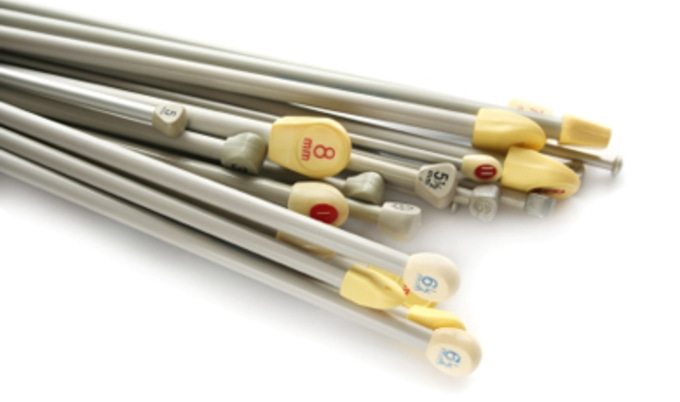 Vegan Knitting for Beginners
Knit yourself warm this winter with cruelty-free yarns and creative designs.
November 1, 2011
---
Winter is coming—the brisk breeze and the bare trees say it all. It's time to give up summer dresses and sandals in favor of heartier boots and snuggly sweaters. While winterwear is often woven with wool, cruelty-free options abound in the warm world of knits. Soft fibers made of wool alternatives are widely available and produce scarves, sweaters, and socks that are cute, comfortable, and cozy. Whether it's DIY or purchased from skilled craftspeople, knits are a fun and fashionable way to keep warm, while maintaining compassion for animals.
Knitting Knowledge
So, you've decided to go DIY when it comes to your vegan knitwear. Perfect! This is one of the easiest ways to ensure that your wardrobe remains cruelty-free, and it's actually surprisingly easy. To get the basic technique, check out Vegan Knitting 101—VegNews TV correspondant Jasmin Singer will show you the ropes (or the yarn). Knitting pattern company Midnightsky Fibers has posted videos on YouTube demonstrating a variety of knitting techniques. Whether you want to create a pretty drop stitch scarf or learn how to make twisted stitch accents, there's a video for you. With just a few hours of practice, you should be well on your way to expert knitting in no time. If you get stuck, consult friends who know their stuff; sometimes the easiest way to amp up your crafting skills is through one-on-one training sessions.
Yarn And Fibers
Think yarn made from wool or alpaca is the easiest way to keep warm? Think again! Dozens of soft and smooth yarns made of alternative fibers are readily available to be woven into the knits of your dreams. One blog, aptly titled Fake Sheep, has created the tell-all guide to the best alternative fibers, like Peruvian cotton, crinkly linen, handspun hemp, banana silk, and bamboo blends, as well as where you can find them. Quo Vadis, a shop on Etsy, offers an amazing selection of vegan yarn, including hand-dyed versions in hues of coral, neon tangerine, lavender, and glacial lake blue. Additionally, most local yarn shops carry vegan yarn, though it may not be labeled as such. Avoid yarns made of wool, chitin, silk, and other animal-derived ingredients to build a compassionate knitwear collection.
Knit a Community
With crafts like knitting, it's all about community. Think sitting around a warm fire, knitting scarves, and discussing fun memories with your closest friends. To get more involved with the vegan knitting community, check out the blog Vegan Knitting, which reviews yarns and has how-to guides for hats, socks, and more. While not 100-percent vegan, Cast On podcast offers discussion on an array of topics, with compelling episode titles like "Deny the Knit," "Knitting Renaissance," and "Knitting Mash Up." Or, if vegan socks have stolen your heart, consider becoming a member of the blog Vegan Sock Kal, where you and all your vegan sock aficionado friends can post photos of your passion.
Show Me The Sweater!
OK, so maybe you don't have time to twist yarn knots out for hours on end to make a beautiful hand-crafted wear. After all, any experienced knitter will tell you about projects that frustrated them, especially as amateurs. While the craft gets easier with time, sometimes you just need cute scarves and sweaters before spring rolls around. Enter Treewool—an online storefront chockfull of adorable knitted crop tops, hats, vests, and headbands. San Francisco-based knitter Kristen Blackmore uses only cruelty-free materials to create Treewool's handmade clothing line, so customers know they're getting high quality, compassionate clothes. Etsy seller Murano & Tagua also creates colorful knitted scarves with chunky stripes for kids and adults, using a medley of vegan-friendly materials. The store has every vegan-friendly item labeled as such, so just check the descriptions. For international treasures, Birgit Blau's vegan line, though limited, includes knitted gems like bubblegum pink scarves and fire engine red mittens, perfect for winter.
Whether you're ambitious enough to knit a thick, cozy scarf or you're opting for compassionate designs from skilled craftspeople, cruelty-free knitwear will keep you warm for many winters to come. All it takes is some yarn, a couple needles, and a bit of time and patience.
Want more of today's best plant-based news, recipes, and lifestyle?
Get our award-winning magazine!
Subscribe