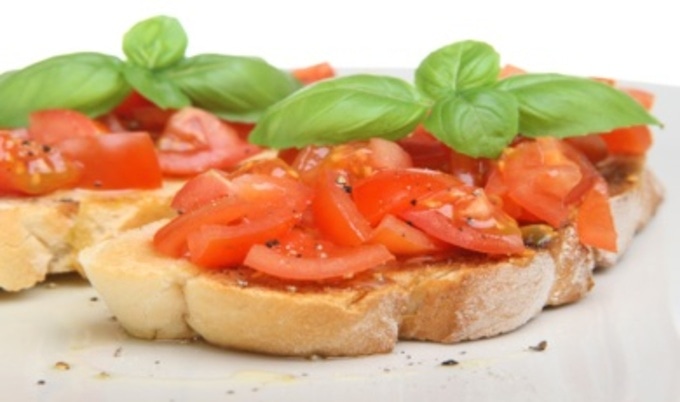 Toasty Loaded Sled Bruschetta
These hearty appetizers burst with Italian-inspired flavor, accentuated by a secret ingredient—vodka.
Made with vodka and a host of other tasty ingredients, these bruschetta sleds are perfect for every holiday occasion, from sledding with friends to sitting by a roaring fire.
Makes 12 servings
What you need:
4 medium tomatoes, peeled, seeded, and very coarsely chopped
2 teaspoons sea salt
12 slices French or Italian bread, about 3 inches in diameter
1 garlic clove, peeled and split
3 tablespoons olive oil
2 teaspoons balsamic vinegar
2 tablespoons vodka or pepper-flavored vodka
2 teaspoons fresh thyme leaves, or 1 teaspoon dried
1 teaspoon dried oregano
Freshly ground black pepper 
What you do:
1. In a large colander set over a bowl, toss tomatoes with salt and drain for 30 minutes. Gently press down on the drained tomatoes to extract juices.
2. Under a hot broiler, toast bread slices on both sides. Rub toasted top of each slice with split garlic clove and lightly brush with olive oil.
3. Transfer tomatoes to a large bowl and toss with balsamic vinegar, vodka, thyme, and oregano. Season with pepper to taste. Spoon tomato mixture into small mounds on top of toasted bread slices and serve on a holiday platter.
Love vegan food and cooking as much as we do?
Get the BEST, editor-tested recipes inside every issue of VegNews Magazine. Find out why VegNews is the world's #1 plant-based magazine by subscribing today!
Subscribe