Home + Lifestyle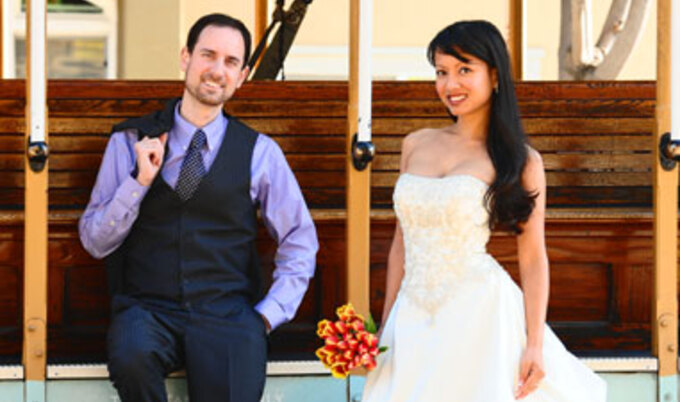 Vegan Weddings 2011 (Joan Laguatan & Devin Benjamin)
Meet Joan and Devin, one of 2011's 10 fabulous wedding couples.
---
Joan Laguatan & Devin Benjamin
San Francisco, Calif.
Guests: 70
Location: Forbes Island
Date: October 24, 2010
Cost: $15,000
Their story: Joan happened to be one of Devin's students in a course he was teaching on Judaism and philanthropy for young professionals in San Francisco. After the first day of class, everyone gathered for drinks and Devin wouldn't let Joan out of his sight. Their first official date was at a local Thai restaurant where Devin showed off his Thai speaking skills, which he picked up in the Peace Corps. Joan wasn't vegan when they first met, but Devin kept sticking PETA pamphlets in her purse and exposing her to delicious vegan food, so it wasn't long before she was wholeheartedly on board. About a year and half after meeting, Devin unexpectedly blindfolded and ear-muffed Joan when she picked him up from the train for what she thought was just another date. Instead, she was led through a maze of streets, staircases, and up an elevator before their true destination was revealed—the classroom where he had first laid eyes on her! Devin presented Joan with a book filled with photos and keepsakes that chronicled their relationship. At the very end of the book were four pictures of Devin, each one featured him holding a sign with a different word. "Will you marry me?" the photos asked. She said yes!
The Menu
Appetizers
Vietnamese fresh spring rolls
Steamed Chinese buns filled with soy protein and veggies in an Asian BBQ sauce
Curry samosa puffs
Deep-fried Filipino soy shrimp marinated in lemon juice and soy sauce
Lumpia filled with seasoned soy ground beef, shredded cabbage, peas, and carrots with a sweet chili dipping sauce
Entrées
Kare-Kare with soy chicken, eggplant, string beans, and cabbage with a Filipino peanut sauce
Fried adobo soy chicken strips
Pancit rice noodles with soy chicken, celery. and carrots
Mung beans with squash, spinach, tofu, and green beans
Apritada Filipino stew with soy chicken, potatoes, bell peppers, and green peas
Wedding Cake
Vanilla-lemon zest cake with lemon curd filling and vanilla-citrus zest cake with orange-citrus buttercream filling, all topped with vanilla-lemon buttercream
Meet all of our 2011 Vegan Wedding couples:
Elizabeth Cook & Alap Shah (Itasca, Ill.)
Joselle Palacios & Brian Kantorek (Philadelphia, Pa.)
Stephanie Karpel & Stephen Wright (Mendocino, Calif.)
Kim Karpel & Ben Milner (Newport Beach, Calif.)
Petrina Katsikas & Kevin Butler (Willow, NY)
Astrum Lux Lucis & Alicia Ojeda (Austin, Texas)
Erin Williams & Andrew Page (Hawaii, Big Island)
Crystal Burnett & Chris Tate (Austin, Texas)
Joan Laguatan & Devin Benjamin (San Francisco, Calif.)
Meghan Campbell & Gareth Smith (Townsend, Tenn.)
For a complete list of caterers, dressmakers, and photographers from each of this year's wedding couples, visit our 2011 Guide to Vegan Weddings. Want to read all about their actual wedding day and see more photos? Check out the May+June edition of VegNews!
Interested in being a part of next year's VegNews Wedding Feature? Apply now!
Please support independent vegan media and get the very best in news, recipes, travel, beauty, products, and more.
Subscribe now to the world's #1 plant-based magazine!
Subscribe