Home + Lifestyle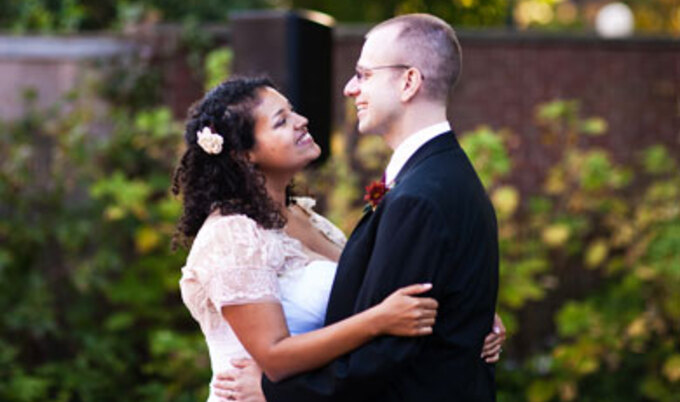 Vegan Weddings 2011 (Joselle Palacios & Brian Kantorek)
Meet Joselle and Brian, one of 2011's 10 fabulous wedding couples.
---
Joselle Palacios & Brian Kantorek
Philadelphia, Pa.
Guests: 45
Location: Powel House
Date: October 10, 2010
Cost: $12,000
Their story: These two lovebirds were brought together through the power of online dating. In fact, the reluctant match.com users met soon after signing up for the service. After a series of phone calls and emails, Joselle hopped on a train to Philadelphia to meet Brian for lunch. Little did she know that lunch would turn into dinner, and then dessert as they discovered a deep connection and unique chemistry. Although the couple accepted each other's different diets, Joselle discovered over the next year, through research and lots of vegan cooking with her new love, that she was also a vegan at heart. Their long-distance romance continued for more than three years, but eventually Joselle left her job as an editor and moved to Philadelphia after they got engaged. On the way to one of their favorite places, Woodstock Farm Animal Sanctuary, the couple stopped to admire the outdoor sculptures at Stone King Art Center. Joselle was completely surprised when Brian got down on one knee and asked for her hand.
The Menu
Appetizers
Assortment of breads with olives, roasted onions, eggplant, grilled red peppers, roasted garlic, and olive oil
Pita chips and flatbreads with hummus, baba ganoush, and creamy sesame tahini
Baby spinach, romaine, and radicchio salad with shaved red onion, toasted walnuts, dried cranberries, and apples tossed in a walnut oil vinaigrette
Piccadillo empanadas filled with shredded seitan, manzanilla olives, sofrito, and fresh herbs served with tomatillo avocado salsa
Perogies filled with Yukon gold mashed potatoes and caramelized roasted Granny Smith apples served with vegan sour cream and chives
Japanese avocado cones with marinated tofu, yellow pepper, green onion, and cilantro
Curried sweet potato shooters topped with crushed toasted cashews
Wild mushroom tartlets topped with a cannellini bean and tarragon purée
Falafel with spicy cilantro sauce
Plantain chips topped with vegan chorizo, pigeon peas, garlic, lime, avocado, and cilantro
Desserts
Cupcake buffet: Peanut butter mousse, coconut crème, black bottom, chocolate mousse, and pumpkin
Pastry buffet: Apple caramel and pumpkin cheesecakes, brownies, chocolate truffles, and Swiss chocolate caramel cups
Meet all of our 2011 Vegan Wedding couples:
Elizabeth Cook & Alap Shah (Itasca, Ill.)
Joselle Palacios & Brian Kantorek (Philadelphia, Pa.)
Stephanie Karpel & Stephen Wright (Mendocino, Calif.)
Kim Karpel & Ben Milner (Newport Beach, Calif.)
Petrina Katsikas & Kevin Butler (Willow, NY)
Astrum Lux Lucis & Alicia Ojeda (Austin, Texas)
Erin Williams & Andrew Page (Hawaii, Big Island)
Crystal Burnett & Chris Tate (Austin, Texas)
Joan Laguatan & Devin Benjamin (San Francisco, Calif.)
Meghan Campbell & Gareth Smith (Townsend, Tenn.)

For a complete list of caterers, dressmakers, and photographers from each of this year's wedding couples, visit our 2011 Guide to Vegan Weddings. Want to read all about their actual wedding day and see more photos? Check out the May+June edition of VegNews!
Interested in being a part of next year's VegNews Wedding Feature? Apply now!
Want more of today's best plant-based news, recipes, and lifestyle?
Get our award-winning magazine!
Subscribe