Home + Lifestyle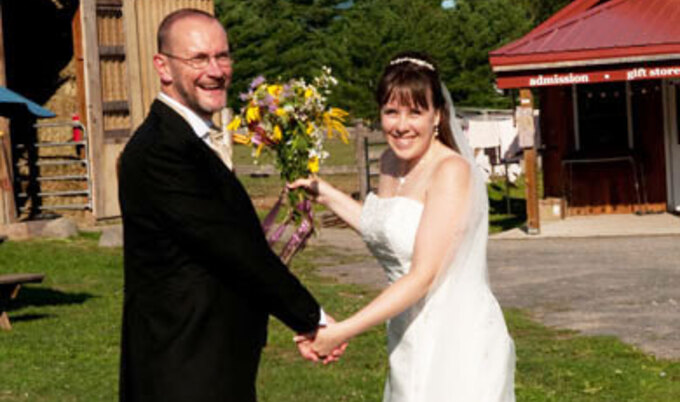 Vegan Weddings 2011 (Petrina Katsikas & Kevin Butler)
Meet Petrina and Kevin, one of 2011's 10 fabulous wedding couples.
---
Petrina Katsikas & Kevin Butler
Willow, NY
Guests: 50
Location: Woodstock Farm Animal Sanctuary
Date: July 31, 2010
Cost: $15,000
Their story: Eager to experience an all-vegan festival, Petrina hopped the pond to England to attend the Bristol Vegan Faire in June 2007. The trip was only possible because she was lucky enough to find a friendly local activist who was happy to host her for free. Kevin also happened to be staying there for the weekend and after the second day of the festival, he was already holding her hand on their way to dinner. Although they were seated with their weekend roommates, Petrina and Kevin only had eyes for each other that evening. Petrina was USA- bound two days later, but that didn't keep them from staying closely connected. When she visited Paris the next month for a wedding, Kevin was quick to make the trip from Southampton to be her date. They endured 18 months of long-distance dating before Petrina took the plunge and moved to England. As the blissful months together ticked by and her visa came closer to expiration, Petrina started to wonder if that special question would be popped. Thankfully on Valentine's Day, Kevin made Petrina a delicious tofu scramble breakfast, got down on one knee, and asked her to marry him.
The Menu
Appetizers
Fresh spring rolls filled with rice noodles, tofu, carrots, and mint with peanut and hoisin dipping sauces
Phyllo cups with shredded beets, barley, and walnuts
Phyllo pastry parcels filled with savory tofu and kale
Salad with crisp greens and balsamic vinaigrette
Entrées
Zucchini boats filled with red quinoa, tomatoes, shallots, and pine nuts
Vegetable platter with asparagus, broccoli, steamed corn, peppers, and artichokes
Desserts
Cupcake buffet: Black bottom cream cheese, red velvet, peanut butter mousse, cookies and cream, and vanilla
Brownie buffet: Almond fudge, chocolate peanut butter cup, peppermint candy cane, white chocolate pretzel, raspberry white chocolate, rocky road, and chocolate mousse
Pastry buffet: Petit fours, cinnamon buns, cherry cheesecake, chocolate mint grasshopper cake, and chocolate strawberry star cake
Wedding cake
Vanilla strawberry shortcake with fresh strawberries and whipped cream filling, topped with fresh strawberries and vanilla buttercream
Meet all of our 2011 Vegan Wedding couples:
Elizabeth Cook & Alap Shah (Itasca, Ill.)
Joselle Palacios & Brian Kantorek (Philadelphia, Pa.)
Stephanie Karpel & Stephen Wright (Mendocino, Calif.)
Kim Karpel & Ben Milner (Newport Beach, Calif.)
Petrina Katsikas & Kevin Butler (Willow, NY)
Astrum Lux Lucis & Alicia Ojeda (Austin, Texas)
Erin Williams & Andrew Page (Hawaii, Big Island)
Crystal Burnett & Chris Tate (Austin, Texas)
Joan Laguatan & Devin Benjamin (San Francisco, Calif.)
Meghan Campbell & Gareth Smith (Townsend, Tenn.)

For a complete list of caterers, dressmakers, and photographers from each of this year's wedding couples, visit our 2011 Guide to Vegan Weddings. Want to read all about their actual wedding day and see more photos? Check out the May+June edition of VegNews!
Interested in being a part of next year's VegNews Wedding Feature? Apply now!
Want more of today's best plant-based news, recipes, and lifestyle?
Get our award-winning magazine!
Subscribe