Home + Lifestyle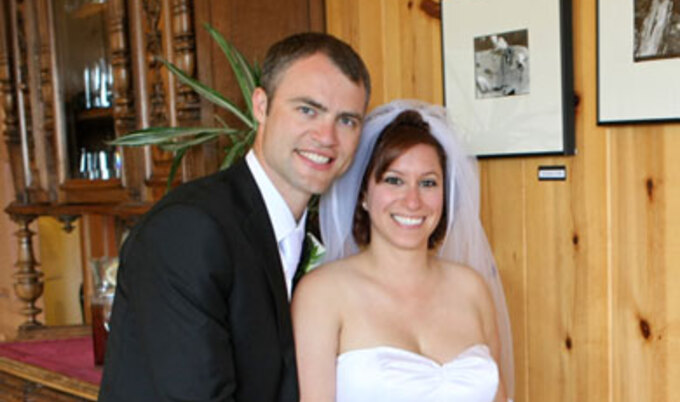 Vegan Weddings 2011 (Stephanie Karpel & Stephen Wright)
Meet Stephanie and Stephen, one of 2011's 10 fabulous wedding couples.
---
Stephanie Karpel & Stephen Wright
Mendocino, Calif.
Guests: 16
Location: The Stanford Inn
Date: May 15, 2010
Cost: $8,000
Their story: This international romance began at sea. Stephanie and Stephen met while on a vegan cruise with their veg-enthusiast families. After spending every possible moment together on board, they stayed in touch via Skype and email until Stephanie visited Stephen in England for three weeks. Their romance continued to blossom long-distance and they found themselves on the same cruise with their families the following year. Only this time, Stephen had a surprise for Stephanie. While enjoying the view from the bow of the ship, which also happened to be the site of their first kiss, Stephen gave Stephanie a Matt & Nat bag she had been admiring. When she reached into the pocket to find out what he had put inside (an empty bag would be bad luck!), she discovered an engagement ring. Both of their families were in on the plan and waiting around the corner to congratulate the newly engaged couple.
The Menu
Appetizers
Curried carrot soup
Creamy Caesar salad
Miners lettuce and artichokes with a saffron-blood orange vinaigrette
Spinach salad with candied walnuts, pears, and shaved red onion with an apple cider vinaigrette
Indian crêpe filled with roasted yams and mint raitha
Fresh spring roll filled with vegetables, shredded cabbage, fresh herbs, and marinated tofu served with a peanut sauce
Grilled flatbread with trumpet mushrooms, chipotle agave glaze, leeks, and apple herb salad
Entrées
Sea palm strudel with carrots and onions rolled into sesame phyllo
Roasted Mendocino mushrooms and creamy polenta, served with grilled radicchio and broccoli spears in a beet-balsamic glaze
Masala-scented potato scallion cake
Braised greens and roasted golden turnips
Eggplant cannelloni with fresh-herb ricotta and toasted walnuts, served with red bell pepper sauce, roasted spaghetti squash, and micro greens
Wedding Cake
Vanilla cake with chocolate mousse filling and chocolate cake with fresh raspberry filling, all topped with vanilla buttercream
Meet all of our 2011 Vegan Wedding couples:
Elizabeth Cook & Alap Shah (Itasca, Ill.)
Joselle Palacios & Brian Kantorek (Philadelphia, Pa.)
Stephanie Karpel & Stephen Wright (Mendocino, Calif.)
Kim Karpel & Ben Milner (Newport Beach, Calif.)
Petrina Katsikas & Kevin Butler (Willow, NY)
Astrum Lux Lucis & Alicia Ojeda (Austin, Texas)
Erin Williams & Andrew Page (Hawaii, Big Island)
Crystal Burnett & Chris Tate (Austin, Texas)
Joan Laguatan & Devin Benjamin (San Francisco, Calif.)
Meghan Campbell & Gareth Smith (Townsend, Tenn.)
For a complete list of caterers, dressmakers, and photographers from each of this year's wedding couples, visit our 2011 Guide to Vegan Weddings. Want to read all about their actual wedding day and see more photos? Check out the May+June edition of VegNews!
Interested in being a part of next year's VegNews Wedding Feature? Apply now!
Want more of today's best plant-based news, recipes, and lifestyle?
Get our award-winning magazine!
Subscribe