Travel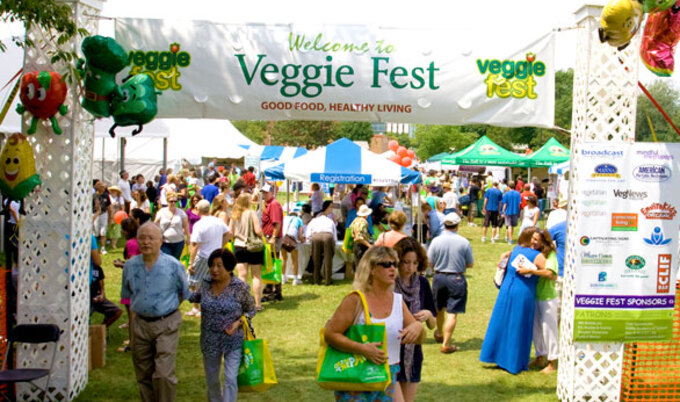 Must-Visit Summer Vegetarian Festivals
Attending these four veggie-focused events should be nothing short of mandatory for summer trips.
---
Between road trips, family reunions, weddings, and escapes to the beach, you might not have much time to your vegan self this summer. Add in fast-food menus, meat-laden potlucks, and fixed banquet menus where the only thing you can eat is the green beans, and you might feel you need to subsist solely on apples and protein bars during your summer trips. But never fear! This summer, spend an entire day filled with music, speakers, a lot of fun, and way more vegan food than you can eat at one of the many veggie festivals hosted this summer. From Pennsylvania to Colorado, we picked out a few of our favorites.
VegFest Colorado, Golden, CO, July 2
Hosted by the Vegetarian Society of Colorado, this daylong festival is filled with a vegan's favorite things: a farmers' market, live music, yoga classes, free vegan food samples, cooking demonstrations (breakfast scramble and smoothies, anyone?) and speakers such as the Humane Society of the United States' Dr. Michael Greger. If you have some extra time after touring the festival, head to Lookout Mountain for spectacular views of the Rocky Mountains. For dinner, go to nearby Denver for some delicious vegan food at City o' City or WaterCourse Foods.

Vegetarian Summerfest, Johnstown, PA, July 5 to 9
This annual conference for the North American Vegetarian Society is a must-go. While technically a conference, speakers like The China Study's Dr. T. Colin Campbell, and Melanie Joy, author of Why We Love Dogs, Eat Pigs, and Wear Cows, will hook you from the start. Throw in a drool-worthy daily vegan meals (last year sweet potato muffins, tofu-almond cutlets with mushroom sauce, basmati rice with raisins and cashews, and double-fudge brownies were just some of the menu items) and morning yoga, and you will never want to leave.
Asheville VegFest, Asheville, NC, August 7
Nosh on vegan food, listen to local musicians, and enjoy the beautiful Blue Ridge Mountains in this adorable and funky North Carolina town's vegetarian festival. Asheville VegFest will take place on Battery Park Avenue, in the heart of the town. Nearby, check out the Highland Brewing Company (and sign up for a tour) and try their craft vegan brews. If you're not stuffed, head to The Laughing Seed Café veg restaurant and nosh on maple-Dijon seitan and jalapeño onion fries (maybe not together). Sounds like Asheville was named one of the best vegan towns to live in for a reason.
VeggieFest Chicago, Naperville, IL, August 13 to 14
VeggieFest Chicago is hands down one of the best veg festivals out there. With speakers, live music, family activities, blood and food drives, and tons of food featuring cuisines from Chile to China, this event is so big that it needs two days. If you have a chance to head to the sixth annual fest, check out keynote speaker His Holiness Sant Rajinder Singh Ji Maharaj, an internationally renowned spiritual master. Afterwards, pick up some falafel from Naf Naf Grill and park in front of bluegrass group The Giving Tree Band. Grab dinner before heading home from Chicago Diner (the seitan Reuben is one of our seven favorite sandwiches) and a cupcake or two from Sweet Cakes Bakery.
No matter where you are, there's a veggie festival near you. And if not, why not start your own? We'll attend, as long as there's food!
Please support independent vegan media and get the very best in news, recipes, travel, beauty, products, and more.
Subscribe now to the world's #1 plant-based magazine!
Subscribe