Food + Recipes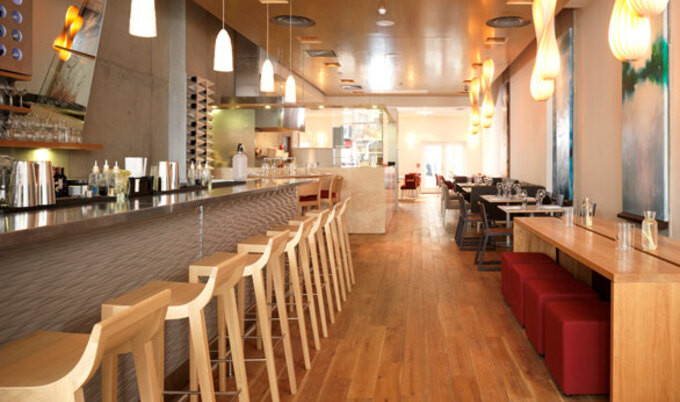 10 Hot New Vegan Restaurants
From cafeteria-style and comfort cuisine, to fine dining and more, there's a new crop of vegan restaurants serving every type of food imaginable.
---
With more and more people trying out plant-based diets, veg eateries have become the gastronomic stars of the summer. From coast to coast, cruelty-free culinary hot spots have been popping up everywhere in the last few months. Here are 10 newcomers to the vegan restaurant scene worth checking out.
Bartertown Diner, Grand Rapids, Mich.
This worker-owned-and-operated diner, which opened in mid-August, offers vegetarian, vegan, and raw menu items such as soul food pasta, beer-battered buffalo tofu sandwiches, and a chili-spiced burger. All menu items created are based on the clean produce featured in the Environmental Working Group's Dirty Dozen guide.
Blossom Du Jour, New York, NY
Blossom Du Jour opened its first location in Chelsea last fall, its second location in Cooper Square early last spring, and is now officially taking over the Big Apple with two new establishments set to open soon. In September, New Yorkers will be able to dine at Blossom Du Jour on 67th Street and this winter, another location will open in Midtown. The casual chain provides city-dwellers with fast animal-free food. Offerings include smoky avocado wraps, black bottom cupcakes, veg mac and cheese, and organic, fresh juices.
The Hogtown Vegan, Toronto, Ontario
Looking for vegan comfort food in Toronto? Look no further than The Hogtown Vegan, which opened in July as a spin-off of veg burrito-and-doughnut eatery Hot Beans. With an understanding that even the healthiest vegans crave junk food now and again, owner Madeleine Foote designed the menu with items like chipotle mac and cheese, barbecue jackfruit pulled pork, and unchicken and waffles to satisfy the deepest of indulgences.
Loving Hut Express, Vancouver, British Columbia & London, UK
Worldwide vegan chain The Loving Hut decided to hop on the food truck bandwagon in July with Loving Hut Express, bringing animal lovers in Canada and the UK globally inspired cuisine, like Thai curry, sweet potato fries, and veggie tempura sausage subs.
Native Foods, Chicago, Ill.
From California to Illinois, Native Foods is taking over the nation, providing fresh, plant-based food conceived by Executive Chef Tanya Petrovna. While the business itself is nearly two decades old, the new location in Chicago's Wicker Park/Bucktown neighborhood started cooking up fresh options on August 8. Two more locations are planned, and will offer menu items like chili cheese fries, sweet potato taquitos, and a peanut-butter parfait.
Pura Vida Bakery & Bystro, Las Vegas, Nev.
Vegan Las Vegans can now nosh on cruelty-free Caribbean and Southwest-inspired dishes at this new café, which opened in mid-July. Chef Mayra Trabulse also provides an all-day breakfast menu and cooks with the principles of macrobiotic, gluten-free, Ayurvedic, and raw diets in mind.
Seed Bistro, Los Angeles, Calif.
Set to open at the end of the summer, this fine-dining establishment will offer vegan and macrobiotic fare similar to that of its casual cousin Seed Kitchen. Diners can expect to see veg pâté, paella, sushi, and other entrées. The restaurant will also feature a chef's table, where each night, six lucky diners can enjoy a special tasting menu prepared in front of them by the chef and his assistant.
The Flying Apron, Redmond., Wash.
After the founding location in Seattle location gained popularity, the Flying Apron's owners decided to expand their café and bakery in late July in order to provide suburban Washingtonians with vegan baked goods and savory lunch items. Menu items include dark chocolate cupcakes, ginger currant scones, Russian tea cookies, salads, soups, and more.
Vegeria, San Antonio, Texas
Losing more than 100 pounds each on a vegan diet inspired Co-owners Fred Anthony Garza and David Trevino to open the first all-vegan restaurant in San Antonio on August 1. Vegeria takes Texas culture to the heart of its menu with Tex-Mex dishes like sangria mushrooms, broccoli and queso nachos, and coconut-cilantro rice.
Honorable Mention: Maple Hall Cafeteria at the University of North Texas, Denton, Texas
Vegan alums of the University of North Texas will be proud when the institution opens its first-ever veg dining hall. The grand opening will take place at the beginning of the fall semester and will serve traditional college fare, like pizza and panini.
Want more of today's best plant-based news, recipes, and lifestyle?
Get our award-winning magazine!
Subscribe