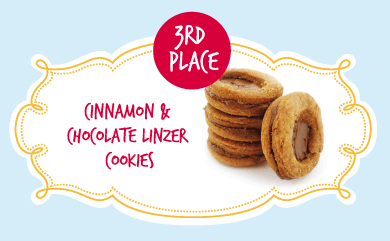 Cinnamon & Chocolate Linzer Cookies
With a divine chocolate-hazelnut filling, these cinnamon and sugar-dusted chocolate linzer cookies by VegNews reader Jess Nadel will be a huge hit at your holiday party—just as it was at our judging table.
Cinnamon and sugar take center stage in these cut-out cookies filled with a chocolate-hazelnut cream center.
Makes 24 cookies
What you need:
For cookies:
1/2 cup vegan margarine
1/2 cup vegan shortening
1/4 cup sugar
1/4 cup brown sugar
2 cups flour
2 teaspoons cinnamon
1/8 teaspoon salt
For dusting:
1/4 cup sugar
1-1/2 teaspoons cinnamon
For filling:
1/4 cup vegan chocolate-hazelnut spread (we used Justin's Chocolate Hazelnut Butter)
What you do:
In a medium bowl, mix together margarine, shortening, sugar, and brown sugar. Sift in flour, cinnamon, and salt, and mix well. Preheat oven to 350 degrees.
Roll dough to 1/8-inch thick. Using linzer cookie cutters (try hearts, circles, or any shape you fancy), cut out base (whole shape) and top (cut-out shape) cookies. Transfer to parchment-lined cookie sheets and bake for 15 to 18 minutes. In a small bowl, combine sugar and cinnamon. After removing from oven, sprinkle cookies with cinnamon-sugar mixture and set aside on wire racks to cool.
After cookies have cooled completely, spread a generous layer of vegan chocolate hazelnut spread on base cookies. Place on top of cookie to create a cookie sandwich, and repeat with remaining cookies.
Check out all of our 2011 VegNews Holiday Cookie Contest Winners!
First Place: Chocolate Sugar Cookies Iced with Crushed Candy Cane Topping by Celeste Hill
Second Place: Vegan Rugelach by Lisa Peterson
Third Place: Cinnamon & Chocolate Linzer Cookies by Jess Nadel
Honorable Mention: Soynog Whoopie Pies with Cinnamon-Chocolate Cream Cheese Topped with Chocolate Drizzle by Diana Chow
Want more of today's best plant-based news, recipes, and lifestyle?
Get our award-winning magazine!
Subscribe