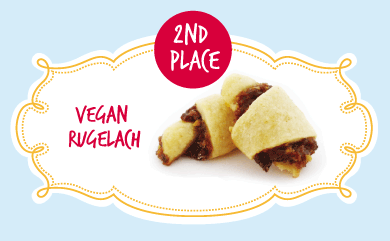 Filled with chopped walnuts and golden raisins, this classic Jewish cookie from VegNews reader Lisa Peterson is a great addition to any holiday cookie platter.
August 19, 2011
A veganized version of a classic Jewish cookie, Rugelach is a morsel of pastry dough filled with cinnamon, sugar, plump raisins, and walnuts. We're in love.

Makes 48 cookies
What you need:
For the dough:
1 8-ounce container vegan cream cheese
1 cup vegan margarine
1/4 cup sugar
1 teaspoon vanilla
2-1/2 cups flour
For the filling:
1/2 cup sugar
1-1/2 teaspoons ground cinnamon
3/4 cup golden raisins
1 cup walnuts
1/2 cup spreadable apricot preserves
Sugar for sprinkling
What you do:
In a medium bowl, combine cream cheese and margarine until creamy. Add sugar and vanilla, mix well, and stir in flour until just combined. Onto a well-floured surface, place dough and form it into a ball. Cut the ball into 4 equal parts. Slightly flatten each ball and wrap in plastic and refrigerate for one hour.
To make the filling, in a food processor, pulse sugar, cinnamon, raisins, and walnuts until well combined. 
On a well-floured surface, place one ball of dough and roll it into a 9-inch circle. Spread about 2 tablespoons of apricot preserves onto dough. Sprinkle 1/2 cup of nut mixture on top of preserves and lightly press into dough. Using a sharp knife or pizza wheel, cut circle into 4 quarters and then cut each quarter into 3 equal pieces. 
Starting with outer edge, roll each piece toward center. On a baking sheet lined with a Silpat liner or parchment paper, place cookies, pointed edge down, and refrigerate for 1/2 hour. Repeat this process with remaining 3 pieces of dough.
Preheat oven to 350 degrees. Remove prepared cookies from refrigerator and glaze each one with a small amount of apricot preserves and a sprinkling of sugar. Bake for 15 to 20 minutes until lightly browned before letting cool completely on a wire rack.
Check out all of our 2011 VegNews Holiday Cookie Contest Winners!
First Place: Chocolate Sugar Cookies Iced with Crushed Candy Cane Topping by Celeste Hill
Second Place: Vegan Rugelach by Lisa Peterson
Third Place: Cinnamon & Chocolate Linzer Cookies by Jess Nadel
Honorable Mention: Soynog Whoopie Pies with Cinnamon-Chocolate Cream Cheese Topped with Chocolate Drizzle by Diana Chow