Food + Recipes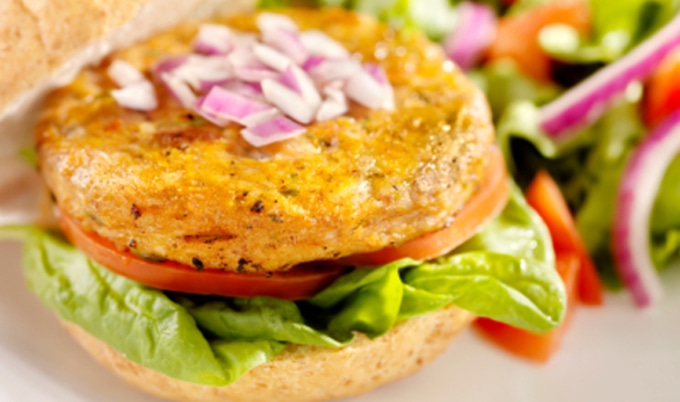 5 Amazing Burger Joints We Love
Topping patties with chipotle mayo, guacamole, and even pineapple, compassionate restaurants from Singapore to Chicago grill up creative veg burgers every day.
---
From Singapore to Cincinnati, restaurants are incorporating international flavors to create tasty, cruelty-free burgers, charred to perfection. With so many burgers around, narrowing down the list to five was difficult, but that's just the kind of challenge we love.
Loving Hut
Each of the chain's more than 120 worldwide locations develops its own unique menu, making burgers at Loving Hut an exploration in regional flavors. Head to the Sunshine State for the Orlando Loving Hut's Aloha Burger, which doubles the fun with two vegan patties, fresh tomato and lettuce, veg mayo, and a slice of grilled pineapple. Honolulu's franchise serves the simple yet flavorful Teri Burger, which fills two whole wheat buns with a tangy teriyaki patty and all the fixings. Ledgewood, New Jersey spices up the East Coast with a Crispy Chipotle Burger, featuring a flash-fried battered soy patty loaded with fresh veggies, smooth guacamole, and chipotle mayo. Or, try a veganized version of a Midwestern favorite—the Sloppy Joe—with coleslaw and organic corn chips in Cincinnati, Ohio.
Native Foods Café
With this chain's recent expansion, customers can nosh on Native Foods' burgers throughout Southern California and now Chicago. Combining two kinds of veggie burgers, the portobello and sausage burger towers with caramelized onions, roasted garlic, grilled mushroom, homemade seitan, and a creamy pumpkin seed pesto. Fall in love with the Oklahoma Bacon Cheeseburger, perfected with melted cheddar and slathered with a generous serving of barbecue sauce and ranch dressing. How they manage to stuff all of the fixings—lettuce, carrots, onions, tomatoes, and battered dill pickle chips—into a whole grain bun is a gastronomic mystery worth investigating.
VeganBurg
Boasting an extensive list of creative, gourmet vegan burgers, Singapore's VeganBurg makes it impossible to choose just one favorite. You'll be saying aloha after just one bite of the Hawaiian Pineapple Burger—juicy grilled pineapple atop a soy patty glazed with sweet plum sauce, all between a crusty bun with crisp lettuce. The seasonal Curry Rendang Burger kicks it up with a pan-grilled marinated mushroom patty, yellow onions, tomato, and spicy Indonesian Rendang sauce, traditionally made with ginger, turmeric, lemongrass, and chilies, in an organic rye bun. Consider one of the eatery's creative accompaniments for your grilled treat; perhaps some seaweed fries or crispy potato-spinach pops? VeganBurg puts a whole new spin on fast food.
Veggie Grill
Serving veg chicken steaks, carne asada, tangy wings and more, Veggie Grill lives up to its name as the Mecca of grilled vegan food. Give the V-Burger—made with marinated veggie-steak burgers, lettuce, tomato, onion, chipotle ranch, and pickles—a whirl if you crave a traditional grilled sandwich. The Bali Bliss burger puts an Indonesian spin on the American classic with sautéed and grilled tempeh, lettuce, red onion, chipotle ranch, and avocado—request it blackened for the most authentic flavor. For an healthier option, all of the burgers can be served on a bed of crunchy kale, sans bun.
Veg-N-Out
In San Diego, Veg-N-Out grills up an impressive menu of nearly a dozen gourmet veg burger options with add-ons like sliced avocado, sautéed mushrooms, and zesty jalapeños. For starters, the Ultimate Vegan Burger manages to cram a slew of vegan favorites, like Follow-Your-Heart cheddar and mozzarella, Veganaise, sprouts, cucumbers, tomatoes, pickles, and onions, onto a crusty wheat bun. Veg-N-Out also smothers patties with homemade chili, cheese, lettuce, and tomatoes for a cruelty-free Chili Cheese Burger. Grab some friends and share 3 Little Birds, three sliders topped with sautéed onions, and served with assorted top-it-yourself add-ons like lettuce, tomato, pickles, barbecue sauce, and mustard for custom creations. Be sure to request the vegan cheese to complete the burger.
Want more of today's best plant-based news, recipes, and lifestyle?
Get our award-winning magazine!
Subscribe