Recipes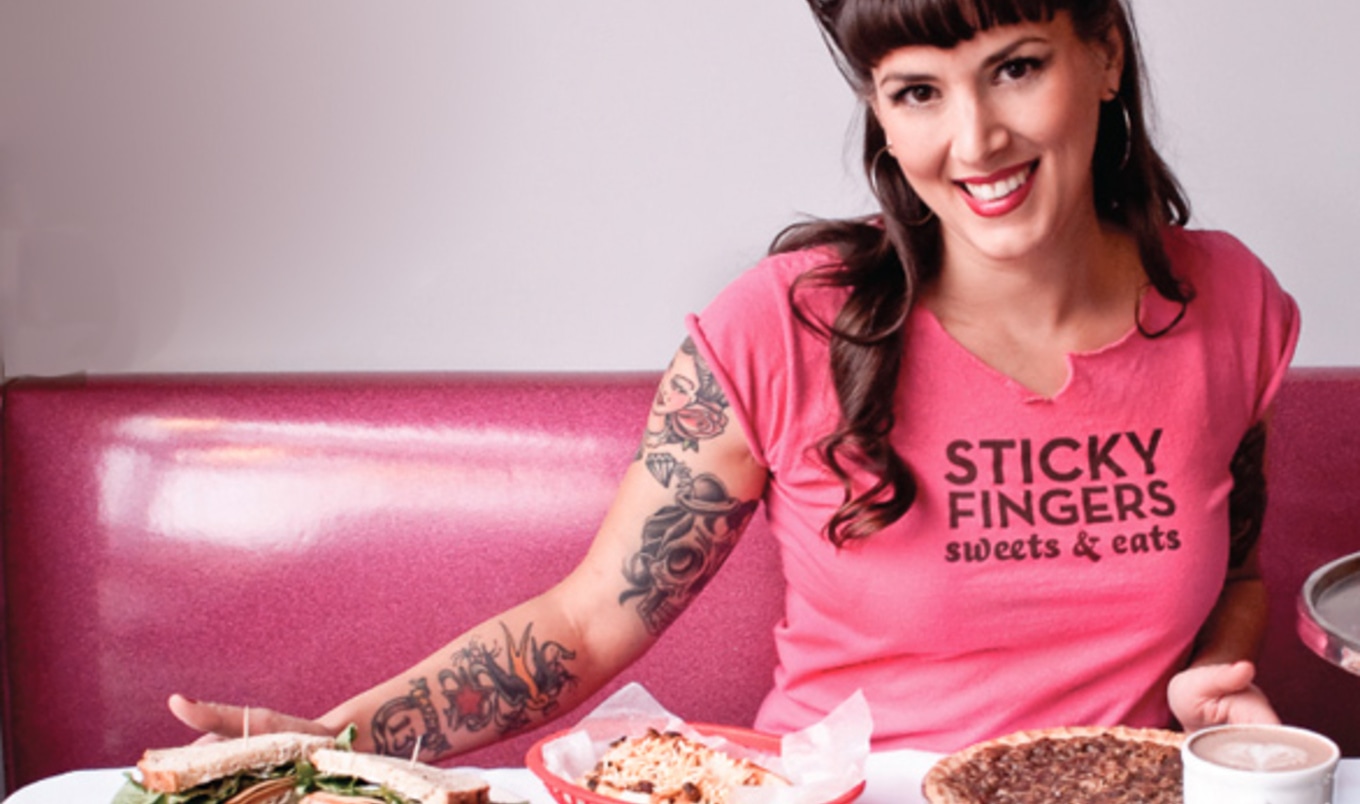 Sticky Fingers' prolific leader chats with VegNews about the bakery's newest creations, Cupcake Wars, and penning her first-ever cookbook.
January 15, 2012
---
Doron Petersan, the co-founder of popular Washington, DC-based bakery Sticky Fingers, has more on her plate than just award-winning cupcakes and cookies—this busy kitchen wizard has been putting the finishing touches on the first Sticky Fingers cookbook, making her third appearance on Food Network's Cupcake Wars, and even welcoming her first son. VegNews caught up with this ace of (cup)cakes and looked ahead to the bright, sweet future.
VegNews: When did you decide to put together a cookbook of your recipes?
Doron Petersan: We've been shooting around the idea forever, and then we finally had the opportunity at the end of 2010. I was in contact with a literary agent who helped to give me the push that I needed to put it all together, and it seems like it's so romantic and fun and sexy to do a cookbook. Then you find out what's involved in it, how detailed it is and how much time it takes—that was just a little bit overwhelming. But I thought, let's try. We sold it relatively quickly, and it got picked up by Penguin-Avery.
VN: It sounds like it was a fairly challenging process.
DP: Terrifying. I found out that we sold the cookbook the day before the first Cupcake Wars was airing. I was so excited, but then I thought, "Oh my goodness, what do I have to do? What is this?" and you only have about five months to put everything together. We have all of our recipes that we've been using for years and years, but we had to scale them all down, because we have batches that make enough for 500 people. And then, I did all of the writing with the help of Kamber Sherrod, who is our cake decorator here.
VN: There are more than 100 recipes in the book. Did you find the process of coming up with them difficult?
DP: No, these are all recipes that we've either used, or that are in the store today—like our Cowvin cookies and the Little Devils. Along with our sticky buns, they're the first items we opened our bakery with, and they're still the most popular items today, so there was no guessing there. We recently came up with a chocolate mousse cake. It's not just me—we have 26 employees, three full-time bakers, two part-time decorators that are constantly coming up with ideas for foods that they want to eat and figure that other people will want to eat too.
VN: What's the team's latest invention?
DP: We have a variation on a coconut-cream cake. It's coconut with a custard cream that's just insane. God bless MimicCreme and Soy Whip and all of those new companies. For years we're trying to figure out certain stuff, and then suddenly they're like, "Here's fake cream made with cashews to make your life easier." And then within 20 minutes we have an awesome filling that we've been trying to make for five years.
VN: You also have your third appearance on Cupcake Wars coming up on January 15. How has your strategy changed since your first appearance, now that you're a seasoned vet?
DP: It's really funny; our strategy is actually exactly the same. Crave and conquer. You'll have to watch the show, since I can't reveal too many details, but we talk about how we stuck with what worked for us in the first episode and then keep our fingers crossed. I can tell you that this recent [episode] was 10 times more stressful than the first one. We're really lucky to have a chance to do it again, and we were insane. We stuck to our guns, and you'll have to watch to see how it turns out!
VN: Cupcake warriors, indeed! Do you feel a shift in terms of the public reception towards veganism since you first opened the bakery?
DP: We have many new faces coming in the door. Being one of the oldest vegan bakeries—not only in DC, but in the country—we have our regulars and see the same people a lot, but in the past year we've seen a lot of new faces. And we also get people who say, "I'm not vegan, but I love your stuff!"or "I had your cupcakes at a birthday party and they were really good," or "I saw you on Cupcake Wars and wanted to try for myself." And then they come back from seconds, and that's just the best compliment ever.
VN: How many customers are vegan as opposed to omnivores or veg-curious?
DP: I've never polled, but I'd say that the majority of the people who support us are just DC local people. When you come in, it's a range of different faces and ages and people from different walks of life enjoying our food. We obviously have a huge following of vegans, our bread and butter, as we call them. Then we have a lot of people who are the allergy folks or the health-minded folks or who are looking for something different, and that's on the smaller percentage side, but vegans and locals are our big, big, big peeps.
VN: The New York Times recently ran an article about vegan bakeries who don't use the "v" word to avoid turning off omnivorous customers. What stance do you take on labeling your products?
DP: We've always taken the same stance as many other shops, where we don't really highlight "vegan." Vegans can find it, and we put it on our menu and brochures, but it's hidden in there. You'll see on our menu that it's not on the front page, not even in the middle, but way in the back in a list of all of our facts. We have a wholesale line at Whole Foods and other food stores, and you see our logo and the cookies first, and then there's a little pink button on it that says "vegan."
VN: Sticky Fingers was founded in 1999. What was the community like at that time, compared to the modern day?
DP: The vegan community was the animal-rights community. They were one and the same. My background is in animal control and I've worked with Physicians Committee for Responsible Medicine, and my husband worked for the Fund for Animals and Humane Society of the United States. We've done tons of work with Compassion Over Killing, and we were old-school animal-rights kids. Right around the late 90s, the movement started to change, it started to mainstream a little bit more. That was right around the time that I started the bakery. There were a lot of people coming in who were curious, who hadn't heard the term "vegan" before. They were familiar with vegetarians or had a family member that was vegan, but the community in DC and the areas surrounding DC really supported the bakery. We call it "the vegan bubble."
VN: What advice would you give to home bakers interested in starting their own shops?
DP: Take a lot of business classes. People will bake stuff and bring it to us all the time, and we'll think—this is great! There are a lot of great bakers out there, and there's a ton of great information about how to become a better baker and how to make better goods. We're excited to be a part of that … But the most difficult part of having a vegan bakery is the business side. Not for one second is it relaxing. But totally rewarding!
VN: Now that the Sticky Fingers brand has gone on to include television appearances and now a cookbook, what's next on your to-do list?
DP: We're just going to, you know, take over the world. Total vegan domination. Ha, I don't know—it's always baby steps, so we have to see how this pans out and where it goes from here. I would love to really expand our wholesale line that's doing really well in the mid-Atlantic, and go to other natural foods stores in the area. It's been a crazy time—my husband and I just adopted our first son, in the middle of all of this. It's the best, most stressful time in the world—it's amazing.
Love the plant-based lifestyle as much as we do? Get the BEST vegan recipes, travel, celebrity interviews, product picks, and so much more inside every issue of VegNews Magazine. Find out why VegNews is the world's #1 plant-based magazine by subscribing today!