Food + Recipes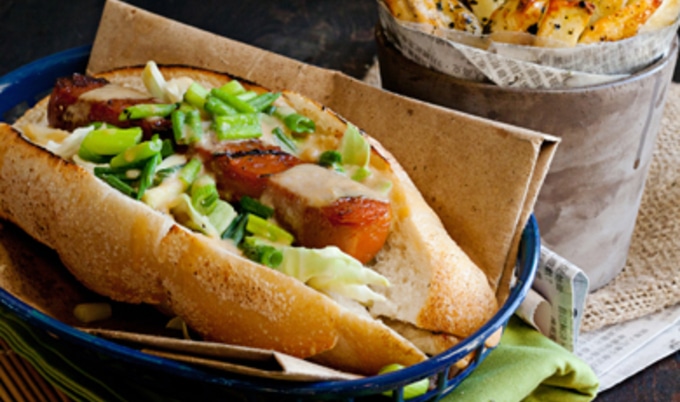 7 World Series-Worthy Veggie Dogs
These veggie-dog combos will have you anticipating every game of the Fall Classic even if your team loses.
---
Summer may have come to an end everywhere but at VegNews headquarters in San Francisco (go Giants!), but regardless of the weather at your home base (pun intended), it's not quite time to give up the awesomeness that is the ballpark veggie dog. Taking in the glory of America's pasttime just isn't the same without a classic frank-and-mustard combo, and we hardly expect you to survive the teeth-gritting stress of the World Series without one. Lucky for you, we have compiled a mouthwatering list of seven series-worthy veggie dogs that give you an out-of-the-park excuse to mow down on some fanciful versions of the seventh-inning snack. And, while we encourage you to chime in on the classic tune "Take Me Out to the Ballgame," you may not want to take those lyrics too seriously—we have a feeling that once you finish checking out these gourmet dogs you'll be just fine watching the action from home.
1. Classic Ballpark Dog
OK, so we'll start you off easy. You can relax on the bench for a bit and warm up with this easygoing vegan take on the classic ballpark frank. On a fluffy, relish-brushed bun, assemble one Field Roast frankfurter, then top with classic yellow mustard and ketchup. Pair its with a side of Cracker Jack—yes, it's vegan.
2. Turning Japanese
If you picked up The Media Issue of VegNews, then you can turn to page 66 for the lowdown on how to make the perfect Negimiso Veggie Dog, inspired by the Vancouver, BC Japanese-style hot dog cart, Japadog. If not, you should grab yourself a bottle of miso sauce (or create one using hot water, miso paste, sugar, and arrowroot powder), and generously drizzle it on your negi-dog: a French sandwich roll hugging a veggie dog on a bed of thinly shredded green cabbage and topped with thinly sliced scallion. Now we know why baseball is one of the most popular sports in Japan!
3. Thai Game
We know that on rainy Thursdays you head to your favorite Thai restaurant—let's be honest, we all have one we frequent on a regular basis for the amazing peanut sauce—but that little gem of a place isn't likely airing the big game. Never fear, we've got you covered. Instead, hang out at home and load your veggie dog up with creamy peanut sauce, freshly julienned carrots, and top with coarsely chopped cilantro.
4. Home-Run Gyro
Don't be shocked if after mowing down this Gryo-inspired jewel you scream "Opa!" every time someone steals second. Think of it as Horiatiki on a bun. Serve your veggie dog on warmed pita bread with chopped red onion, olives, and tomato. Whip yourself up some vegan tzatziki sauce to drizzle on top using unsweetened vegan yogurt, garlic, dill, lemon juice, and grated cucumber.

5. Taco Dog
As the series gets more intense, kick things up notch with a little south-of-the-border spice. Prep a hard taco shell by toasting it lightly. Line with Follow Your Heart's Chipotle Vegenaise and crisp iceberg lettuce, throw in your dog, and top with some cheddar-flavored Daiya cheese, and avocado. If you're feeling bold, some roasted tomato salsa or a sliced jalepeño will keep you awake in case of a rain delay.
6. Canadian Classic
The Great White North is in on the action thanks to the Toronto Blue Jays and the dearly departed Montreal Expos, and we think a poutine-style ode to the latter has a kind of hats-over-heart honor to it. Pick up a French baguette and slice it to the appropriate size. Fry up some teeny hash browns and cuddle them up next to your frank. Top of the French-Canadian compilation with mushroom gravy infused with melt-able mozzarella flavored dairy-free cheese and finely chopped parsley.
7. All-American Grand Slam
The mother of all veggie-dog odes to baseball starts with a quintessential pretzel bun, shredded faux-chicken and a classic ballpark frankfurter grilled and marinated in a tangy barbecue sauce, and topped with crunchy and creamy coleslaw. If ever there was a dog for the ultimate baseball scenario—tie game in the bottom of the ninth, bases loaded, and two outs—this is it. We suggest mowing down on this bad boy with a beer and the national anthem playing in the background. It's a home run.
Please support independent vegan media and get the very best in news, recipes, travel, beauty, products, and more.
Subscribe now to the world's #1 plant-based magazine!
Subscribe
Give a Gift