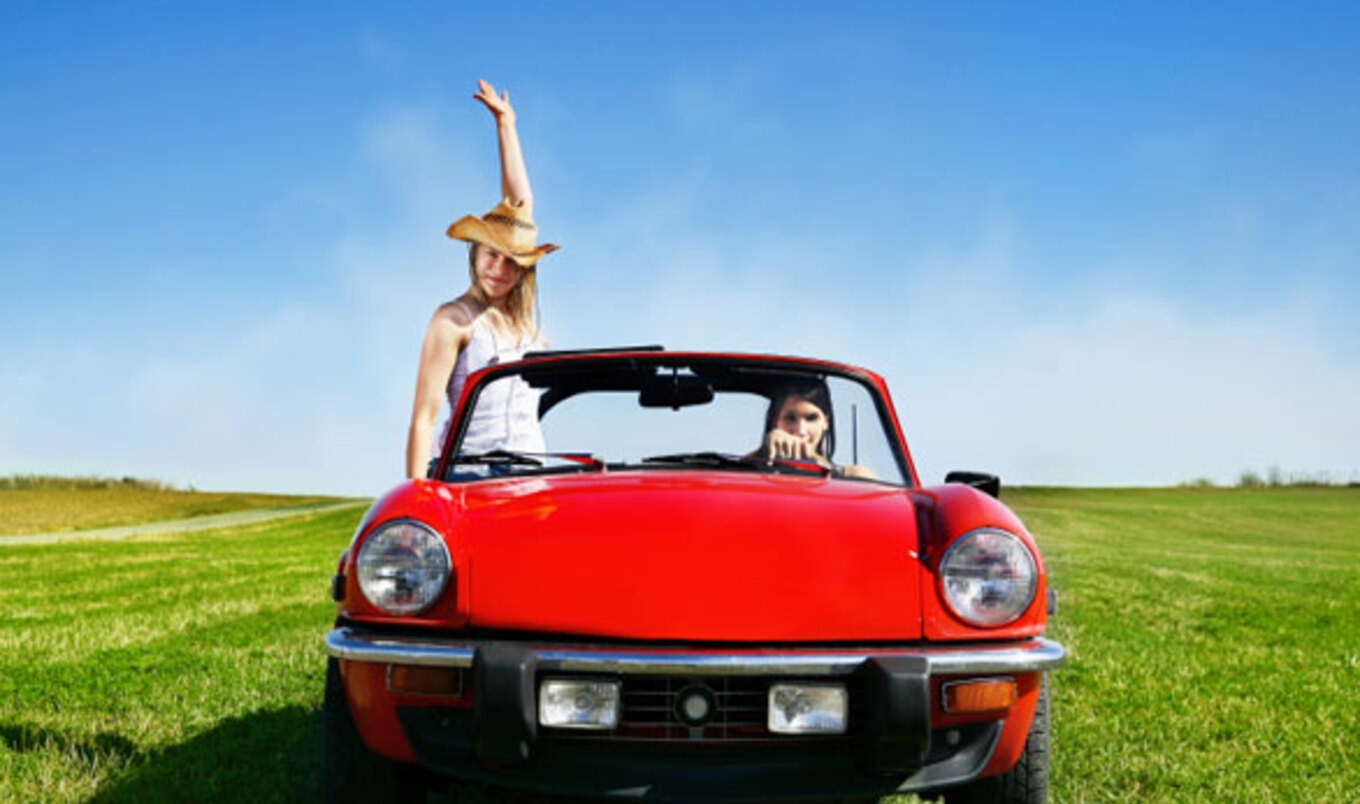 Two passionate vegans share their tips and tricks for driving from the mountains to the prairies.
October 14, 2012
---
How many times have you wanted to get in your car and drive away? Grab your best friend or your partner, or perhaps go solo, and hit the road, Jack Kerouac style? Driving across the country is indeed the stuff that dreams are made of. And then, just like that, we were given our chance. Mariann, who teaches animal law at a handful of schools in New York City, was invited to teach for a semester at the prestigious Lewis & Clark Law School Center for Animal Law in Portland, OR. Since we could hardly leave home for six months without bringing our Vitamix, our podcast microphone, or our glorious rescued pit bull, Rose, air travel seemed out of the question. And what better way to really see America than to get in the Grandmamobile (our loving nickname for Jasmin's grandmother's 2005 Buick), skip the interstates, and hit the two-lane highways that go smack through the heartland?

Throughout our 19-day journey, we traversed New York, New Jersey, Pennsylvania, Ohio, Michigan, Indiana, Illinois, Kansas, Missouri, Iowa, Nebraska, Wyoming, Montana, Idaho, Washington, and Oregon. Not bad for a couple of carless New Yorkers who consider a trip to Brooklyn to be a major commitment.

Just as we'd dreamed, while taking Our Hen House on the road, we got a sneak peek into vegan restaurants, microbreweries, farmed-animal sanctuaries, the homes of vegan cookbook authors, and animal-rights events—not to mention the opportunity to connect with folks everywhere working to end animal cruelty. Fortunately, we ignored advice from podcast listeners urging us to pack freeze-dried food ("This is not New York, girls! You will starve!"), and, as a result, our experience was anything but deprived. The proof is in the vegan pudding. Things are starting to change, and people are beginning to wake up everywhere you go.

With that, we bring you our top five highlights from traveling the country the vegan way, followed by tips for anyone interested in following our bread crumb trail and taking off on your own vegan gallivant.

5 Highlights from the Vegan Road
As you can see, our big vegan road trip was full of ethically sourced surprises and delicious detours. For those of you planning your own road trip, here are some tips we picked up.

5 Tips for the Vegan Road-Tripper
Stop at Chinese restaurants regularly, and order the tofu and broccoli. This was a staple for us throughout our 3,000-mile journey.
Invest in a travel blender. We fancy the Tribest Personal Blender. Each morning, we would grab some fruit from the motel's breakfast buffet, some ice from the ice-maker, and blend those up along with some green powder and protein powder.
Get App-y. The #1 app you will need will be VegOut, powered by Happy Cow. 'Nuff said.
Take Two-Lane Highways. Driving on interstates is the equivalent of flying. What's the point? There's an entire country to see. Buy the book Roadtrip USA and take time to stop and smell the seitan (its prevalence might just surprise you).
Stock Up. Be open to picking up interesting vegan finds along the way when you come across them and sticking them in your cooler in case you hit a dry spot ahead. Our favorite find for great, and unexpected, vegan shopping was Chadron, NE's Natural Food Co-op, where we went to town.
As the story goes, we are now finally settling into Portland life—one that is full of healthy "bowls," half-marathons, and, yes, rainy days. And though it's hard to believe, it's almost time to pack our Vitamix and our dog, and head back to New York City, on our second glorious road trip of the year. Taking a different route eastbound, we will yet again be venturing onto undiscovered terrain even better equipped than before and unable to contain our excitement about what the next bend in the road has in store.


Jasmin Singer and Mariann Sullivan are the founders of Our Hen House, a multimedia hub of opportunities to change the world for animals, and the hosts of the popular Our Hen House podcast. Follow @ourhenhouse on Twitter.