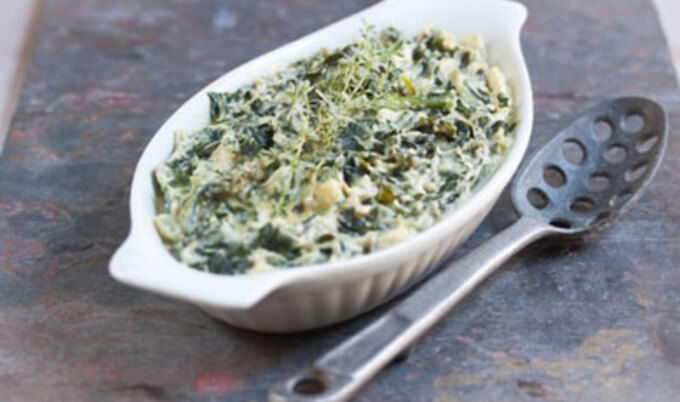 Herbed Cream Collards
This gluten-free, easy-to-make, and decadent dish is a great way to enjoy hearty collard greens in a most celebratory way.
Serves 4 to 6
What you need:
1 large bunch collard greens, stems removed and chopped
2 tablespoons coconut oil
1 small onion, diced
2 teaspoons salt, divided
2 garlic cloves, minced
1/8 teaspoon ground cloves
1/2 cup minced fresh parsley
1 tablespoon minced fresh sage leaves
1 sprig rosemary
1-1/2 cups canned coconut milk
1 cup almond milk
1/4 cup nutritional yeast
1 cup almond meal 
What you do:
1. In a large frying pan over medium heat, combine collards, coconut oil, onion, 1 teaspoon salt, garlic, and ground cloves and sauté until collards begin to soften, about 6 minutes.
2. Add parsley, sage, rosemary, coconut milk, almond milk, nutritional yeast, and remaining 1 teaspoon salt and bring to a steady simmer. Let cook about 7 minutes, then gradually add in almond meal. Cook just until thickened and place in a serving dish. Serve warm. 
Chef's Tip: If you happen to have any of this dish leftover, freeze it. The next time you're craving something a little decadent for dinner, but don't want to cook much, thaw the creamed collards, thin with a little unsweetened non-dairy milk, and warm over medium heat for a quick, tasty pasta sauce.
More all-star Thanksgiving sides:
Cornmeal Buttermilk Biscuits
Coconut Butternut Squash Soup