News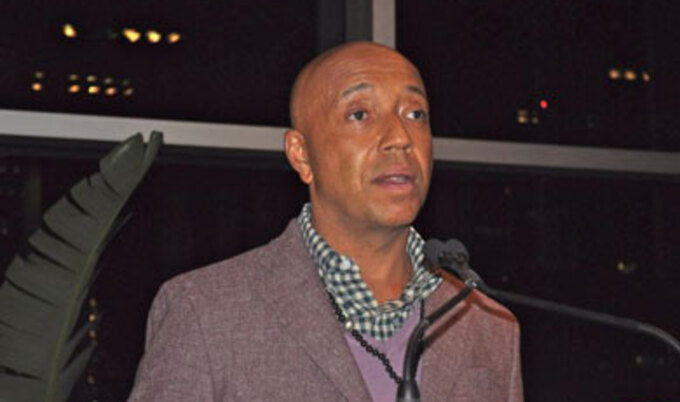 Hip-Hop Mogul Russell Simmons Honored by Mercy For Animals
The INSPIRED gala event in New York City honors one of veganism's brightest stars.
November 6, 2012
---
"The show must go on," inspired Mercy For Animals Executive Director Nathan Runkle in Hurricane Sandy-ravaged Manhattan last Saturday night, barely 24 hours after the plug had been pulled on the famed New York City Marathon due to the aftermath of this year's "storm of the century."
And the show did carry on inside Press Lounge, the stunning award-winning rooftop bar with panoramic views of the urban skyline high above the chic, boutique Ink48 Hotel of New York's Hell's Kitchen. Nearly 200 MFA supporters gathered for a much-needed evening pause from the power outages, hours-long gas lines, and massive clean up at INSPIRED: A Night with Russell Simmons, to fête the hip-hop mogul with a Compassionate Leadership Award for his "dedication to and compassion for all sentient creatures."
A who's-who of the always-fashionable New York veganista scene (Joshua Katcher in a bow tie! My, look at Leanne Mai-ly Hilgart … is that James Bond on her arm? Hold on—a Honey LaBronx citing in Manhattan!) squeezed elbow-to-elbow into the lounge and enclosed wrap-around patio, catching up on Sandy stories and sipping the free-flowing liquid hors d'oeuvres while scarfing down scrumptious, delectable passed appetizers from Print Restaurant. The tasty menu included Shiitake-Cabbage Wontons with Scallion Ginger Sauce, Eggplant Empanadas with Pepper Coulis, and Skewers of Grilled Tempeh.
The guest of honor was introduced by animal activist extraordinaire Simone Reyes, who has somehow managed to work for Simmons for 28 years though she doesn't appear to be that age herself. Reyes' speech was passionate and funny, as she compared and contrasted the "old" party-boy Russell Simmons to the new vegan/yogi version, before concluding with "and the old Russell Simmons only dated the world's most beautiful woman (pause) … well, some things never change" to resounding applause and laughter.
Characteristically, a humbled Simmons thanked all of the activists in the room for their tireless, out-of-the-limelight work, and praised Runkle and the MFA team for bringing continued media exposure to the plight of animals through their investigations and media presence.
VegNews was pleased to sponsor of the festivities, which doubled as a fundraiser for MFA. Other sponsors included our friends at V-Dog, Treeline Treenut Cheese, Nicobella Organics, and The Seed.
Check out a full photo gallery from INSPIRED.
Want more of today's best plant-based news, recipes, and lifestyle?
Get our award-winning magazine!
Subscribe