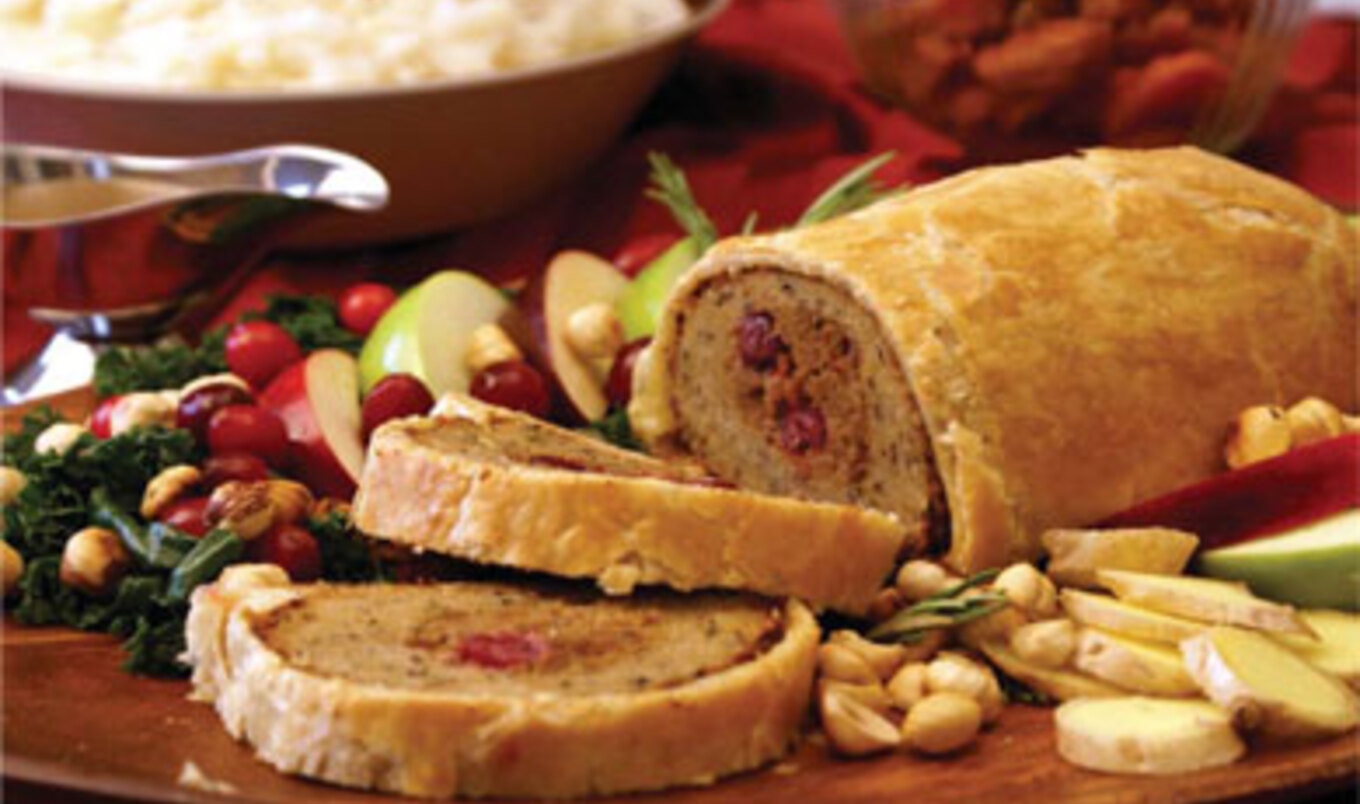 We tried five of the best turkey stand-ins to find out which should be the center of your holiday smorgasbord.
November 20, 2012
---
When the holidays roll around, the center of the table often gets relegated to the meat eaters of the family, with their scary pink hams and sad, dead turkeys dominating the meal. For those of us who are good and tired of our veggie dishes playing second fiddle to the omni's main courses, here are some tried-and-true meat-free centerpieces that are sure to dazzle herbivores and omnivores alike.
Company: Gardein
Product: Savory Stuffed Turk'y
Price: $9.99/1 pound
Presentation: Perfect little rounds of breaded "turkey" filled with stellar stuffing
Why We Like It: Great texture, great taste. Even the fake-meat-phobes on the VN staff loved this one!
Meatiness: Tender and moist, just the right stand-in for turkey
Company: Café Indigo
Product: Stuffed "Turkey" Breast
Price: $25/2.5 pounds
Presentation: Hearty bread-based stuffing wrapped in mock meat
Why We Like It: When sliced open, the crispy exterior unleashes an herby stuffing aroma
Meatiness: Not very meaty, this is more like a savory bread pudding
Company: Turtle Island Foods
Product: Tofurky Roast
Price: $12.99/1.6 pounds
Presentation: A plump ball of signature Tofurky meat filled with wild rice stuffing
Why We Like It: Salty and toothsome, save this roast for special occasions
Meatiness: Dense seitan gives a firm, satisfying texture
Company: Field Roast
Product: Celebration Roast
Price: $8.59/1.0 pound
Presentation: Super savory stuffing wrapped in firm, textured seitan
Why We Like It: Fancier than your average roast, this one is perfect when served swimming in gravy
Meatiness: Hearty seitan is perfect for layering into leftover sandwiches
Company: Native Foods
Product: Native Wellington
Price: $39.95/5.0 pounds
Presentation: Light, flaky puff pastry envelops savory seitan, onions, and vegetables
Why We Like It: Fancy and flavorful, every bite of this impressive centerpiece tastes as good as it looks
Meatiness: This savory treat would make Gordon Ramsay ask for seconds
JUST LAUNCHED! Get our 10 Easy Vegan Summer Meals recipe book as a FREE instant download.
JUST LAUNCHED! Get our 10 Easy Vegan Summer Meals recipe book as a FREE instant download.