News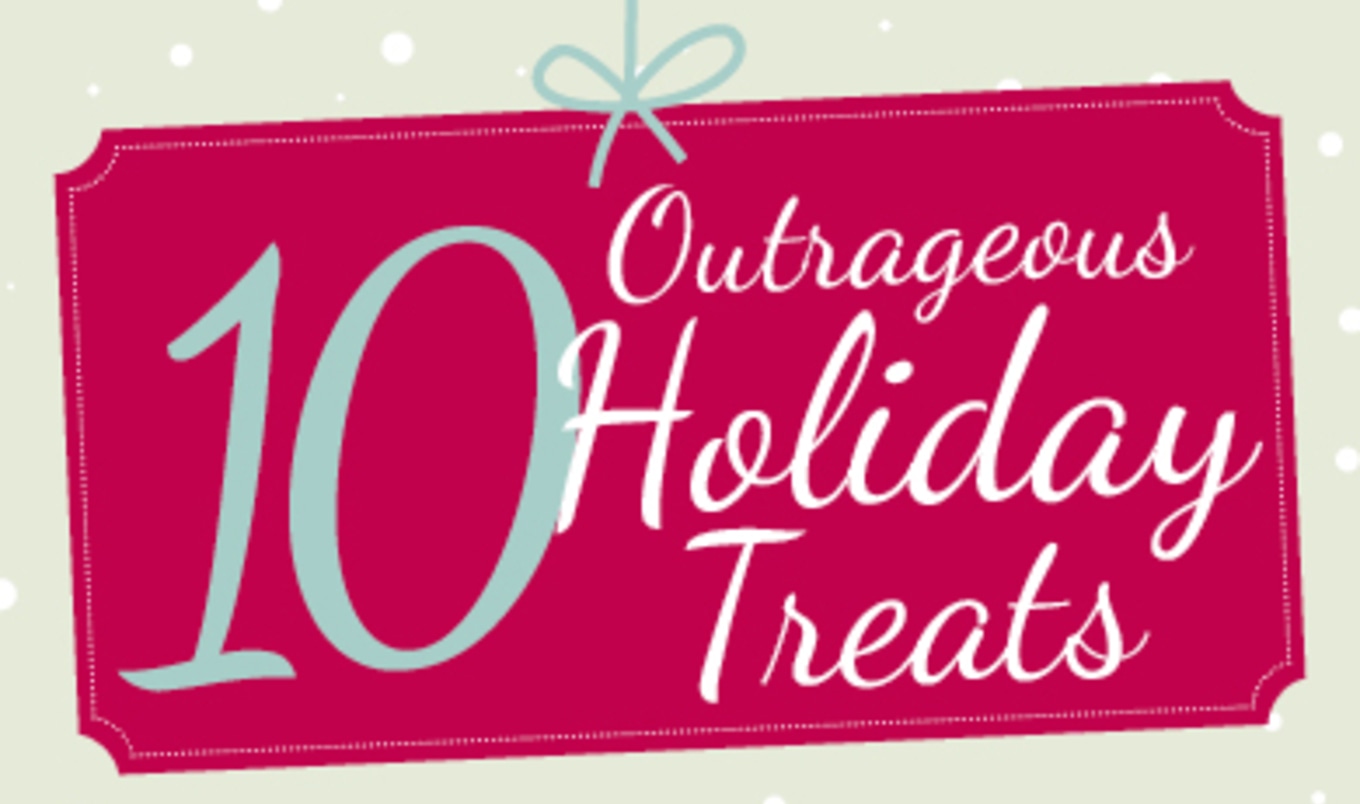 10 Outrageous Holiday Treats
The ultimate list of vegan cookies and candies for the most delicious holiday season.
December 18, 2012
---
From sweet sippers (think coconut-milk nog) to over-the-top marshmallow-studded peppermint bark, the VegNews staff has tried just about every limited-edition seasonal vegan treat. And numerous stomachaches, sugar highs, and cavities later, we've painstakingly narrowed it down to our top 10 ultimate goodies for the holidays. Whether you plan on giving these sweets as a beautiful hostess gift or arranging a perfect dessert platter, we guarantee that these winners will wow just about everyone who is lucky enough to sample them. In no particular order, we present our favorite holiday treats of 2012.
Product: The Big Yummy Double Chocolate Brownie
Company: Wholesome Chow
The Experience: These giant, soft, gluten-free brownie squares live up to their name. We couldn't get enough of the ultra-fudgy flavor and the chocolate chips dotted throughout. Top it with your favorite ice cream and some hot fudge and you've got the best brownie à la mode.
Staff Says: "This brownie is so chocolaty and full of gooey goodness."—Online Editor Anna Peraino
Product: Candied Pecan Cranberry Pumpkin Seed Soymilk Chocolate Bark
Company: Charm School Chocolates
The Experience: The moment we tried Charm School Chocolates' line of vegan chocolates, we were hooked—and so was the Food Network, naming chocolatier and owner Josh Rosen a sweet genius on the show of the same name. The vegan milk chocolate bark is chockfull of goodies such as roasted pumpkin seeds and maple-sweetened pecans.
Staff Says: "This quality chocolate tastes so rich and creamy and the cranberries add a refreshingly tart flavor."—Editorial Assistant Kaitlyn Mekertichian
Product: Candy Cane Joe-Joe's
Company: Trader Joe's
The Experience: VN staffers eagerly await the arrival of these accidentally vegan peppermint candy sandwich cookies so when we see the red box at the store, we stockpile them. These minty, Oreo-cookie-replicas are perfect for dunking into mint chocolate soymilk or leaving out for Santa.
Staff Says: "These cookies are the loves of my life."—Assistant Editor Hilary Pollack
Product: Christmas Peanut Butter Tree
Company: Sjaak's
The Experience: Creamy, sweet peanut butter enveloped in a smooth, vegan milk chocolate and topped with a sprinkling of sea salt and shaped in a cute Christmas tree? No, you're not dreaming.
Staff Says: "This treat is the ultimate combination of sweet and salty in one amazing peanut butter cup."—Editorial Director Elizabeth Castoria
Product: Chocolate Macaroon
Company: Hail Merry
Experience: We've been fans of Hail Merry since our first bite of its Chocolate Raw Almond Butter Miracle Tart. HM's macaroons come in a variety of delicious flavors (caramel sea salt and strawberry are the latest), but the chocolate was a staff favorite for its mind-blowing, luscious flavor.
Staff Says: "This macaroon tastes like a decadent truffle and has a rich fudge taste, but healthy because it's high raw."—Editorial Assistant Kimberly Budziak
Product: Cranberry Orange Muffincookie
Company: Alternative Baking Company, Inc.
Experience: At the VNHQ, we have a daily chocolate addiction, so when a non-chocolate treat wins us over, it must be really good. Enter this soft, muffin-like cookie filled with tart cranberries and a citrusy orange flavor that won us over with each bite.
Staff Says: "I love this cookie. It's so soft and tastes like it was freshly baked this morning."—Senior Editor Jennifer Chen
Product: Festive Peppermint Bark
Company: No Whey Chocolates
Experience: The VN staffers who adore white chocolate were gaga over this holiday variety with a subtle hint of mint. It's smooth, rich, sweet, and as one editor describes it, "melts in your mouth."
Staff Says: "If you like white chocolate, you'll love this. It's super addictive."—Online Editor Anna Peraino
Product: Peppermint Bark
Company: Allison's Gourmet
Experience: Crushed peppermint candies and fair-trade dark chocolate are two things that go perfectly together. The standout chocolate flavor means that chocoholics will be satisfied.
Staff Says: "It is the perfect gift for non-vegan friends because it's traditional yet indulgent."—Publisher Joseph Connelly
Product: Peppermint Bark
Company: Sweet & Sara
Experience: When we ate (read: devoured) these samples, we talked about this chocolate-mint marshmallow bark in exclamation points.
Staff Says: "Who wouldn't love a marshmallow and peppermint-studded bark? Marshmallows equal genius."—Associate Publisher Colleen Holland
Product: Sweet Stix
Company: Obsessive Confection Disorder
The Experience: Remember Twix bars? These vegan versions combine vanilla bean shortbread covered in a rich, soft caramel and coated with dark chocolate. Each package comes with four pieces, but you're definitely going to need more than that.
Staff Says: "These candies are loaded with so much caramel and cookie that it's like heaven in every bite."—Senior Editor Jennifer Chen
Love the plant-based lifestyle as much as we do?
Get the BEST vegan recipes, travel, celebrity interviews, product picks, and so much more inside every issue of VegNews Magazine. Find out why VegNews is the world's #1 plant-based magazine by subscribing today!