Food + Recipes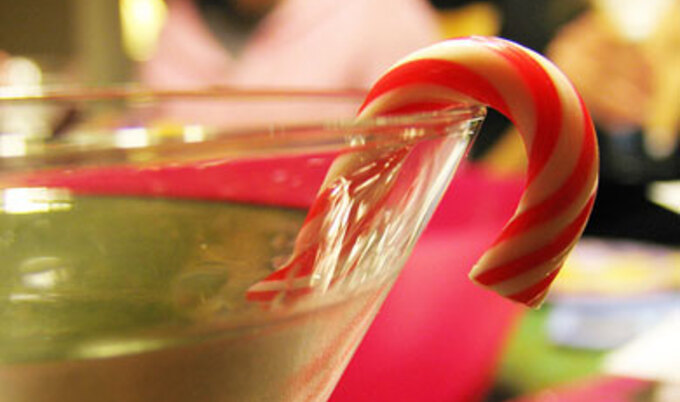 5 Festive Winter Mocktails and Cocktails
Whatever your gathering calls for, these winter drinks (with optional boozy additions) will suit all of your guests.
---
Ah, the holiday season. Ideally, the time when you get together with loved ones and exchange gifts, hang out in a wool-free Fair Isle sweaters, and delight in a creamy dairy-free hot chocolate with perhaps a shot of vegan Baileys while relaxing by the fire … right? At least that's how it is supposed to go. We certainly don't know of any kinds of holiday gatherings where bratty younger cousins pout over not getting the right video game, parents argue over who has to be the designated driver, aunts reveal hidden family secrets only seconds after the Tofurky lands on the table, or older family friends creepily whisper how "grown up" you look. And we're certainly not saying alcohol is to blame. In fact, if you have one of those awesome holiday gatherings in which three generations end up in a sing along after some punch, or spiked cider encourages lazier family members to help with the dishes, by all means, drink up! In either case, we'll just give you a suggestion on how to make it extra festive and leave the decision of whether or not these cozy winter mocktails should become cocktails up to you.
1. Creamy Hot Chocolate + Vegan Baileys
Hot chocolate is that safe haven drink that every person in your party can enjoy, no matter what age. Want to keep it simple? Go with a pre-packaged, organic, and premium dairy-free version in Classic or Peppermint flavors from online vegan confectionary Allison's Gourmet, add your favorite non-dairy milk, and heat on the stovetop in a small saucepan, stirring slowly. Pour into a snowman-shaped mug and top with a fluff of Soyatoo's Rice Whip, and sprinkle with cinnamon.
Make it boozy: Add an ounce of this creamy vegan version of Bailey's Irish Cream.
The Rudolph touch: Swap out the whip cream for a Sweet & Sara vegan marshmallow in a wintery snowflake shape.
2. Reindeer [Rum] Punch
Let's be honest: few people can top Martha Stewart when it comes to going all out for the holidays. We don't even want to try those crazy crafts she whips up, but a punch easily seems like it's on our level. Follow the instructions for her Cranberry, Tangerine, and Pomegranate Punch, but one-up the 'ol gal in the name department. Get festive! This berry-red concoction is Reindeer Punch.
Make it boozy: Martha adds Champagne, but we say rum! Add a spiced version for some real pizzazz.
The Rudolph touch: While Ms. Stewart uses cranberry and mint skewers, we advise small candy cane stir-sticks instead.
3. Merry Mulled Cider
In a large saucepan over medium-low heat, bring 2 quarts apple cider, 2 cinnamon sticks, 2 whole allspice berries (or ground allspice), 2 whole cloves, and 1 thinly sliced orange to simmer for 45 minutes. Strain the cider, discarding solids, and pour into individual mugs to serve.
Make it boozy: add ¼ cup dry white wine (such as Chardonnay) and 2 tablespoons agave or brown rice syrup.
The Rudolph touch: Serve this toasty holiday classic in double-walled glass mugs and attach wine charms to the handles, making sure each guest gets a different charm so the drinks don't get confused.
4. Warm Gingerbread Mug With Chocolaty Kick
While most conventional gingerbread house kits aren't vegan, the information superhighway makes it possible to build your own (and eat it later). But like we never say—why build it when you can drink it? In a small saucepan over medium-low heat, combine 1 cup of non-dairy milk with pinches of ground ginger (or fresh, if you prefer), ground nutmeg, ground cinnamon, and ground clove. Gently stir in 1 teaspoon of molasses, and ½ teaspoon of agave syrup. Pour into festive mug and serve!
Make it boozy: Add 1 ounce of crème de cacao for a chocolate-flavored kick.
The Rudolph touch: Break out the candy sprinkles, pouring them onto a small saucer. Before filling your mug, gently wet the rim with a lemon wedge and tap it onto the saucer so the sprinkles stick.
5. VegNews Signature Holiday Nog
The VegNews editorial staff was floored when our über-sweet Associate Publisher Colleen Holland whipped up a tray of impromptu holiday nog! In the spirit of the holidays, we are only too happy to share her mixology secrets. In a large saucepan over medium heat, combine 4 cups of So Delicious Nog Coconut Milk with 4 cups So Delicious Pumpkin Spice Coconut Milk, gently simmering and stirring occasionally. Meanwhile, in a small dish, heat ½ cup Obsessive Confection Disorder Vanilla Bean Caramel Sauce. Prep mugs by drizzling caramel sauce in mugs, gently skimming the sides. Pour in warm coconut milk and sprinkle with cinnamon. Serve to VegNews staffers (we really appreciate it)!
Make it boozy: Add 4 ounces of light rum and start a dance party.
The Rudolph touch: No special effects needed, just some special friends (or charming and funny co-workers) to share it with.
Please support independent vegan media and get the very best in news, recipes, travel, beauty, products, and more.
Subscribe now to the world's #1 plant-based magazine!
Subscribe