Food + Recipes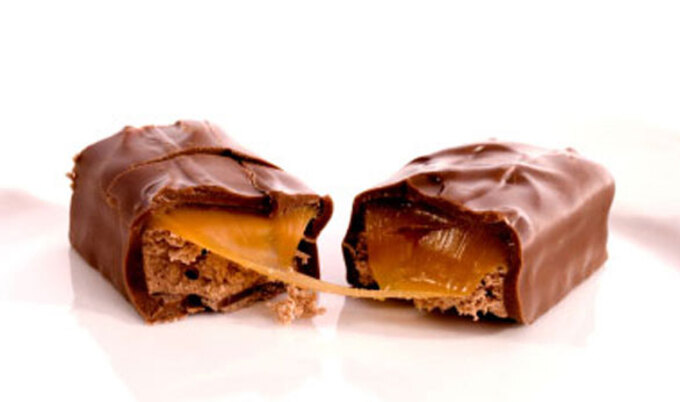 5 Decadent and Daring Vegan Chocolates
Appease your adventurous palate with this guide to unconventional chocolate treats.
---
There was a time when the term "vegan chocolate" conjured up images of chalky carob clusters and bits of raw cacao. No disrespect to these more wholesome chocolaty snacks, but we of the plant-based persuasion now have a whole range of crave-worthy cocoa confections to choose from, many of which are as sinful and sumptuous as their animal product-laden counterparts. This Valentine's Day, think outside the heart-shaped box by giving your special someone one of these modern chocolate treats that prove there's nothing dull about being dairy-free.
Black Pearl Exotic Candy Bar by Vosges Haut-Chocolat ($7.50)
Don't let its smooth, chocolaty exterior deceive you: with a list of ingredients that would be right at home on a sushi menu, the Black Pearl Exotic Candy Bar is as enticing as its name suggests. Ginger, wasabi, and black sesame seeds join forces with dark chocolate for an intriguing treat that will tempt your taste buds and send you out the door on a Japanese takeout run.
PB&J Bar by Tumbador Chocolate ($3.99)
Your favorite childhood bag-lunch staple gets an elevated makeover in a rich chocolate treat made with grown-up ingredients. Tumbador captures the flavors of this nostalgia-inducing classic using peanut praline, crunchy rice crispies, and raspberry pâté. No crust included.
Fakin' Bacon Bar by Rescue Chocolate ($5.49)
A harmonious marriage of smoky and sweet, the Fakin' Bacon chocolate bar is Rescue Chocolate's compassionate response to the omni world's trendy bacon desserts. The best part about this innovative indulgence? All of the company's net proceeds go to animal-rescue organizations, so you can munch for a worthy cause.
Gourmellows by Desiderio Chocolates ($6 for three)
These sugary morsels pack a one-two punch of decadence, with a combined filling of fluffy marshmallow and fudge-like truffle. Desiderio's signature treat is the result of years of tinkering with the perfect vegan marshmallow recipe, a process our collective sweet tooth is sorry to have missed.
Organic Chocolate Covered Vegan Gummi Bears by Chocolate Decadence ($3.25 for 2 oz.)
Chocolate Decadence has gone one step beyond the vegan-gummy standard by dousing its chewy, bite-sized treats in creamy cocoa. Ditch the guilt and grab a second handful, because Chocolate Decadence's bears are made using natural, organic ingredients. Who says spinach powder and black carrot juice have no place in candy? Certainly not us!
From elegant to eccentric, these vegan treats are sure to captivate the cocoaphile in your life. Perhaps, if you're lucky, they'll be impressed enough to reward you with a chocolaty nibble—if there's any left!

Please support independent vegan media and get the very best in news, recipes, travel, beauty, products, and more.
Subscribe now to the world's #1 plant-based magazine!
Subscribe