News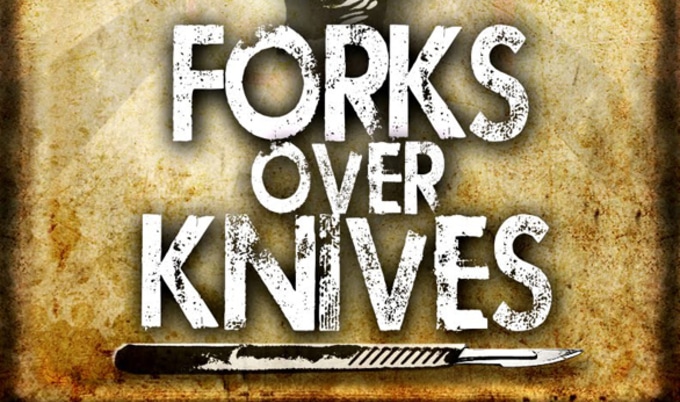 Forks Over Knives Documentary Makers Talk Sex
The masterminds behind Forks Over Knives discuss how adopting a vegan diet can amp things up between the sheets.
February 22, 2012
---
Last year's much-hyped documentary Forks Over Knives made waves and inspired many to go vegan with its compelling argument for the benefits of a plant-based diet. Then last month, the makers of the hit film released a new video focusing on how veganism can boost one's sexual health and performance. Intrigued, we caught up with Brian Wendel, the film's creator and executive producer, for an inside look at why ditching meat and dairy is so hot—in more ways than one—as well as the team's new Farms 2 Forks program.
VegNews: What inspired the Forks Over Knives team to make a video focusing on veganism and sexual health?
Brian Wendel: We thought a short video that had some humorous elements would be a good way to provide an educational piece that was a little more in-depth than what we covered in the film. We had some good footage that we shot for the film that we hadn't used, and this seemed like a great way to implement it with an interesting message.
VN: For those who haven't yet seen the video, can you summarize the ways that going vegan can improve one's sex life?
BW: Sexual dysfunction is an indicator of the same problems that lead to cardiovascular disease, and the same plant foods that promote the free-flow of blood to the heart also promote the free flow of blood "downstairs," if you will.
VN: Any advice on certain foods that can enhance "performance"?
BW: It's not so much the specific foods that matter as much as the overall diet. If one's diet is based in low-fat, whole-plant foods, this is a winning formula.
VN: What is the new program Farms 2 Forks, and what does it offer attendees?
BW: Farms 2 Forks is a new collaboration with [Rip Esselstyn's] The Engine 2 Diet, comprised of weekend retreats where we will teach attendees the ins-and-outs of a whole-food, plant-based diet through hands-on activities. People will be able to go home feeling confident about the diet, and know how to make it delicious and effective for reaching good health and optimum weight.
VN: Does the FOK team have any plans to create more short films or another full-length feature film?
BW: We recently released The Engine 2 Kitchen Rescue, wherein Rip Esselstyn goes into two different families' homes, cleans out their pantries, and provides some basic lessons on making healthy, plant-based meals. We are looking at some other opportunities for a new video right now, but nothing concrete. In the meantime, we are finally launching our new website by April 1, and releasing a new book in June.
VN: How does it feel to see so many big names (Ozzy Osbourne, Jason Mraz, Russell Brand, etc.) citing FOK as a major influence in going vegan?
BW: The fact that the film has helped so many people go vegan, whether big name or not, has been the most gratifying experience of my professional career. It's amazing when celebrities announce their support of the film, because they in turn help us reach so many people that may not otherwise hear about it.

For information about entering a Farms 2 Forks immersion program in a city near you, visit their website for testimonials, speakers, a schedule of events, and more, or check out Forks Over Knives on DVD or Netflix now.
Please support independent vegan media and get the very best in news, recipes, travel, beauty, products, and more.
Subscribe now to the world's #1 plant-based magazine!
Subscribe