News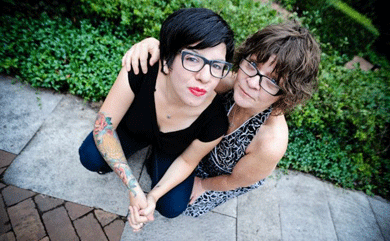 It's All Up to You (Yeah, You!)
Jasmin Singer and Mariann Sullivan of Our Hen House share stories of activists who are doing just that.
February 26, 2012
---
It's impossible to ignore: Animal rights has started to go viral.
Throughout the past few years, we have traveled across the US and Canada giving talks on veganism, activism, and animal law, while being lucky enough to eat delectable vegan grub—in cities like Kansas City, Dallas, and Orlando. We have seen, firsthand, the fundamental reality that things really are starting to shift.
How has this happened? For one thing, obviously, there are the powerhouse organizations. By the time you finish reading this article, Mercy For Animals will probably have come out with another undercover investigation, and Farm Sanctuary will have rescued another flock, herd, or gaggle. Animal organizations and sanctuaries are growing exponentially, and doing powerful work.
However, those groups, wonderful as they are, are not the whole ball game. Each of us is part of the team, and we all need to step up to the plate at some point. Unquestionably, that's exactly what is happening. Everywhere we've traveled, we've been gobsmacked to learn of the work of individual activists—whether they're office workers, teachers, lawyers, students, nurses, or fill-in-the-blank—all with their own unique spin on changing the world for animals.
Nothing could make us happier. Providing ideas and opportunities for people who have awakened to the nightmare that is happening to animals—and want to do something to change it—is at the core of Our Hen House. This trend is vibrant, yet it's just beginning. The fate of animals and the animal-protection movement could still go either way—and which way it goes is up to each of us.
Advocacy With Heart
Jewelry designer Bonnie Goodman, of Missoula, MT, is someone who knows that all too well, and is doing her part to keep the momentum going. As one example, her community-wide, totally vegan "Spay-Ghetti and No-Balls" dinners raise money for spay and neuter services, while, at the same time, raising awareness about the plight of farmed animals. "Everyone who attends is a self-proclaimed animal-lover," she says, so her goal "is to show people that vegan is easy, yummy, and not scary." For Goodman, the response has been mind-blowing. "Do you remember the first time you tasted 'vegan food' and realized 'this tastes good, I can do this!?'" she says. "We see that reaction at every event."
In Madison, WI, nurse practitioner Courtney Mayhew has made it her goal to spread veganism to the doctors, nurses, and medical professionals with whom she works. Mayhew started a "vegan challenge" where people can sign up to follow a vegan diet for a day, week, or month. She offers unwavering support, including a daily email with recipes, tips, and FAQs, and even a grocery excursion. "I don't ever want to turn anyone off from veganism by being judgmental or all-knowing," says Mayhew. "Every little thing each individual does adds up for the animals, and I love being a part of that change."
Mayhew and Goodman are outstanding ambassadors for the cause, but they are not alone. In cities, suburbs, and countrysides, our travels have allowed us to meet people who are changing the world in profound ways—beginning with their communities. One person started a vegan support group in an Overeaters Anonymous chapter, making sure to use the group not only to support vegans, but also to embrace the veg-curious, fostering their compassionate inclinations. Another got the large environmental organization she works for to adopt a policy to make all of their events meat-free. Yet another volunteered to start an adult class at his local community center, calling it "Animal Rights 101."
These people aren't just signing a petition and calling it a day. They are looking around and finding opportunities right where they live and work to spread the vegan message, and to educate their friends, colleagues, family, and neighbors to think of all animals as thinking, feeling individuals deserving of dignity and happiness.
Time for You to Change the World, Too
Though the world is indeed beginning to wake up to animal issues, sometimes convincing people who have deeply ingrained habits and corporate-fed misinformation on their side can feel like an uphill slog. During those frustrating, sometimes infuriating moments, it's important not to forget that we have the most powerful weapon of all on our side—the truth. Times, they are-a changin', and every single one of us can help make them change faster. Like Goodman, Mayhew, and so many others, we each have the innate power to look into our hearts and ask, what can I do in my lifetime to create change for animals?
Jasmin Singer and Mariann Sullivan are the co-founders of Our Hen House—named the "Indie Media Powerhouse" in VegNews' 2011 Veggie Awards. Our Hen House is a multimedia hive of opportunities to change the world for animals (don't miss the weekly podcast).
Please support independent vegan media and get the very best in news, recipes, travel, beauty, products, and more.
Subscribe now to the world's #1 plant-based magazine!
Subscribe