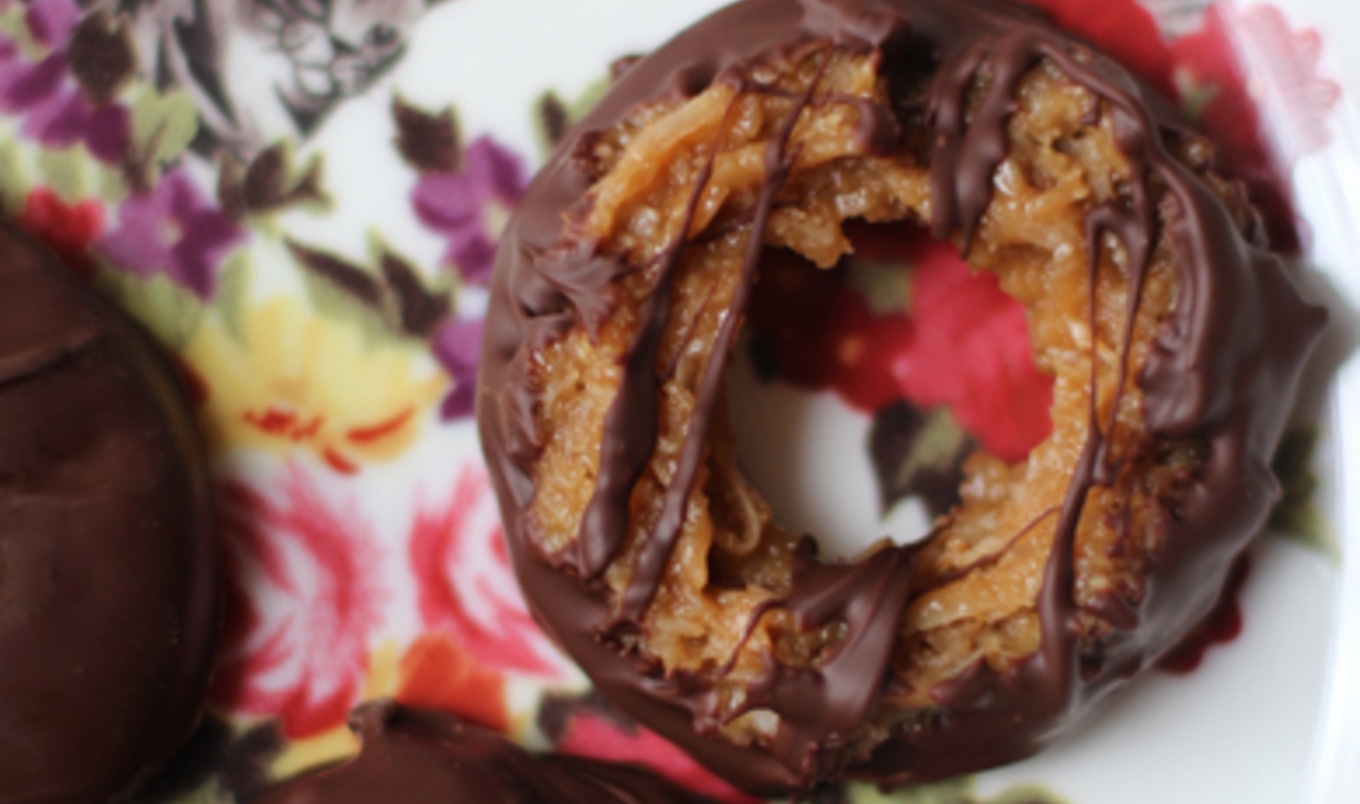 These charmingly chewy sugar cookie rings are the perfect combo of caramel, coconut, and chocolate.
February 24, 2012
The three-flavor trifecta of Samoas has inspired a passionate following over the years, but truly shines in vegan form.
Makes 18 to 24 cookies
What you need:
For the cookie base:
1-1/2 cups powdered sugar
1 cup vegan margarine
1/3 cup vanilla almond milk
1 teaspoon vanilla
1/2 teaspoon almond or coconut extract
2-1/2 cups flour, plus more
2 tablespoons arrowroot powder
1 teaspoon baking soda
1 teaspoon cream of tartar
Non-stick spray
For the coconut caramel:
1 14-ounce can coconut milk
1 cup brown sugar
1/2 teaspoon salt
1/2 teaspoon vanilla
1 tablespoon vegan margarine
1/2 teaspoon arrowroot powder
1-1/2 cups shredded coconut
For the chocolate coating:
1 10-ounce bag vegan chocolate chips
What you do:
For the cookies, in a large mixing bowl, add powdered sugar, margarine, almond milk, vanilla, and almond extract. With a handheld electric mixer on medium speed, mix until well-combined. Add flour, arrowroot, baking soda, and cream of tartar and mix until dough forms small pebbles. Using your hands, combine dough into a large ball and knead once or twice until dry ingredients are well-incorporated. Cover and refrigerate for two hours.
To make coconut caramel, in a medium saucepan over medium heat, add coconut milk, brown sugar, salt, vanilla, margarine, and arrowroot, stirring constantly. When sugar melts and begins to bubble, reduce heat and allow to simmer for 20 to 25 minutes, stirring occasionally. Remove saucepan from heat and let cool for 20 minutes, then stir in coconut.
Preheat oven to 375 degrees. Lightly spray cookie sheet with baking spray. On a floured surface, divide dough in half. With a roller, roll each half to 1/4-inch thickness. With cookie cutters, form cookies into donut-shaped rings or any other desired shape.
Space cookies 2 inches apart on cookie sheet. Bake 7 to 8 minutes or until edges are golden brown. Remove and place on wire cooling rack. Fill a frosting gun or pastry bag with coconut caramel and pipe caramel on each cookie.
To make chocolate coating, in a microwave-safe dish, add all chocolate chips and melt (about 2 minutes on high heat) in microwave. Place cookies in chocolate, coconut caramel-side up, gently pressing to coat bottom of cookies. Using a fork, remove each cookie and drizzle top with chocolate in vertical stripes or zig-zags. Return completed cookies to cookie sheet and refrigerate for 2 hours or until chocolate is fully dry.
Want even more vegan Girl Scout cookies?
Vegan Thin Mints
Vegan Tagalongs