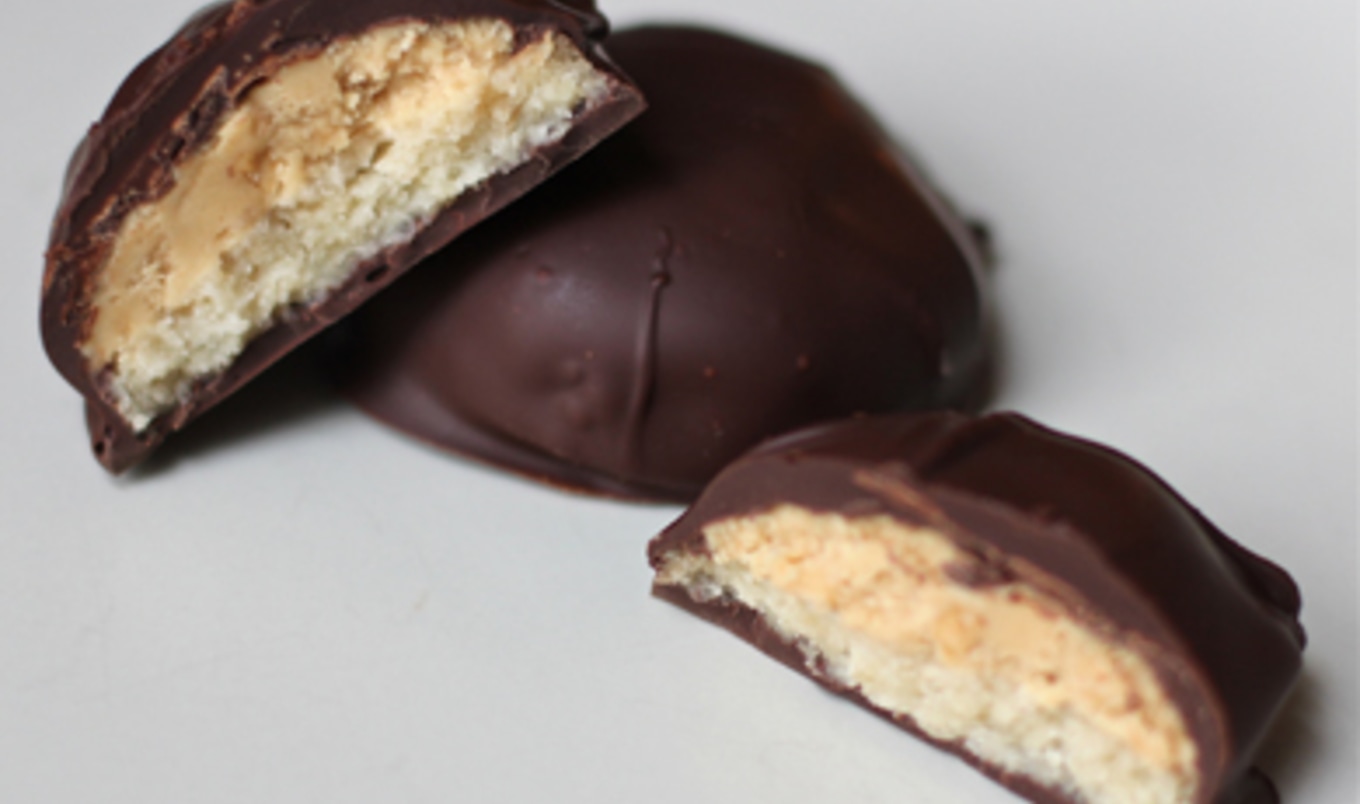 These classic cookies are a perennial favorite, packing sweet and salty peanut butter with crunchy shortbread.
February 24, 2012
The base for these scrumptious bites are veganized versions of Betty Crocker's Buttery Spritz Cookies, adding an extra special touch to these seasonal treats.
Makes 18 to 24 cookies
What you need:
1 cup vegan margarine
1/2 cup sugar
2-1/4 cups flour
1/4 teaspoon ground flaxseed
1 teaspoon vanilla
1/2 teaspoon salt
1 tablespoon applesauce
2 tablespoons vanilla soymilk
For the peanut butter filling:
1 cup powdered sugar
1/2 cup chunky natural peanut butter
1/8 teaspoon salt 
For the chocolate coating:
1 10-ounce bag vegan chocolate chips
What you do:
Preheat oven to 400 degrees. In a stand mixer or medium bowl with an electric handheld mixer, blend margarine and sugar until creamy. Add flour, flaxseed, vanilla, salt, applesauce, and soymilk, and blend until dough is smooth.
In a cookie press without a form or with your hands, roll dough into a uniform tube. Slice into 1/4-inch wafers. On a cookie sheet covered in aluminum foil, bake for 6 to 8 minutes or until edges are golden brown. Remove and place on wire cooling rack.
For the peanut butter filling, in a large bowl, mix powdered sugar, peanut butter, and salt. With your hands, use roughly 1 tablespoon of mixture to form small balls and gently press on top of each cookie. 
For the chocolate coating, in a microwave-safe dish, melt chocolate chips (about 2 minutes on high heat) in a microwave. Once chocolate is fully melted, drop cookies into dish one at a time, using a spoon to pour chocolate over the top and coat evenly.
On a piece of parchment, place dipped cookies. When all are coated, place parchment paper on cookie sheet and chill cookies in refrigerator for 2 hours or until chocolate is fully dry.
Want even more vegan Girl Scout cookies?
Vegan Thin Mints
Vegan Samoas