Food + Recipes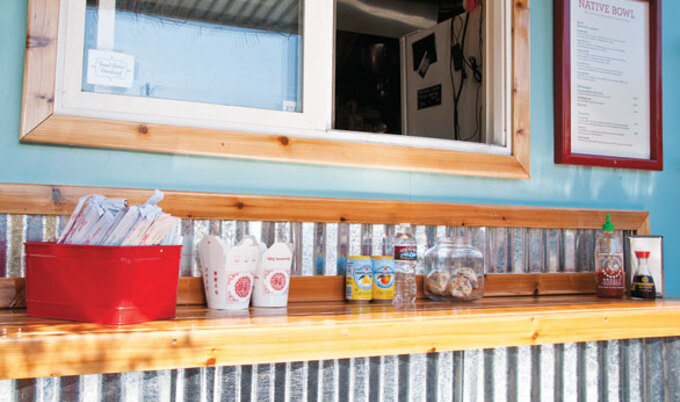 Meals Sans Wheels
Check out three vegan food trucks that are upgrading to full-fledged restaurants—and one that's doing the complete opposite!
---
When it comes to current culinary crazes, food trucks have parked themselves at the top of the list, giving urban dwellers across the country a convenient way to grab some gourmet grub on the go. Not to be outdone by their carnivorous counterparts, vegan carts peddling everything from cheesecake to cheesesteaks have been popping up across the country faster than you can say "hold the cheese." Popularity inevitably leads to growth, which has caused some vegan food-truck favorites to shed their wheels in favor of spacious brick-and-mortar locations. We checked in with three popular vegan eateries bringing their mobile munchies to the masses at new venues, and one eatery that's going against the grain by hitting the road.
Green Seed Vegan
Houston, TX
Standout Dish: The Tosh Panini, filled with maple-jerk garbanzo tempeh, grilled plantains, spinach, and jerk aoli
Boasting the honor of being Houston's first vegan food truck, Green Seed Vegan launched in March 2011, much to the delight of herbivores in this larger-than-life Texas town. Offering savory eats such as hand-cut dill French fries and a house-made burger patty, as well as fresh juices and smoothies, Green Seed Vegan has created a plant-based oasis in the middle of Houston's Third Ward, a neighborhood frequently identified as a "food desert" devoid of healthy eating choices. This spring, thanks to a community-funded Kickstarter campaign that raised $13,313—$968 more than its original goal, the eatery is hoping to move into a permanent location in Houston that will allow for longer hours and an expanded menu.
Counter Culture
Austin, TX
Standout Dish: The shredded-jackfruit sandwich slathered with tangy barbecue sauce
Fellow Texas mainstay Counter Culture, which made an appearance in our March+April issue's Vegan City Showdown, has been doling out its cruelty-free comfort food since 2009, proving that a mountain of meat isn't all it takes for an eatery to thrive in the Lone Star State. In response to the success of her burgeoning business, owner Sue Davis is hauling her locally grown, organic chow to a mid-sized restaurant space in East Austin, complete with a roomier kitchen and 1950s diner décor. Davis doesn't plan on ditching her eco-friendly ethos as she expands—in keeping with Counter Culture's dedication to reducing its environmental impact, the new location will be built using green materials, and will feature low-waste disposables.
G-Zen
Branford, CT
Standout Dish: Tempeh-based crab cakes with house-made tartar sauce
Connecticut's GMonkey Mobile, a bio-diesel-powered truck with a variety of gluten-free and raw options, hit the streets in May 2011 as the brainchild of award-winning chef Mark Shadle and his holistic nutritionist wife, Ami. With business booming, GMonkey Mobile was open for a mere six months before the Shadles set up shop in a posh, modern space off the Connecticut shoreline. Though the husband-wife duo has temporarily retired their green-and-black four-wheeler—winking monkey and all—until early spring, their latest venture, G-Zen, picks up where GMonkey left off. Just like the original G-enterprise, the restaurant uses fresh, sustainable ingredients, many of which are grown on the Shadles' solar-powered farmhouse, in dishes ranging from New England classics to Asian-inspired cuisine. And since nothing pairs better with organic eats than a quality cocktail, chief mixology maven Ami has crafted a drink menu featuring natural sake and wine-based elixirs that use fresh, organic juices and herbs.
No Worries
Oakland, CA
Standout Dish: Veganized chicken Adobo with stewed eggplant and a tangy soy sauce base
On the opposite end of the spectrum, Bay Area-based No Worries, the reigning king of veg-friendly Filipino restaurants, shuttered its much-loved Oakland location in September of last year and announced it would be hopping on the food-truck bandwagon. Seeking a sustainable solution to the economic challenges of running a restaurant, the eatery is going mobile to minimize its carbon footprint and broaden its reach in the Bay Area. No Worries has yet to secure a perfect cart, but as soon as it does, owner and head-chef Jay-Ar Isagani and his team will resume their goal of bringing home-style Filipino dishes, such as tangy soy-chicken Apritada stew and faux-beef Lumpia rolls, to veggie-lovers in Oakland and beyond.
While most of these eateries are settling into more traditional locations, there's no shortage of new vegan food trucks springing up across the country to snag their parking spaces. Fort Worth, Texas' Zombie's Food Truck and the Vegan Van in Denver, Colorado are just two of the ever-growing number of vegan carts rolling into cities at what seems like warp speed. With so many veg-friendly trucks open for business (not to mention the approach of springtime weather), there's never been a better time to embrace outdoor dining, so find yourself a sunny stretch of pavement and gear up for some curbside consuming!
Photo of Native Bowl in Portland, OR, courtesy of Amy Gedgaudas
Please support independent vegan media and get the very best in news, recipes, travel, beauty, products, and more.
Subscribe now to the world's #1 plant-based magazine!
Subscribe