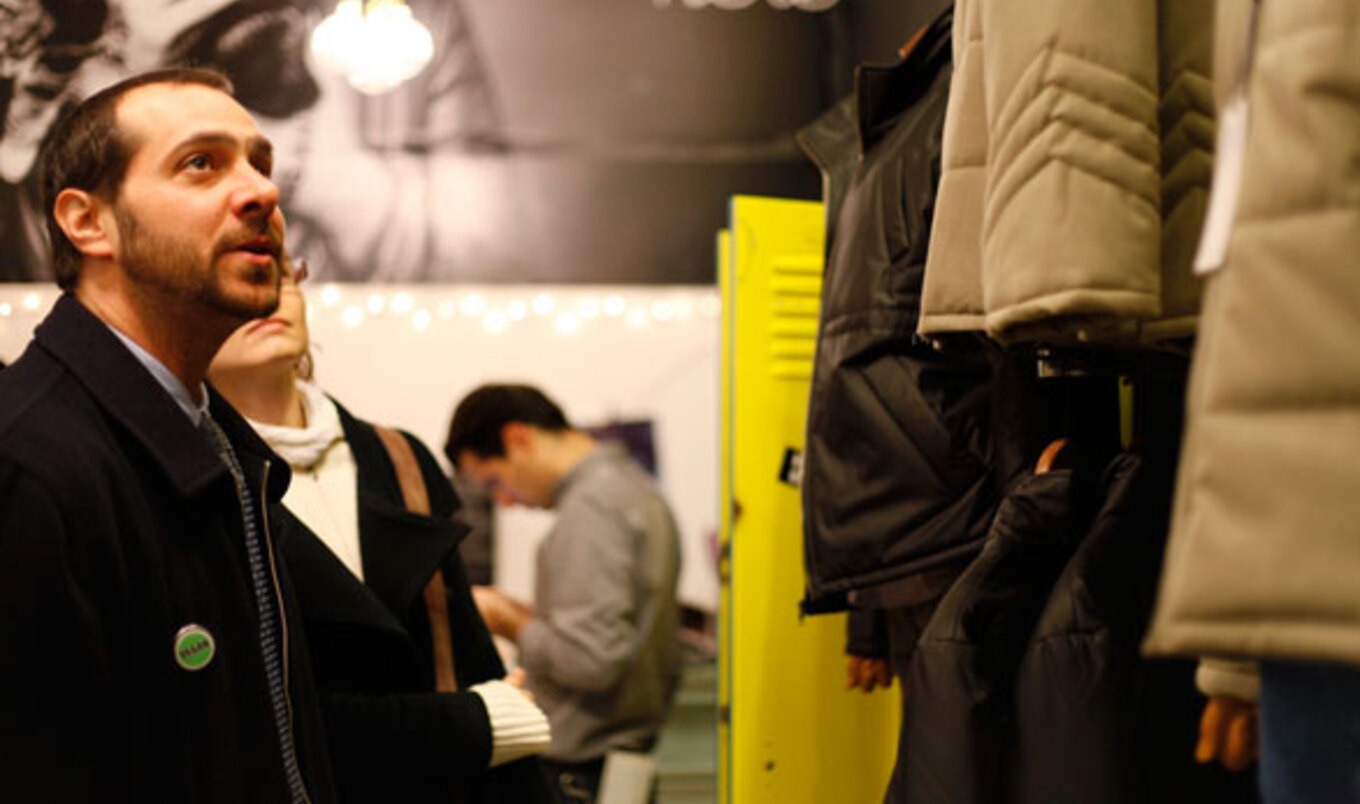 Looking to suit up for spring? Check out this comprehensive guide to compassionate fashion and cruelty-free products for vegan men.
March 25, 2012
---
Simply put, there's nothing better than a sharp-dressed man and even better, a guy who sports cruelty-free clothes. In our March+April issue, we extolled the virtues of vegan men, so it's now time to highlight all the ways a fashionable vegan guy can support compassionate companies who share his values. We rounded up the best of vegan-friendly clothing, wallets, belts, shoes, and body care. Whether you have a special guy in your life who is searching for the perfect hair gel or you're a vegan guy who wants to dress as smart as you eat, we've got you covered.
Clothes Collection
If your ideal outfit is T-shirts and jeans, many online shops offer a vast array of message shirts and hip hoodies. Stay Vocal, a Massachusetts-based company, sells 100-percent reclaimed attire. SV founder Alex Eaves takes T-shirts that would otherwise be shredded (it takes about 400 gallons of water to grow enough cotton to make just one brand new T-shirt) and remakes them into wearable clothing. Peruse online purveyor The Ex-Boyfriend Collection if you're searching for a shirt reading, "Seitan is My Co-Pilot." For graphic-artist designed T-shirts that double as works of art (alert: font nerds, this is pure heaven), check out Threadless, a company that allows artists to submit their designs, asks customers to vote on their favorites, and then launches the shirt for sale online. We personally can't get enough of the "Love is Love" T-shirt (monsters holding hands!). If you're a dog lover, you'll be equally obsessed with NYC-based award-winning designer John Bartlett's Tiny Tim collection of T-shirts, pullovers, ties, belts, socks, and yoga bags, featuring a silhouette honoring his dearly departed rescued three-legged pitbull of the same name. Portions of the proceeds from the TT collection are given to canine-rescue groups.
For a brick-and-mortar store for all things "T," you can shop at Herbivore Clothing in Portland, OR, conveniently located in an all-vegan mini-mall. Co-owner Josh Hooten creates all the illustrations, and if the Cow Hugger heather gray V-neck doesn't make you smile, we don't know what will. Vegan fashion house Vaute Couture opened a storefront in trendy Williamsburg, Brooklyn, where guys can walk right in to score high-end, ethically made coats and T-shirts. Can't make it to the actual shops? Don't worry—you can also order online from both.
From Head to Toe
Finding non-leather shoes that look both stylish and are comfortable can sometimes be a challenge for dudes. But look no further than online purveyors such as Vegetarian Shoes, Moo Shoes, and Alternative Outfitters. The company Keep offers vegan loafers, high-tops, and sneakers—and the limited edition Animal Collective collection benefits the Socorro Island Conservation Fund to preserve marine life in the Revillagigedo Islands. Ari Solomon, owner of Scent of Scandal candle company, loves the vegan shoe brand Novacas (Spanish for "no cows"), and designer John Bartlett highly recommends the Stewart/Stand vegan wallet line. In addition to looking sleek and smooth, the stainless steel fabric protects your credit cards from unauthorized identity theft (bonus!). For non-leather belts, Bartlett is obsessed with his red belt from Vegetarian Shoes.
Handmade Hombre
If you prefer to purchase your goods from Etsy, there are tons of amazing vegan options for guys. For those who wear their hearts on their sleeves, the online store Love Peace Vegan has affordable hoodies and T-shirts for guys with the word "vegan" proudly displayed. From steampunk-inspired designs to valiant lions, San Francisco-based Binary Winter offers non-silk ties, scarves, and T-shirts—if you want a tie with a monkey wearing a hat, this is your one-stop shop. You can find unique vinyl wallets at Whodini Handmade, with kitschy images of skulls, lighting bolts, "#1 Dad," and mustaches. And for a well-groomed man, turn to Herban Lifestyle for cruelty-free shaving soap, face wash, and after-shave.
Rock Your Body (Care)
Opting for body-care products that don't contain animal products and finding companies that don't test on animals are all part of a vegan guy's lifestyle, and there are several companies that offer these stellar products. Solomon swears by Herban Cowboy's shaving cream, and the brand also offers vegan deodorants. Los Angeles-based natural products professional Lawrence Mortensen recommends Bulldog Natural (and who doesn't love a company that has a bulldog in its logo?). Crystal will be releasing four new deodorant sprays just for men this spring, which we just named as one of our Best of Show products from Natural Products Expo West. Jack Black (not the actor) is a line exclusively for men, offering colognes, skin care, body wash, and shampoos for the compassionate gentleman with vegan products clearly labeled on its website. Mainstream company Aveda also sells quality men's hair and skin care.
If you want oodles more links and resources, we suggest Joshua Katcher's blog, The Discerning Brute, for all the latest and greatest in vegan men's fashion. And be sure to follow vegan tastemakers Ari Solomon (@VeganAri) and John Bartlett (@johnbartlettNY) on Twitter. Happy shopping!
Photo courtesy of Vaute Couture, photographer Erin Yamagata
JUST LAUNCHED! Get our 10 Easy Vegan Summer Meals recipe book as a FREE instant download.
JUST LAUNCHED! Get our 10 Easy Vegan Summer Meals recipe book as a FREE instant download.