News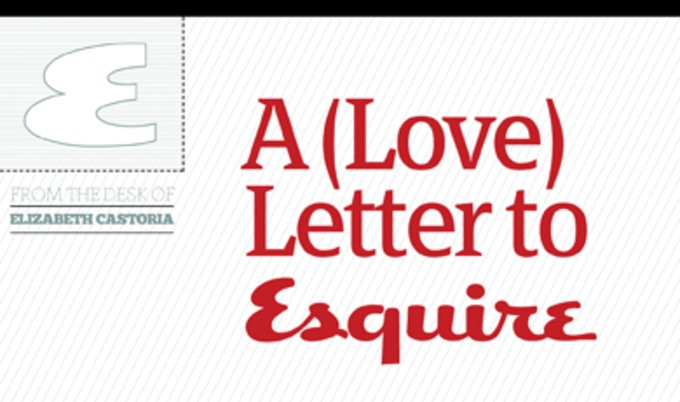 Why VegNews Loves Esquire
Straight from our Man Issue, Managing Editor Elizabeth Castoria has something to say to the nation's most popular men's lifestyle magazine.
March 26, 2012
---
The March+April issue of VegNews was a first for this magazine: We penned the inaugural Man Issue, a celebration of the many awesome vegan men who are promoting a plant-based diet in myriad amazing ways. And with this first came another: We framed our issue as our version of Esquire. In Managing Editor Elizabeth Castoria's most popular Editor's Note ever, Castoria tells the men's magazine why we love it so much, and where it needs to reevaluate its views on what it means to be (and, more specifically, eat like) a man. Here's what she said.
Dear Esquire,
Hello, tiger. Before we begin, I'm just going to come out and say it: I love you, man. From one magazine to another, you look good on paper. You bring me presents every month (you're right, funny jokes are funnier when told by beautiful women), you look great in the morning, and you always know just what to say in a caption. Your fonts are downright flirty; your design makes me daydream about what our future will look like (who isn't wondering about the forecast for print media these days?). From the rugged jawlines of your studly cover subjects to the whimsy with which you banter, you get so much right. Your features bring a whole new meaning to texting (and sometimes are damn-near sexting). To you, Esquire, I bat my editorial eyelashes.
But there's one thing, honey. It's not much, just a small point of contention in our otherwise blissful union. I don't think you know what a man is. Don't get me wrong, there are men aplenty in your pages, many of whom even have the six-packs to prove it. You suffer no shortage of testosterone, but there's something missing. The meaning of man is changing, and as our culture progresses, the definition will not exclusively include dudes who can stand attractively around a grill. The growing awareness and coverage of veganism in mainstream (or, shall I say, manstream) media makes one thing clear: Men are more than the sum of their suits these days. They are healthy, active, and, most importantly, compassionate. Manliness is moving away from the confines of locker rooms and tailgate parties, and expanding into a new era.
So, like any good, supportive lady friend, I'm here to help. This issue, we feature this new breed of men—and lots of them. Call it an homme-age, if you will. These guys, some of whom have already been in your spotlight, are a roadmap to a better future for all of us. From former President Bill Clinton—you know, the guy from your February cover this year—whose dedication to saving his own life via a vegan diet is completely unimpeachable, to Dave Conrardy, a 430-pound trucker who found his healthy salvation—and a much smaller waistline—through raw foods, these guys are the future. Guy writer Joshua Katcher explores the transition away from the butt of protein-based jokes and toward places of power the world over that vegan men are experiencing (p.42). Longtime activist and VN contributor Mark Hawthorne examines the literal deep sh*t that our environment is in because of factory farming, and then shows us a clear way out of the mire. Businessman Ryan Howard, lawyer-turned-elite athlete Rich Roll, and personal chef Jesse Miner give us the inside intel on what being a great vegan dad really takes. Oh, and then there's the matter of Tim VanOrden, who might be the toughest SOB we've ever encountered—the man can literally run up 75 flights of stairs in less than 10 minutes—and who just happens to eat a totally raw diet. Yes, he runs on lettuce. Intellectuals, activists, and everyday Joes are using plant-based diets to power through the stereotypes that cast vegetarians as anemic weaklings.
To make sure that no pocket square is left unfolded, we've incorporated some truly mantastic eats in this issue, starting out with the cheesiest, most-loaded twice-baked potatoes you've ever tasted (p.70). I know you like potato chips and chocolate, so we put them together for you in a truly mind-blowing truffle (p.74). And in case you were wondering what dudes around the world are eating, check out our fantastic food feature, which not only has a phenomenal all-American chili, but offers filling, hearty meals from Morocco, Brazil, Italy, and Thailand. You know what everyone loves? A man who can cook.
Hope this helps. If you need anything, you know where to find me. See you on the newsstand, handsome.
The end, love E.
Want more of today's best plant-based news, recipes, and lifestyle?
Get our award-winning magazine!
Subscribe