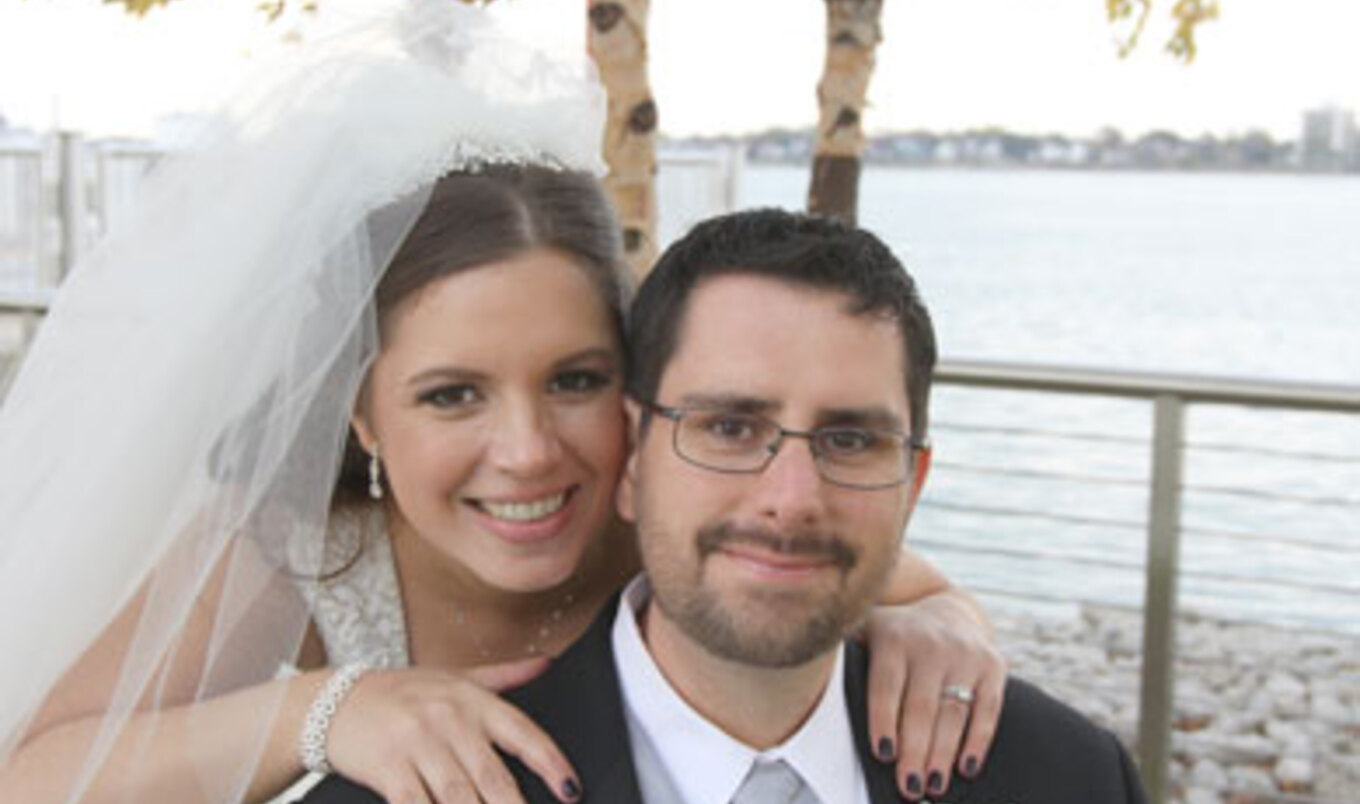 Meet Cher and Joe, one of 2012's eight fabulous wedding couples.
July 4, 2012
---
Cher Muzyk & Joseph Longobardo
Detroit, MI
Guests: 90
Location: Coach Insignia
Cost: $35,000
Their story: All it took was a game of Euchre and some handholding for Cher to know Joseph was the one. The then-Michigan and DC residents met in 2003 during a ski trip organized by a mutual friend, an interesting choice for them both considering that neither Cher nor Joe hit the slopes. They spent the remainder of the weekend in their "own little world" and were ecstatic when a snowstorm kept Joe in Detroit a few days longer. Thus began the couple's nine-year long-distance relationship, which culminated in a March 2011 proposal while bird-watching, one of Cher and Joe's favorite activities.
The Menu
Appetizers
Samosas with tamarind sauce
Avocado-heirloom tomato salsa with white corn chips
Grilled vegetable flatbread with spicy tomato sauce
Tostadas topped with sweet potato and pickled onion
Mini potato latkes with applesauce
Romaine lettuce salad with apple slices, pear slivers, and dried cherries tossed in port-wine vinaigrette
Entrées
Penne pasta with marinara, pesto, or olive oil and a choice of sautéed vegetables, served with grilled bruschetta and eggplant caponata
Stir-fried vegetables with hot chili oil or sweet hoisin sauce over rice, served with crispy spring rolls and pan-fried pot stickers
Slow-cooked southwest chili served with barbecue riblets and fingerling potato salad
Desserts
Vanilla and chocolate layer cake coated with buttercream frosting
For a complete list of caterers, dressmakers, and photographers from each of this year's wedding couples, visit our 2012 Guide to Vegan Weddings. Want more vegan weddings? Purchase our special wedding issue featuring Cher and Joseph's vegan wedding! Check out all of our 2012 vegan wedding couples here, 2019 couples here, 2018 couples here, 2017 couples here, our 2016 couples here, and our 2014 couples here!