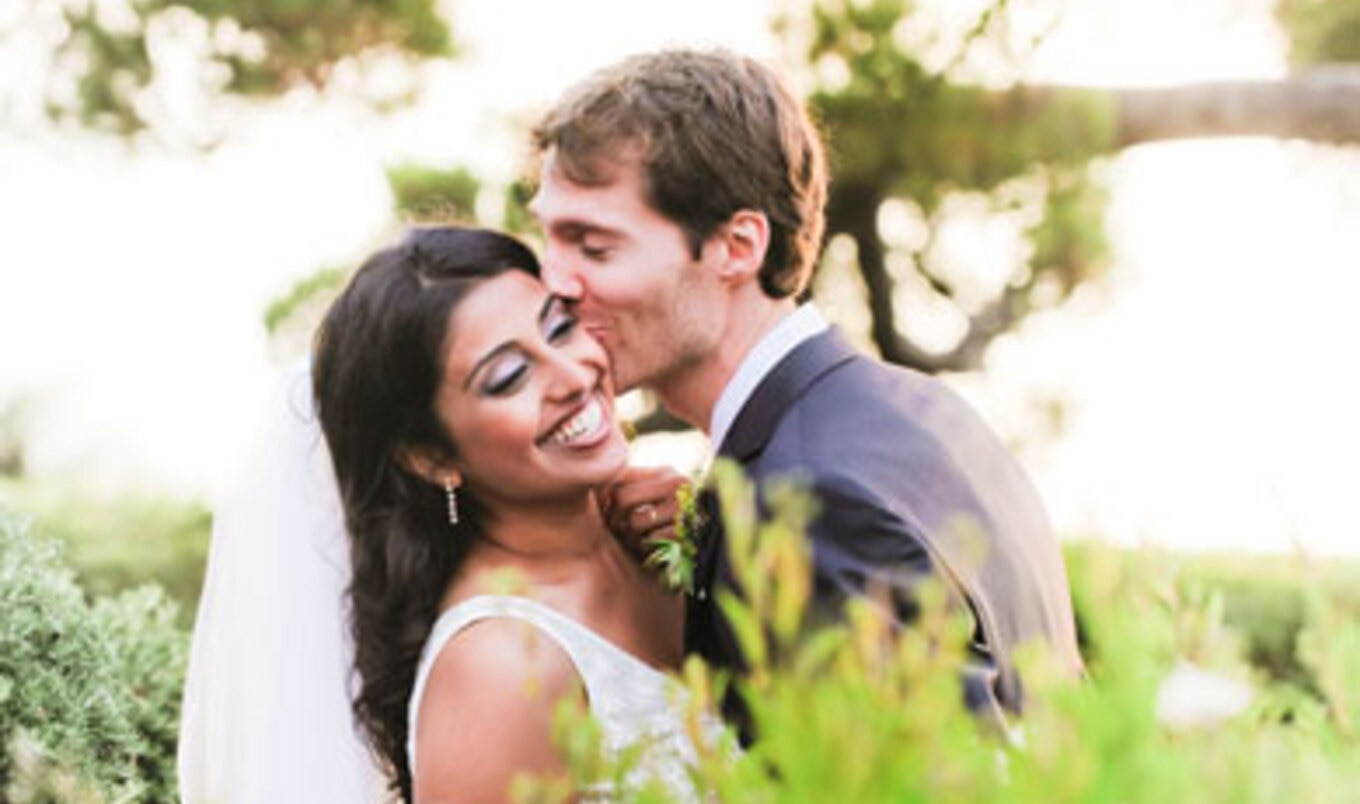 Meet Jaya and Chris, one of 2012's eight fabulous wedding couples.
July 4, 2012
---
Jaya Bhumitra & Christopher Locke
Palos Verdes Estates, CA
Guests: 150
Location: La Venta Inn
Cost: $34,000
Their story: It's often said that you should be friends first, and Jaya and Chris are evidence that it works. The two met volunteering for Compassion Over Killing in Los Angeles, and as they got to know each other at events, it was Chris who hoped he'd see Jaya's face among the crowd. The relationship was so natural, in fact, that their first date (a cupcake taste-off between local bakeries Babycakes NYC and Flore) was an "unspoken" romantic rendezvous. Chris, in a not-so-unspoken way, asked Jaya to be his wife on her birthday in 2010, during which he planned a seriously elaborate scavenger hunt that culminated in a proposal that Jaya never saw coming. "She figures out everything I do. The look on her face when I asked her to marry me was the first and only time I've ever seen her genuinely surprised by something I was able to do," Chris says. Well, that's as good a time as any, don't you think?
The Menu
Appetizers
Butternut squash ravioli with sage sauce
Not-Pigs in a Blanket with apple-sage sausage
Twice-baked fingerling potatoes with crisped dulse
Tempura-beet rollatini with balsamic gastrique
Entrées
Fresh-baked foccacia with caramelized onions
Caesar salad
Pine nut and basil-seared chicken breast with lobster mushroom beurre blanc, braised kale, and roasted fingerling potatoes
Peppercorn-encrusted portabello fillets with yellow-tomato Bearnaise sauce and mashed potatoes
Artichoke-ricotta tortellini with saffron cream sauce
Desserts
Guava cake with guava-jam filling, cased in marzipan and frosted with almond buttercream
Yellow cake with chocolate rice milk frosting and raspberries
For a complete list of caterers, dressmakers, and photographers from each of this year's wedding couples, visit our 2012 Guide to Vegan Weddings. Want more vegan weddings? Purchase our special wedding issue featuring Jaya and Chris' vegan wedding! Check out all of our 2012 vegan wedding couples here, 2019 couples here, 2018 couples here, 2017 couples here, our 2016 couples here, and our 2014 couples here!