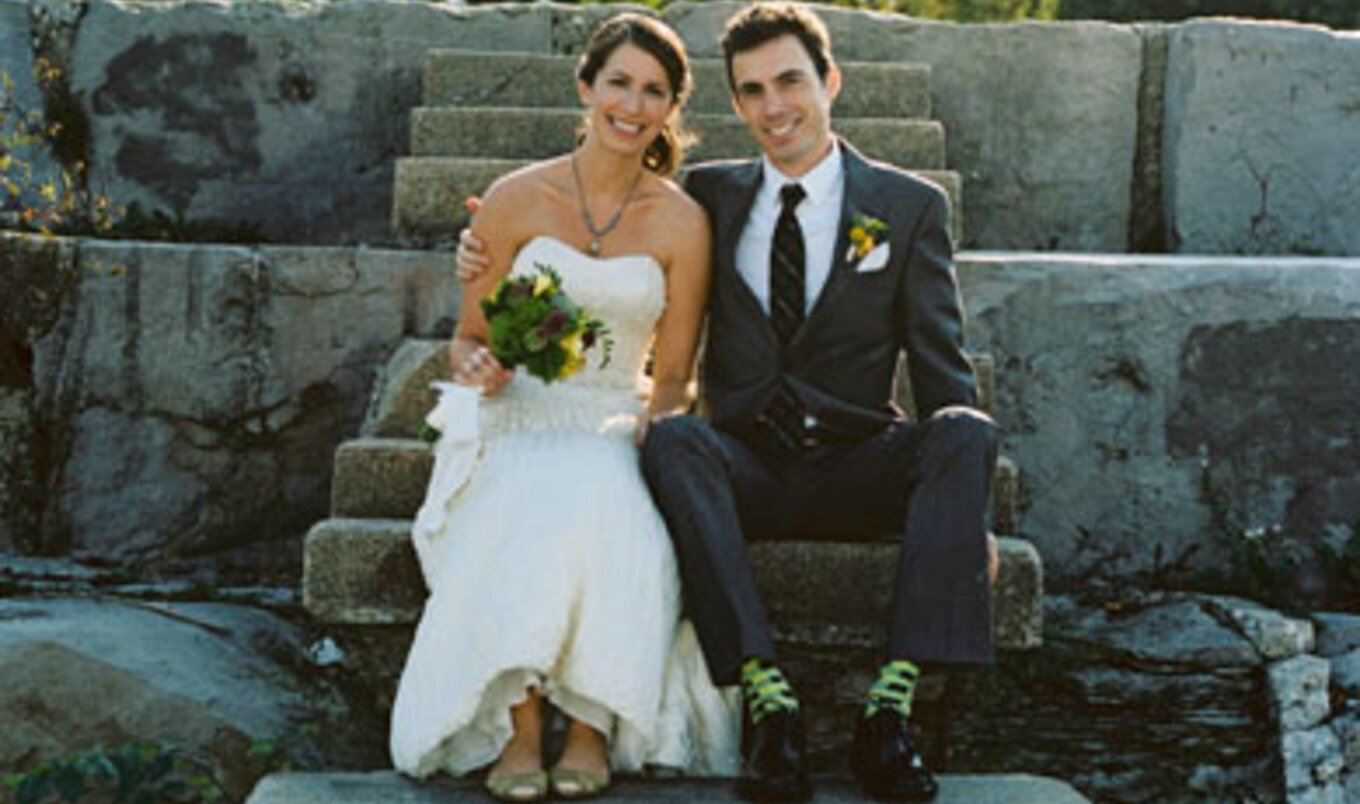 Meet Kathleen and Matt, one of 2012's eight fabulous wedding couples.
July 4, 2012
---
Kathleen King & Matt Berry
Chicago, IL
Guests: 100
Location: Revolution Brewing Company
Their story: When Kathleen and Matt first met at a University of Illinois Urbana-Champaign animal-welfare student group meeting, their age difference "precluded anything romantic" (Matt was in graduate school, while Kathleen was only a freshman). A move or two and six-and-a-half years later, however, the duo met again in their hometown of Chicago at a friend's vegan Thanksgiving. It took Matt a while to ask her out for a casual stroll around the city and $1 PBRs ("I think I made my feelings known," says Kathleen), but once he did, love was in the air. Roughly two years later, Matt got down on one knee and proposed to Kathleen during a Hawaiian vacation.
The Menu
Appetizers
Mushroom caps with pepper relish
Tofu satay
Crispy polenta squares with Italian-style seitan, marinara sauce, and grilled asparagus
Entrées
Potato salad with truffle oil and endives
Mini-flatbreads topped with basil purée, beer-battered onion, tomato, and arugula
Tamales with seitan chorizo, poblano peppers, and salsa verde
Asian stir-fry lettuce wraps with rice noodles, vegetables, and cashews
Mini Chicago-style tofu dogs with pickles, relish, yellow mustard, peppers, and celery salt
Desserts
Carrot cake with cream cheese frosting, topped with candied carrots, sliced pears, and roasted walnuts
Cookies: Lemon drop, chocolate coffee, chocolate chip, oatmeal scotchie, pumpkin pie, and caramel apple
Assorted fruit
For a complete list of caterers, dressmakers, and photographers from each of this year's wedding couples, visit our 2012 Guide to Vegan Weddings. Want more vegan weddings? Purchase our special wedding issue featuring Kathleen and Matt's vegan wedding! Check out all of our 2012 vegan wedding couples here, 2019 couples here, 2018 couples here, 2017 couples here, our 2016 couples here, and our 2014 couples here!