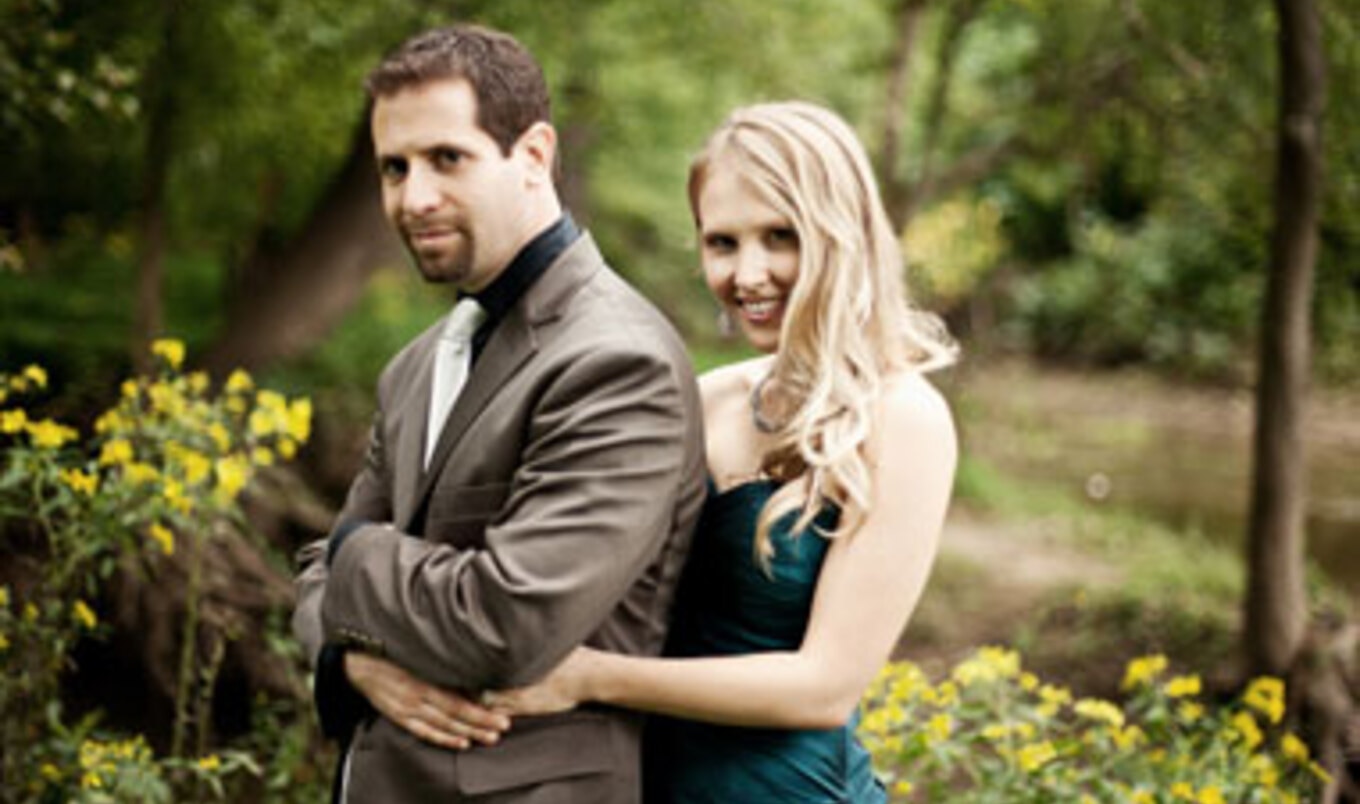 Meet Stephanie and Ryan, one of 2012's eight fabulous wedding couples.
July 4, 2012
---
Stephanie Bain & Ryan Shapiro
Wheaton, MD and New York, NY
Guests: 15 (ceremony), 75 (party)
Location: Brookside Gardens and Madame X
Cost: $15,000
Their story: Craigslist: the always-available matchmaker. In 2005, Stephanie took to the want-ad website, looking for a roommate, and answered Ryan's ad, in which he asked for someone who was vegan. After Stephanie checked out Ryan's place, the pair headed to the nearby Ellwood Butterfly Preserve and Beach to check out the Santa Barbara scene. But things didn't go smoothly from there—Stephanie ended up slipping waist-deep into a large puddle. That didn't stop the two from being roommates, however—Stephanie moved in and they kept it platonic, at least for a little while. Five years later, Ryan proposed to Stephanie in the same place that he likes to say Stephanie "fell for him."
The Menu
Appetizers
Spring rolls
Hummus plate
Artichoke dip
Dumplings
Entrées
Adult mac and cheese
Jerk-spiced seitan with collard greens and stuffed peppers
Creole-style fried chicken
Bourbon chicken
Desserts
Peach cobbler
Chocolate-covered strawberry shortcake
S'mores
Cupcakes
For a complete list of caterers, dressmakers, and photographers from each of this year's wedding couples, visit our 2012 Guide to Vegan Weddings. Want more vegan weddings? Purchase our special wedding issue featuring Stephanie and Ryan's vegan wedding! Check out all of our 2012 vegan wedding couples here, 2019 couples here, 2018 couples here, 2017 couples here, our 2016 couples here, and our 2014 couples here!