Food + Recipes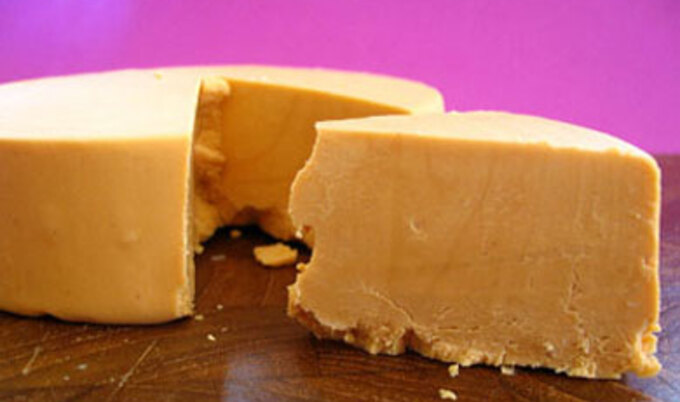 7 Out of This World Vegan Cheese Dishes
Vegan cheese's time has come, which means it's time to indulge in these incredibly cheesy recipes.
---
The VNHQ has had a single-minded obsession ever since we brainstormed our September+October Cheese Issue. It might not surprise you to learn that the object of our ravenous affection is the delicious, the daring, the delightful vegan cheese. Long gone are the days (those back in the 1900s) of wallowing in a wasteland of waxy slices, sub-par spreads, and concrete-style blocks. Today's dairy-free fromage is sophisticated, artisan, and downright tasty. Some of them even melt—a feat to which we can personally attest as they've melted our hearts. In the great tradition of "two great things that go great together" here are seven recipes from around the web that, not only, include vegan cheese, but also elevate it to atmospheric heights.
1. Mac n' Cheese in a Bread Bowl. When this carb-on-carb action first went up on our Tumblr, readers rejoiced and, more importantly, reblogged it an impressive 200 plus times. This dish is basically every carbophile's dream come true, and boasts the added benefit of being slathered in a rich, butternut squash-infused cheese sauce.
2. Goldfish crackers. These treats from childhood have been sorely missed by most vegans—until now. Noted culinary genius Chloe Coscarelli created these cheddar-y little guys that perfectly replicate the original, right down to their little smug smiles!
3. Deep-Fried Vegan Mac and Cheese. Um, yes. Yes, this very much. Here's the idea: you take one thing that's already great (that would be vegan mac 'n' cheese), and then you deep fry it. Should you eat these every day? Probably not. Will you be happy on any day that you do eat them? Yes.
4. Cheesy Tomato-Stuffed Waffles. If you are the kind of person who enjoys grilled cheese sandwiches (meaning you are the kind of person who has a soul), take it to the next level with these waffles that have cheese and tomato baked right into them! Oh, and they just so happen to be soy- and gluten-free. You know, no big deal.
5. Chili Cheese Fries. Here's the deal: with this recipe, you provide the chili and fries, and we provide the insane, super-delicious cheese sauce. It's a blend of ready-made vegan nacho cheese with just the right amount of added spice and flavoring. We won't tell anyone if you slather it on everything that isn't nailed down, but might suggest that your cheese-dousing rampage begins with chili fries and a chili dog, topped with more chili fries.
6. Melted Cheese Apple Panini on Raisin Bread. Who says cheese can't swing sweet? This elegant version of a classic grilled cheese boasts cinnamon raisin bread (always a good idea), pert apple slices, and the tiniest kick of red pepper flakes. Sweet, savory, and spicy flavors all wrapped in gooey melted cheese make for one stellar sandwich.
7.  Sausage and Cheese Muffins. These might be the best way to break a fast (even just one that occurs while you slumber) we've ever seen. Rich and savory, these decadent muffins would be particularly perfect after a long night out on the town. Or after a relaxing evening at home. Or after lunch.
These seven recipes go above and beyond to make your breakfast, lunch, and dinner the cheesiest they can possibly be. Here's to cheese, here's to veganism, and here's to living in this excellent era.
Oh, and you know, VegNews has a cheesy recipe or two of our own. Don't miss these in your quest for cheese!
VegNews Vegan Macaroni & Cheese
Two Cheese Lasagna
Quinoa Nachos
Please support independent vegan media and get the very best in news, recipes, travel, beauty, products, and more.
Subscribe now to the world's #1 plant-based magazine!
Subscribe