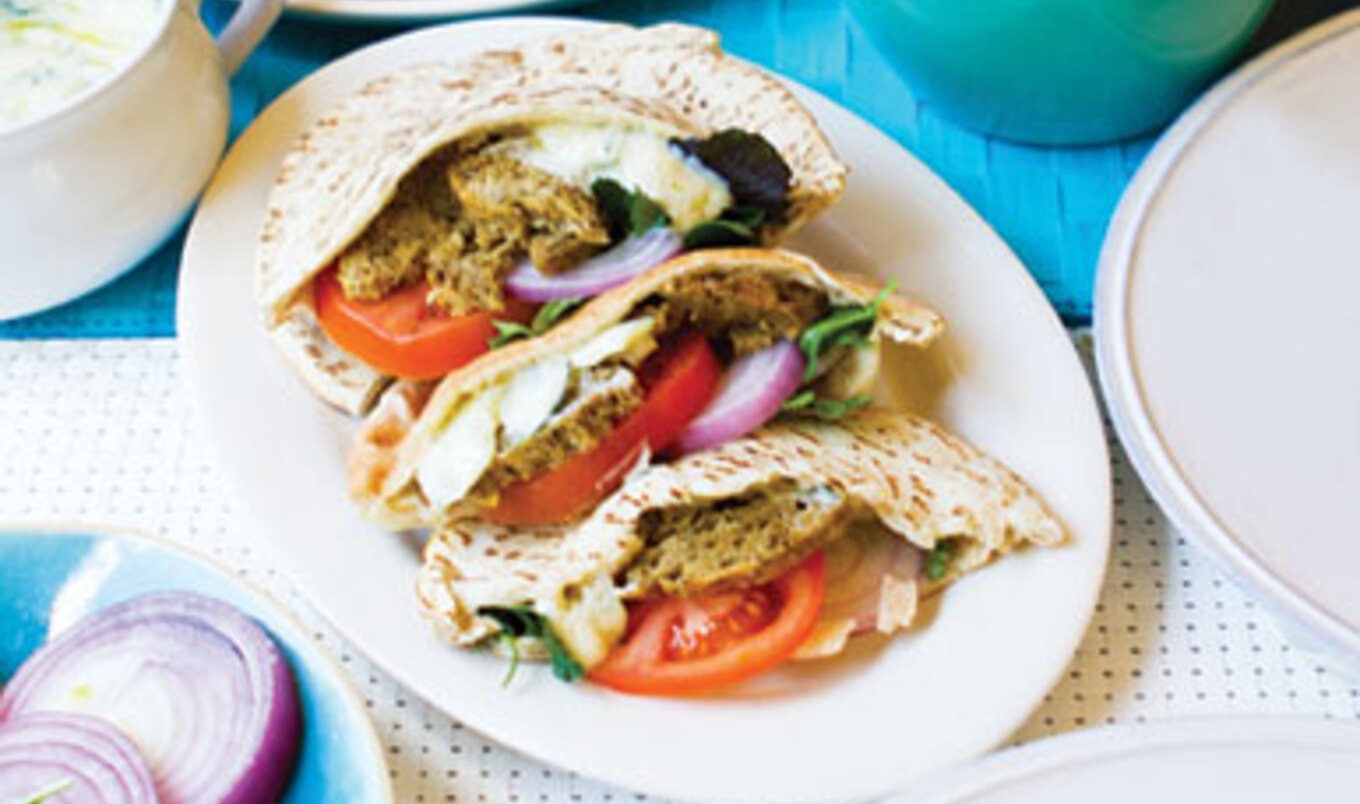 Savor Middle Eastern flavors with this completely plant-based meal.
August 26, 2012
The combination of savory shawarma and tangy tahini sauce will make this sandwich one of your favorites. (Note: this recipe contains Bragg's; for a entirely soy-free version, use coconut aminos instead, or simply omit.)
Makes 8 sandwiches
What you need:
For the shawarma:
2 tablespoon olive oil
1 large Yukon Gold or Russet potato, peeled and grated
1 large onion, chopped
2 garlic cloves, sliced
1/2 cup vegetable broth
1/2 cup rolled oats
1/2 teaspoon powdered dried thyme
1/4 teaspoon allspice
1 tablespoon dried basil
2 teaspoons dried oregano
3/4 teaspoons salt
1 tablespoon Bragg's Liquid Aminos
2 tablespoon fresh lemon juice
1/2 cup shelled hemp seeds
1/3 cup chickpea flour
1/4 cup potato starch
For the sauce:
1/2 cup tahini
8 garlic cloves, mined
3/4 cup fresh lemon juice
3 tablespoons chopped fresh dill
1/2 teaspoon salt
For the sandwiches:
8 rounds pita bread
1 red onion, sliced
1 cucumber, sliced (optional)
1 tomato, sliced
What you do:
For the shawarma, preheat oven to 350 degrees. Lightly grease a loaf pan. In a large frying pan over medium heat, heat oil. Add potato, onion, and garlic and sauté until potato and onion are soft and translucent, about 5 to 10 minutes. Add broth, cover, and cook, stirring occasionally, until liquid is absorbed and mixture begins to brown, 10 to 15 minutes. Remove from heat and allow to cool for about 10 minutes.
In a food processor, combine potato-onion mixture with remaining shawarma ingredients and process until it becomes a thick dough. Pack dough into loaf pan, smoothing top, and cover with foil. Bake shwarma for 50 minutes, remove foil, and bake an additional 10 to 20 minutes until top is dry and sides pull away from pan. Allow to cool, then cover with plastic wrap and refrigerate overnight.
After refrigerating, preheat oven to 350 degrees and cover a parchment-lined cookie sheet. Slice loaf into thin slices, place on pan, and cover loosely with foil. Reheat for 10 minutes. Remove from oven and serve.
For the sauce, in a small bowl, whisk together all ingredients.
To assemble the sandwiches, fill one pita with slices of shawarma and top with onion, tomato, and cucumber. Drizzle with sauce and roll up.