News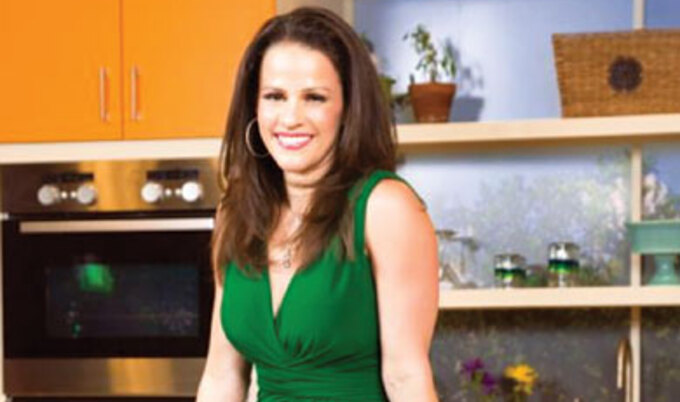 New Vegan Talk Show Premieres
In this exclusive interview with VegNews, Plant-Based Dietitian Julieanna Hever chats about sex, strawberries, and President Bill Clinton.
January 27, 2013
---
Now showing on the Veria Living Network: Julieanna Hever, MS, RD, and host of the brand new talk show series What Would Julieanna Do? Hever, VN's nutrition columnist, is the author of the best-selling book The Complete Idiot's Guide to Plant-Based Nutrition and co-author of The Complete Idiot's Guide to Gluten-Free Vegan Cooking. The mother of two has been featured on The Dr. Oz Show, The Steve Harvey Show, Issues with Jane Velez-Mitchell, Reluctantly Healthy, and E! News. She co-stars on The Chef and The Dietitian, has appeared on numerous radio shows, and lectures extensively throughout the United States. Hever counsels a variety of clients from her California-based private practice including elite athletes, adults, and children with various nutritional and medical concerns. Maybe the show should be called What Can't Julieanna Do?
VegNews: Congratulations on the premiere of What Would Julieanna Do? How exciting… you're like the vegan Oprah! Tell us a little about the show.
Julieanna Hever: Thank you so much! Yes, What Would Julieanna Do? is a health-oriented talk show format, featuring segments on nutrition, cooking, health, fitness, relationships, beauty, fashion, stress management, parenting, sex, and a whole lot more! We were able to find some extraordinary experts and many guests with life-transforming stories that I can't wait to share.
VN: That sounds like a show everyone needs to watch. Tell us how WWJD (no, wait, that one has been used already) came to be?
JH: It was a fortuitous coalescence of a holistically minded, well-rounded, forward-thinking network and a passionate mom who wants to make a difference in the world. Most of the show development, including the title, happened behind the scenes. When I showed up and met my team and saw the set, it was a dream come alive!
VN: Well then, everyone just has to tune in. Who are some of the guests you'll be having on the show?
JH: I'll have the leading experts on plant-based nutrition, including T. Colin Campbell, Neal Barnard, Joel Fuhrman, Pam Popper, and John McDougall. Melanie Joy will talk about carnism. I'll feature professional athletes, like bodybuilder Derek Tresize, plus John Nies and Rip Esselstyn. Decadently talented cookbook authors and chefs including Mark Reinfeld, Allyson Kramer, and Chef AJ will share their delicious dishes. Marisa Miller Wolfson, producer of Vegucated, even made a recipe with me when she was adorably at the end of her pregnancy. Chef Adam Sobel, the creator of the first vegan food truck in the country, The Cinnamon Snail, will bring me some treats. Honestly, it is chock full of talent, wisdom, and inspiration.
VN: That's one impressive line-up. What are some of the highlights of Season 1?
JH: There are so many highlights; I don't even know where to begin! My most embarrassing moment was when we were filming a sexy chocolate cooking demo with Chef AJ and Toronto Maple Leaf hockey player Mike Zigomanis for the sex episode. My producer signaled me to feed Mike a strawberry. I was all giddy and nervous—Mike is amazingly adorable—and I quickly popped the strawberry in his mouth and left it there! We were laughing and he was such a good sport about everything, but I felt like a teenager in a high school!
VN: That sounds like a must-see episode. Any others that you would like to tease us with?
JH: My most emotional moment was after the last one we taped, after which we held our wrap party with champagne and vegan treats. A bunch of the production team and crew ended up in my dressing room, where we sat on the floor and shared the most memorable moments from the show. Most of them said they wanted to eat less/no animal products from therein out. That meant the world to me!
VN: Congratulations! See, you are changing the world. Who are some guests we can expect to see in Season 2?
JH: We have not yet confirmed whether there will be a Season 2, but I am hoping that the show gets such a positive response and an outpouring of interest in this type of programming so that we can do it all over again! I would honestly love to have many of my guests from Season 1 on again, and I also hope to showcase additional groundbreaking warriors such as Lisa Bloom, Jane Velez-Mitchell, Michael Greger, Victoria Moran, Rich Roll, Kris Carr, Marion Nestle … I could go on and on.
VN: It's up to all of us to watch the show and give the network positive feedback. I'm sure I speak for most vegans when I say I'd love to see a second season with this lineup! Let's talk about you. What are three things you learned doing this show that you didn't know before?
JH: Excellent question! I learned so much, but here are three fun facts: 1. Even one minute of meditation can help with stress reduction; 2. You can make lipstick and blush with real rose petals; and 3. Onion goggles really prevent crying while cutting onions.
VN: Those are surely useful tidbits, and certainly give an interesting insight into the show. Sounds like a lot of fun. Tell us a little about how "vegan" the show is. Did you have final say on all recipes, cosmetics, etc.?
JH: I believe the show is 100-percent vegan. My team was extraordinarily conscious and we made a full effort to ensure there were no animals harmed in the taping of this series. It was a huge priority for me, and the production team understood. They went out of their way to ensure it was all up to par and that I was comfortable. Even more so, my team was interested and open-minded to veganizing everything, and to enable segments and conversations to flow about veganism.
VN: Is the show taped in front of an audience?
JH: No, we did not have a live audience this season. However, my producers were so incredibly creative that we used the crew and production team as the live audience, incorporating them into appropriate segments visually and/or audibly. We had such a good time playing off of the "no live audience" that I never realized we were missing one!
VN: Final question: Whom would you most like to interview?
JH: You mean after you? Well, then President Bill Clinton, of course!
What Would Julieanna Do? premiered Monday, January 28 on the Veria Living Network, a media company offering the world's largest lineup of new first-run, original programming devoted to wellness. The network is primarily available on DISH Network (Channel 218), Verizon FiOS (Channel 162), and Frontier Communications (Channel 162). Check local listings.
Want more of today's best plant-based news, recipes, and lifestyle?
Get our award-winning magazine!
Subscribe